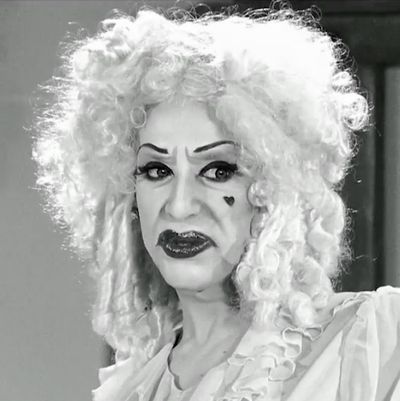 Hello my darlings, I'm back. My tenure as your All Stars recapper was not a one-night-only gig, and just like Katya, I return to where I last left you.
This week gives us another short episode, and it's a bit sad. We haven't seen a mini-challenge since the season premiere, and I have a feeling we won't be seeing one again until everyone's favorite puppet show. While I do wish we got a little more time to spend with them, there are only so many fun, creative ways to humiliate the Pit Crew, and I guess they're saving "pin the foreskin on the bottom" for season nine.
The queens are almost immediately caught up in the immediate fallout from Alyssa's decision to "break the rules" of last week's elimination. And while my eyes can't help but roll a full 180 degrees into the back of my head every time they bitch, these kinds of interactions are exactly what I've been waiting for. Detox taking out Katya's name (as we knew she would) is the drama this new format needs to succeed as capital-G Good TV. Look Katya in the face and tell her why you just pulled a block with her name out of your tit. That's the juice, y'all!
Ginger leaves a second farewell message, this time in paper — it is hard to write in lipstick, I've tried, so I get it — where she not-so-subtly accuses Alyssa of not playing the game fairly, which is insane because that particular game involved a grown man putting on a wig and humping the air as a deceased member of British royalty, so maybe take a breath and remember what your life looks like. What rules are we talking about? I only know of three: Don't pick up another queen during a lip sync, don't sneak your horny-ass husband into your hotel room, and don't take your wig off during a lip sync unless there's another goddamn wig underneath — otherwise it's open season.
Of course, all of this gives more fodder to the Phi Phi villain edit. If you've been sipping all the various drips and drabs of social media between each episode, you know that, like every other villain in reality TV history, Phi Phi is banging that "blame it on the edit" drum like she's been cast in a summer stock production of the Blue Man Group. But listen closely, my darlings: You just cannot utter the phrase "let me finish" or any of its iterations within five miles of a Viacom camera without some sweaty little editor waking up somewhere from a dead sleep. You're making this too easy, girl! I truly don't understand Phi Phi's frustration here. Does it make her the biggest villain in the show's history? No, but she's still in the running. Don't sleep on the potential depths of Phi Phi's insecurity and delusion.
The week's main challenge is the first true team challenge of the season, but without producer machinations at play, the pairings all make sense and there's very little drama to be had. The only obvious red flag is the pairing of Phi Phi and Roxxxy, neither of whom shined in similar performance challenges during their seasons. While Roxxxy initially takes the Nomi Malone role for their Showgirls act, midway through rehearsals Phi Phi proposes a switch, for reasons that aren't really explained. Roxxxy must have an exceedingly short memory, because the last time she listened to Phi Phi and made a last-minute change, it landed her in the bottom. And wouldn't you know it, she lands there again after turning in a performance I can only describe as Honey Boo Boo after a series of strokes. In Phi Phi's case, switching was possibly the smartest move she's ever made, as Nomi is the much more broadly comedic role and she performs it competently in her own ham-fisted way.
Katya and Detox are given a strange, unfunny zombie sequel to Thelma and Louise, and both give perfectly entertaining performances as far as drag-queen zombie spoofs go. We're treated to a few moments of Katya "stuck in her head," but that's only because they have to justify putting her in the bottom.
The real showstopper here is Alaska and Alyssa's virtuosic "Wha Ha Happened to Baby J.J." Each of these scenes are bad, let's not mince words, but this one was the least bad, due in part to their performances. God forgive me, but for once I agree with Carson: Alyssa's performance was appropriately understated. We're still treated to the same sort of eye bulging and facial weirdness that makes Alyssa so funny, but I'm not sure the part is built for much more. Perhaps not a tactically intelligent thing to do in a competition, but one gets the impression that Alyssa understood the assignment, which was to stand aside and let Alaska unload a joyfully insane drag Bette Davis. Alaska certainly never struggled with the acting challenges on her season, but I feel like we're seeing a new level of confidence here. She's serving us something new, something solid, and that's All Stars material, baby!
This week's runway is inspired by Violet Chachki's transformative flying squirrel getup from season seven (which, let's face it, was probably where that season peaked). And we're joined by guest judge Nicole Scherzinger, who famously crushed a child's dream on the last reality show she judged. Nicole can serve up Lloyd Webber like nobody in this country would believe, but can she judge drag? Not really, no!
Phi Phi: It's pretty! I don't really have much to say, but it does seem like a return to the more pedestrian pageant wear we're used to seeing from Phi Phi.
Roxxxy: This is fine, but to my eyes it looks a little cheap, which is unusual for Roxxxy.
Katya: Thank God for that story, girl! It's funny, but there isn't much to that dress.
Detox: Listen, I'll spare you all the think piece about this little Asian-inspired number. There are other people out there doing that legwork. Yes, I love Detox, and yes, it's only drag, but this Asian man hates it! Sorry, bye!
Alyssa: It just seems a little obvious to me, but if I'm being honest with myself, this is exactly the kind of thing I'd see a Brooklyn drag queen wear when I drunkenly tell them I'm "gagged" over it while they're waiting for an Uber outside of the bar.
Alaska: I love the look and the reference to her season, but it doesn't really have much to do with the challenge at hand. The initial look is just a mass of fabric moving down the runway. But how can you nitpick Lil' Poundcake?
At this point, the competition is as close as it always is, and the winners are Phi Phi and Alaska. We switch back to a bottom three this week, a move that I'm sure was made only because the producers were salivating at the thought of Phi Phi sending Alyssa home for breaking the rules. In any case, the girls are sent away while the judges make prank phone calls, and the mileage may vary on this bit for some of you, but I'm loving how they heighten it each week.
In a move that is both wildly hypocritical and not at all surprising, Phi Phi is an absolute terror about the eliminations. She refuses to meet with any of the bottom three, states that she already made her decision, and it's totally clear that she'll be sending Alyssa home out of spite. Does Phi Phi think this is some sort of righteous decision? Does she really think this is the kind of behavior that will help America fall in love with her?
In any case, Alaska mops the floor with Phi Phi, as you'd expect. Phi Phi is a good performer, there's no denying that. But her performance is one you could see at a good drag show anywhere in the country. The minute Alaska crosses the stage, you know you're about to watch something uniquely Alaska. It's fun, it's campy, and it's fucking weird as hell, making Alaska the first two-time challenge winner and the queen to beat. I can't wait to see her up there again, and it's a testament to why the new format works.
And in a shocking move, Alaska eliminates Alyssa. It's a surprising moment in part because of Alaska's relative silence about Alyssa's decision last week. Did she really think Alyssa's performance was worse than Roxxxy's? Is RolAskaTox a bigger influence than she'd like us to believe? It's disappointing because Alyssa has given us a lot more this season — more growth, more passion, and more confidence — whereas Roxxxy has just shown us (another) hidden wig and a bunch of questionable judgement.
We don't get much time to dwell on any of this, as the girls return immediately to the workroom. Big red flag. Of course Phi Phi also selected Alyssa because she is as petulant as she is predictable. And just as I was writing down a note about how tired all of this is, the show went and did something utterly magical: It revealed all the eliminated queens behind that mirror like some nightmare drag episode of Law & Order: SVU. It's the greatest cliffhanger in the show's history, no small feat for a show in its tenth season, and yet another example of why this is the greatest show on television. Fucking Breaking Bad wishes.
Who knows what it all means for next week, but let's hope Alyssa's revenge is fiery and terrifying. Bye-bye for now!