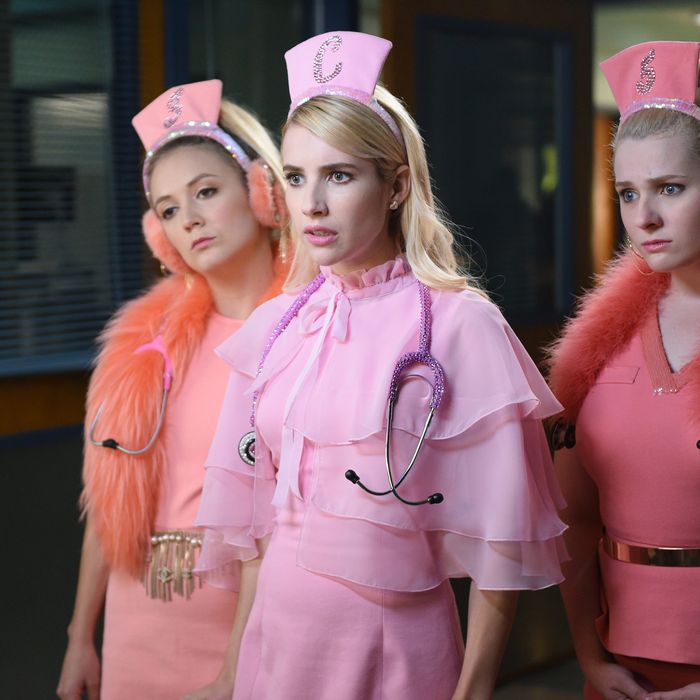 Billie Lourd as Chanel No. 3, Emma Roberts as Chanel, Abigail Breslin as Chanel No. 5.
Photo: Michael Becker/Fox
The second-season premiere of Scream Queens is almost exactly like the first-season premiere of Scream Queens and I'm totally alright with that. When I watch this show, I want to be swaddled in the warm Slanket of familiarity and have my eyes tickled by funny girls in ridiculous outfits or John Stamos showering to the dulcet strains of Roxette (a very specific sexual fantasy that I've harbored since he was on You Again?). Scream Queens is worth watching because of the great characters, the hilarious dialogue, and the over-the-top details, like when Chanel No. 3 goes into surgery with little pink rubber gloves over her earmuffs or Chanel tries to knit with enormous needles and fails miserably. Isn't that enough?
I certainly think so, and that's why it doesn't bother me that both seasons start with a party in the past. Rather than a sorority house, "Scream Again" begins at Our Lady of Perpetual Suffering, a crappy hospital on the edge of the swamp in 1985. The doctors are having a huge rager because it's Halloween. Dr. Mike doesn't want to perform an operation on a guy with COPD, much to the chagrin of his pregnant wife. Instead, he doses the patient and tosses his body into the swamp where it will be devoured by the insects and bacteria.
I actually had huge problems with this scene and it made me want to turn off this show forever and never come back. It was one thing when last season started with a dead pregnant girl in a bathtub and the sorority girls decided to ditch her body so they could get back to partying. They're sorority girls; we expect very little of them. But it doesn't make any sense for a doctor to so blithely kill a patient so he can do some Jell-O shots in the nurse's station. Would this guy really put himself through a decade of schooling to become a doctor just to jeopardize it all for a good Halloween party? That's just dumb. Also, hasn't Dr. Mike ever heard of the "bog bodies" that were preserved in swamps for literal centuries?
Nevertheless, this opening scene sets up where the season will go and how Dean Munsch and the Chanels will fall back into each other's company. It turns out that Dean Munsch decided to become a doctor by getting the honorary doctorate that was stripped from Bill Cosby, and now she is trying to fix the health-care system by running Our Lady of Perpetual Suffering. When she finds out that Zayday is in medical school and looking for someone to pay for it, she hires her as a (very well-dressed) assistant. None of this would actually happen in the real world, but if you care about the real world you're probably busy watching some boring-ass shit on AMC and not this because this is Scream Queens. If you try to apply logic to it, you will give yourself a headache so bad that it will literally turn your face inside out.
Thanks to the Netflix documentary Entrap a Kappa Kappa: Murder on Sorority Row, the Chanels had their conviction overturned and were released from the asylum and Hester was finally put behind bars for masterminding the Red Devil murders. But now the world knows that the Chanels are awful people, so they spend every night eating fruit pies and sitting on their stoop because no one will give them an HBO Go password.
But guess who isn't around? Grace! Yes, that awful do-gooder with her litany of miserable floppy hats is not back for season two and I couldn't be happier if John Stamos was ordered by the court to sit naked on my couch for six hours a week to work off some sort of community service obligation.
Speaking of Stamos, he plays Dr. Brock Holt, a gifted surgeon who lost his hand in a garbage disposal accident. He and Taylor Lautner, who plays Dr. Cassidy Cascade, fill in the hapless authority figure roles populated last season by Grace's dad and sorority elder Gigi.
The only thing we are missing is former security guard Denise Hemphill, who is, of course, the best character on the entire show and a one-woman catchphrase machine. We saw a bit of her in a clip from the Netflix documentary, but it wasn't nearly enough. From the preview for next week it looks like she's going to be back, but Niecy Nash was only billed as a "special guest star" so maybe her role will be reduced this time around.
It takes two entire roles to fill Denise's shoes. There is Chamberlain, the overly enthusiastic candy striper who has no idea what he is doing, and I. M. Hoffel, the head of nursing who is out to get the Chanels. Now, if you thought John Stamos looks good well into his fifties, check out Kirstie Alley. She is 65 years old and looks as good as a glass of free lemonade on the fourth day of Coachella after you've run out of both money and drugs. If this is what Scientology does for your face, then all hail Tom Cruise because I need whatever mojo it is that's working for her.
It seems like each episode of this season will focus on a patient with an incurable disease as the doctors try to find some way to cure it. The first up is Werewolf Girl who looks like an extra from Teen Wolf, if Teen Wolf wasn't only about shirtless guys with eight packs who seem like they want to make out with each other but don't. Zayday thinks that she finds one solution, but in an epic flirting session between Chanel and Dr. Holt, they figure out that her diet is causing all of this extra hair growth. One soy diet and one makeover later and our patient is good as new.
That is, of course, until she gets her head chopped off by the Green Maniac, this year's serial killer. (Apparently the Red Sox wouldn't give up the copyright to use the Green Monster.) This dude is seriously gross. Last season, the Red Devil was sort of scary with his placidly smiling face, but his shiny latex was more imposing than actually disgusting. The Green Maniac has a weirdly lumpy body covered in scales and a face that looks like Chunk from The Goonies got sprayed in the face with toxic waste. I do not look forward to seeing this dude every week.
He approaches Chanel No. 5 and Werewolf Girl when they're in hydrotherapy baths. They're trapped, but with their heads sticking out. This is exactly like last season when the pledges were buried up to their necks and the Taylor Swift Superfan was run over with a lawn mower while everyone else looked on. See, everything is the same but just a little bit different. So far that's working out.
Okay, maybe everything isn't the same. There are a whole new constellation of mysteries to unravel: Just what are Dean Munsch and Nurse Hoffel planning for the Chanels? When is Hester going to break out and terrorize everyone? What the heck is up with Dr. Holt's weird tattoo? Is Taylor Lautner an awful actor or is he playing his character like that on purpose? And while we're talking about Cassidy Cascade, why is he so freezing all the time? Who is that woman whose husband Dr. Mike killed, and which one of the characters is really her unborn baby? And most importantly of all, when the hell does Denise Hemphill come back?