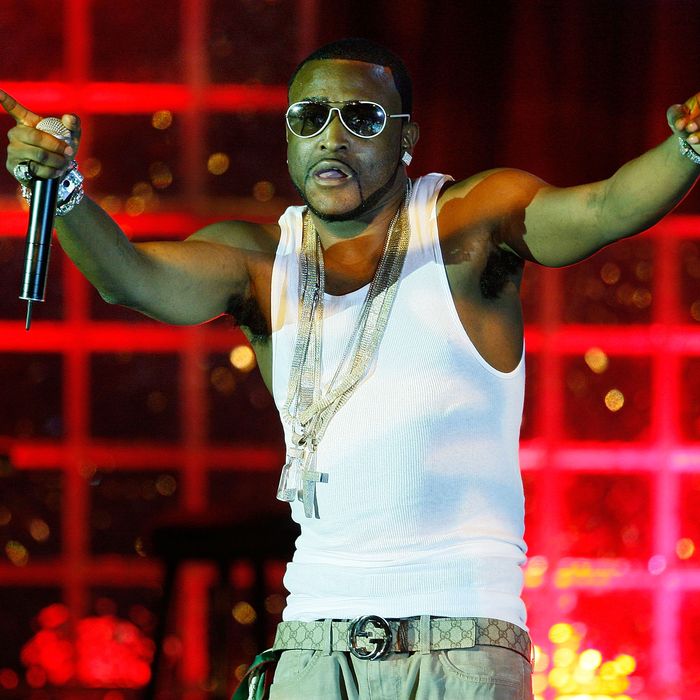 Shawty Lo in 2008.
Photo: Vince Bucci/Getty Images
There is a CD that still lives in a leather case in my mom's trunk that is so scratched it doesn't even skip. I burned this CD early in 2008, in preparation for the next time I came home from college to Atlanta. The CD was a testament to the golden age of sprawling, posse cut remixes that had dominated the previous two years. Included were the "Throw Some Ds" remix, the "We Fly High" megamix, and the "I'm So Hood" remix. But the first track — and the most recently released, sending my collegiate life into a whirlwind of homesickness — was the remix to "Dey Know" by Shawty Lo.
This was the time in which I knelt at the altar of the YouTube-to-MP3 converter. Finding a song wasn't hard, but finding the correct, well-mastered, meant-to-be-played-in-public version of a song often took some time. The remix to "Dey Know" was a tricky one, because seemingly every rapper threw a verse over the infectious marching-band-heavy beat at some point, generating a sea of create-your-own five-minute remixes.
Eventually, a perfect version surfaced, uploaded to YouTube on March 8, 2008. The audio was clear, it was a little louder than it needed to be, and the order of the verses was exactly how God intended — the official southern remix, starting with Shawty Lo and then going from Ludacris to Young Jeezy to Plies to Lil' Wayne.
The remix to "Dey Know" has, and will always, take a room from a 5 to an 8, or a 9 to a 16. This was the version that didn't mess around with the intro, which was crucial for parties. There were no DJ drops, not an errant half second before the horns began — as soon as you hit play, there were the trumpets that drive the whole song forward. And next thing you knew, Jeezy is delivering perhaps the line of his career, "I'm in my cool whip, insides jello / hop up out that pretty motherfucker like helllooooooo."
It wasn't uncommon at the time to flip between playing music through a DJ program, iTunes, Grooveshark, and YouTube. If the dorm-room DJ didn't have a song on their computer, the solution was typically to find it on YouTube — which could be treacherous to drop without a preview, since you couldn't be sure which version of the track you were getting. This one was recorded so perfectly, few would be able to tell that some technological maneuvering had been required to make the magic moment possible.
Years later, I was making a playlist on Spotify and noticed that the "Dey Know" remix was nowhere to be found. I also happened to be home in Atlanta, so I went into my mom's trunk and found the old burned CD from 2008. Turning the disk over, it looked like a cutting board. I put it into my computer. From the second track on, all of the songs were unsalvageable.
The "Dey Know" remix, however — unscathed.
The song is by far the oldest file on my computer. I've taken it with me everywhere I've gone, almost like a special wallet keepsake that you keep behind that little flap, that you peek at every now and then, that only you know about.
Shawty Lo died early this morning in a car crash in Atlanta. Although he was successful both as a solo artist and in the group D4L, he's easy to skip over in the pantheon of Atlanta rappers, which is a shame, because he's a legend in the city. His passing will hopefully prompt rediscovery of his full catalogue — from "Feels Good to Be Here" to "Gucci Bandana" to "I'm Da Man" — while drawing in new fans.
The "Dey Know" remix is in no way his crowning achievement — he's only a fifth of this song and is certainly more of a star on the original. But it's an anthemic time stamp of a very special moment in the history of a genre of music, of a city and of a region, bringing together three Atlanta rappers, a goon from Florida, and New Orleans's greatest child star to create one of the most formidable musical spectacles of the 2000s.
It was unstoppable then, and it still is now. Just turn it on, slowly and sassily run in place with utter indifference, and see if your day — especially a shit day like today — doesn't turn for the better.