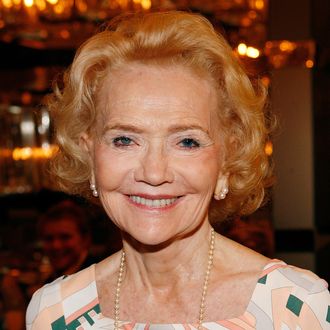 Photo: Isaac Brekken/ABC via Getty Images
Agnes Nixon, a creative powerhouse in the world of daytime soaps, died Wednesday at a senior living facility in Pennsylvania. She was 93. A major force in soaps since the 1960s, Nixon is best known for having created longtime ABC staples All My Children and One Life to Live. Having begun her career in soaps writing for CBS's Search for Tomorrow in the 1950s, Nixon also had a hand in As the World Turns, Guiding Light, and Another World before creating One Life to Live, All My Children, and the shorter-lived Loving. Nixon, who has been lauded for her introduction of socially progressive story lines to the soap world, was ahead of the jump in dealing with topics like interracial relationships, homosexuality, AIDS, child abuse, and abortion on daytime TV.
Nixon amassed a number of Daytime Emmys throughout her career, including a Lifetime Achievement Award in 2010, only a few years before All My Children and One Life to Live finally left the air. Of Nixon's death, Susan Lucci, who portrayed perhaps Nixon's most famous creation in All My Children's Erica Kane, wrote on Instagram: "I am devastated to learn that we have lost Agnes. I adored her and admired her — and I am forever grateful to her! May this liveliest and loveliest of women rest in peace." Nixon occasionally appeared in her soaps, once popping up on One Life to Live as God. She is survived by her children, Catherine Chicos, Mary, Robert, and Emily; ten grandchildren; and three great-grandchildren.