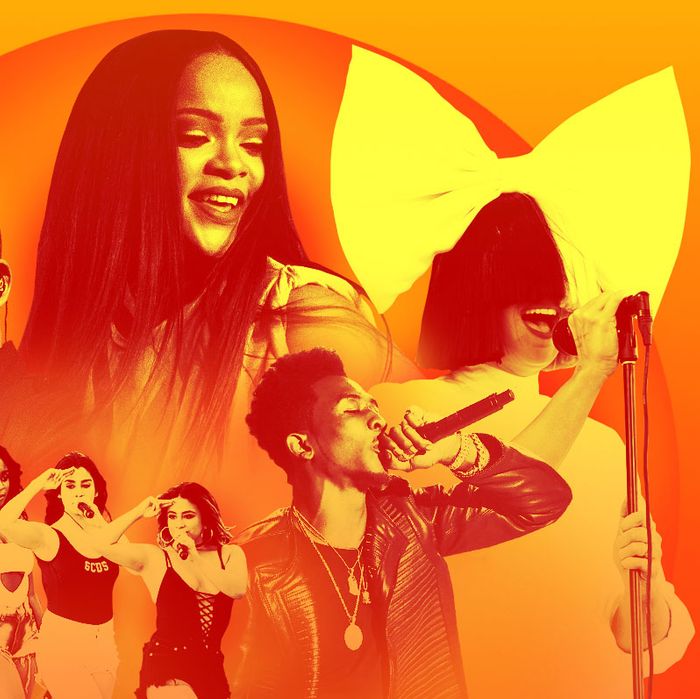 Photo-Illustration: Kelly Chiello and Photos by Getty Images
We tried something different in our search for this year's Song of Summer. From June through August, we rounded up the biggest smashes of each month, declared a winner and four runners-up, and also highlighted five songs to watch over the next month. Our criteria: general ubiquity (Billboard charting, video views, airplay), quality, and seasonal appropriateness. Desiigner's "Panda" won June; Calvin Harris and Rihanna's "This Is What You Came For" won July; and Sia and Sean Paul's "Cheap Thrills" won August. Today, the competition concludes with a roundtable discussion about the three-month ride and how the Song of Summer has evolved.
CONTENDERS
Calvin Harris ft. Rihanna, "This Is What You Came For"
Drake ft. Kyla and Wizkid, "One Dance"
Desiigner, "Panda"
Fifth Harmony, "Work From Home"
Sia ft. Sean Paul, "Cheap Thrills"
Dee Lockett: To consider Song of Summer in the simplest of terms, Drake's "One Dance" led the chart for the bulk of the season (ten weeks), replaced only by Justin Timberlake's "Can't Stop the Feeling" (one week), Sia and Sean Paul's "Cheap Thrills" (four weeks), and, most recently, the Chainsmokers and Halsey's "Closer" (two weeks). By mathematical default, Drake had the Song of Summer and, like the Weeknd last year, was ostensibly the season's king, full stop. (You got your "revenge," Aubrey.) And yet, it feels underwhelming.

Frank Guan: This summer certainly didn't lack for excellent music, but all the same I wouldn't want it back. Chalk it up to the climate. It's the hottest summer in recorded history, and all the extra humidity has turned outdoor life into a steam bath. At that point everything feels like work, and any song, no matter how cool, can only make you so happy about the summer. It's telling that the summer songs that stuck with me this year didn't make much effort to translate the heat into sound: Think of Rihanna's shivering "Needed Me"; "One Dance," which sounds like a glass of cold seltzer tastes; or the frozen magic of French Montana and Kodak Black's "Lockjaw," among others. These are summer songs in opposition to the summer heat, air-conditioning for the soul to guard it against meltdown.
DL: Every summer in recent memory seems to question when we'll do away with the Song of Summer and its tired tradition of trying to select a one-size-fits-all song to please the nonexistent monoculture. Summer Sixteen, as Drake dubbed it, however, considered the functionality of a Song of Summer: What should it represent about its respective season? How should it sound? What feelings, if any, might it evoke in the cultural listening experience? Culturally and societally speaking, this summer was one of the most fraught of my lifetime, and it's hard to expect any singular piece of music to encapsulate all its complexities and sell. Historically, a Song of Summer has been a salve to it all, an ice bath to wash away the hot filth, rather than societal commentary. Fetty Wap's "Trap Queen" existed outside the scope of Freddie Gray's murder last summer, and it's what topped the charts while Baltimore burned. (No wonder we couldn't decide on a Song of Summer then, either.)
Craig Jenkins: Taste is so stratified across radio, YouTube, blogs, and streaming services in 2016 that it's possible for no two people to have the same experience with music, like how all my friends in Brooklyn rave about LaCroix sparkling water, but I've yet to see a can. Song of Summer needs a clear-cut top tier of quality songs to be a fun experience, and while there were a lot of very popular songs this time, I didn't care for most of them. I didn't really even hear a lot of them. I heard Lil Yachty, Young Thug, and Rihanna. (I did hear Drake everywhere, but he bored me. I cared enough about Views beforehand to grab a T-shirt from the Manhattan pop-up shop, but now I can't be seen wearing it in public.)
DL: "One Dance" should, in theory, be textbook Song of Summer: a song that banks on Afropop, toasts to having "a Hennessy in my hand," and talks of going in for the kill on the dance floor. And it wins because it's the closest thing we have. But there's just something off about its flavor; that Drake would choose to hold off on presumably dropping the video until the start of fall is also telling of how he perceives its seasonality and the lifespan of a terrestrial radio single in 2016.
CJ: The other issue that makes the Song of Summer hard to gauge is the fact that the charts aren't the only measure of how popular a song is. One of the biggest stories in rap this year is this Atlanta kid Lil Yachty who has yet, I think, to release a proper single but who was pulling in SoundCloud plays to the tune of nearly half a million a day at one point this year. He won't show up on a singles chart or an album chart, so it's easy to miss the impact. But it blows up the whole idea of a Song of Summer when this kid dropped a huge mixtape a couple weeks back that didn't register on the proper avenues. Fittingly it's called Summer Songs. Ha.

DL: In previous summers, we've seen "street" tracks (as they're often dismissed) enter Billboard's highest rankings. Save for Desiigner's "Panda" this summer, the songs that pulsated throughout cultures more difficult to quantify remained outliers. Think of O.T. Genasis' "Cut It," Fat Joe and Remy Ma's "All the Way Up," D.R.A.M.'s "Broccoli" — all songs that could've showed up on Beyoncé's tour (some have), but barely cracked the Top 40. (Meanwhile, Twitter will tell you it was Major Lazer and Justin Bieber's "Cold Water" that swept the summer.) Just as we are a nation politically divided, there's no agreeing on one song that did this summer justice. Yet all my personal Song of Summer picks could vie for a spot on year-end lists: Rihanna and Calvin Harris's "This Is What You Came For," for briefly breaking up the Song of Summer race's monotony; Rae Sremmurd's "Black Beatles," for the culture; and YG's "Fuck Donald Trump," for being the only one to say it.
FG: There is one song, though, which already sounds the way this future is going to feel: I'm referring, naturally, to Kool and the Gang's 1974 funk staple "Summer Madness," a track whose shimmering, wistful, proudly wordless groove breaks into a series of rising octaves on the keyboard that connote at once rage, insanity, and ecstasy. "Summer Madness" isn't just a song of the summer or song of the year. It's the one song that can keep pace with a century when the planet grows ever more heated and its human population grows ever more mad.