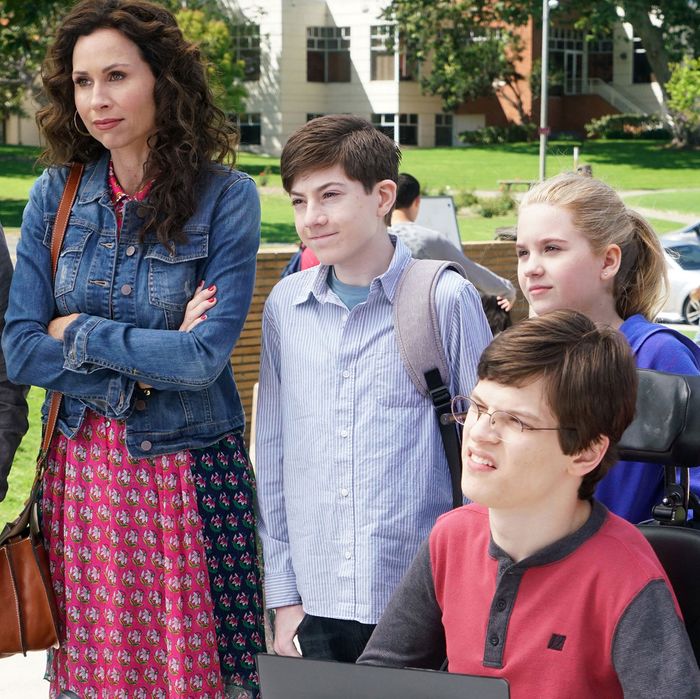 ABC has almost single-handedly kept the network family sitcom alive by continuing to champion shows that inject fresh perspective into that familiar framework. Black-ish, Fresh Off the Boat, and The Real O'Neals have all been recent winners for the Modern Family network. And the pilot for Speechless, which airs tonight at 8:30, suggests that ABC has another winner on its hands.
Created by Scott Silveri, a former writer and producer for Friends, Speechless shifts immediately into gear with zippy authority and a knowing sense of humor. Like two of its central characters — Maya DiMeo (Minnie Driver, back on TV after a brief post–About a Boy break) and Maya's oldest son J.J. (newcomer Micah Fowler), who has cerebral palsy — Speechless is comfortable in its own skin and doesn't seem to care whether you like it. Which, naturally, makes it immediately likable.
The first half-hour lays out the dynamics within the DiMeo household, where the balance of parental attention and energy lean toward J.J., who's confined to a wheelchair and uses a touchpad to communicate, but is still as much of an opinionated wiseass as any teenage boy. That doesn't stop Maya from turning into an overprotective, rabid, British-accented bulldog on his behalf, threatening school principals, stalking hallways, and often moving the family to new neighborhoods in order to ensure that J.J. has access to the optimum educational experience. All that upheaval is hard on the other two DiMeo kids, Dylan (Kyla Kenedy) and, especially, Ray (Mason Cook), whose frustration with the seesawing nature of daily life is a core part of episode one.
Previous shows have highlighted the challenges of being a child with special needs and of raising one, including Life Goes On, Parenthood, and, to a much lesser extent, Breaking Bad. (Walt Jr., played by RJ Mitte, had cerebral palsy, but the issues he faced were obviously overshadowed by his father's meth business.) But few series have tried to do what Speechless is attempting: to go for pure comedy while also focusing so specifically on a disability and its impact on a family. The show's challenge is to find consistent humor in that situation while also reflecting its realities in a way that's respectful, but not overly sentimental. In tonight's episode, it walks that tightrope with assured steadiness, establishing J.J. (played by Fowler with subversive charm) as a fully dimensional human who's as capable of cynicism as everyone else in his loving but slightly cuckoo clan. In the very first scene, as he's being lowered in his wheelchair from the back of the family van, a couple of dudes nearby watch and laugh until Maya yells at them, and J.J., glowering in their direction, holds up the curved fingers of his right hand. "That's the finger," Maya explains. "Work in progress." Yeah, this kid, and this show, are going to be okay.
There is something inherently funny in the awkwardness that overwhelms people when they try to "just be normal" around a disabled person, and the first episode suggests that Speechless plans to have all kinds of fun with that. The principal and teachers at the DiMeos' new, progressive high school are constantly tripping and falling over their desire to demonstrate just how inclusive and welcoming they are. When J.J. enters his new classroom, marking his first time in a standard, non-special education environment, all the students stand and burst into applause. Then the teacher panics: "Oh God, we can't stand. The ovation is insensitive. Everybody down!"
Silveri, who wrote the first episode, takes some shots at safe-space, "everyone gets a trophy" culture in this episode, but he also makes Maya's aggressive criticism and impatience seem just as crazy. She's more than mere helicopter mom; she comes into every situation like a wrecking ball, and Driver is clearly well-suited for causing some maternally motivated destruction. As Jimmy, the more even-keeled DiMeo family patriarch, John Ross Bowie (Barry Kripke from The Big Bang Theory) is the more dialed-down parent by default. But he still gets some funny moments, too. ("I have like 30 bars," he brags while showing the kids that a tree in their new yard is actually a cell tower. "I can call God.")
Dylan, a spitfire and talented track runner, is the least developed DiMeo at this point, but that's because the pilot focuses so much on Ray and his resentment over being a second thought in all the decisions his parents — well, mostly his mother — make. He winds up sorting through a lot of those feelings while sitting on a free-fall carnival ride, one that raises its passengers, then drops them several feet with no warning. That's clearly a metaphor for what life is like for the DiMeos, which can be tough on a kid like Ray, not to mention J.J. But if the rest of this Speechless season is anything like its first episode, watching those ups and downs, for us at least, is going to be a pleasure.