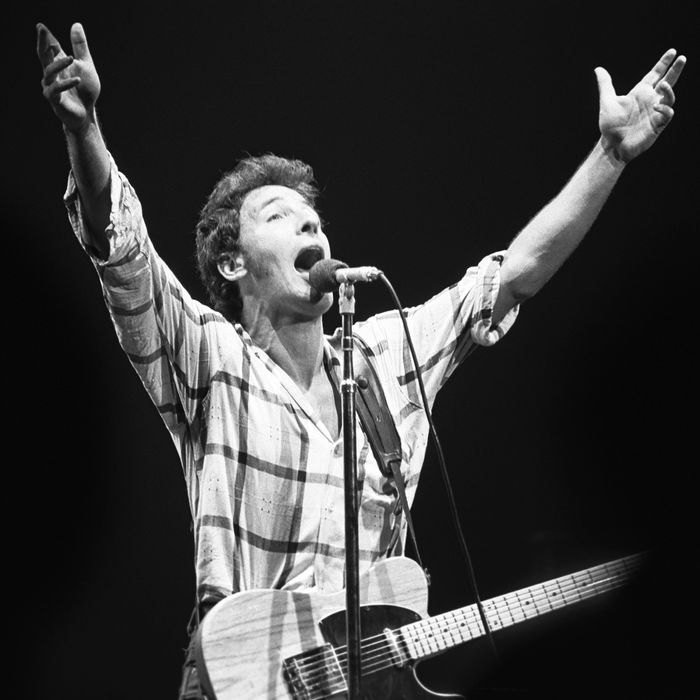 Bruce Springsteen performs at the Uptown Theater, Chicago, Illinois, October 10, 1980. (Photo by Kirk West/Getty Images)
Photo: Kirk West/Getty Images
Most grammar dictionaries warn against the overuse of capital letters, but Bruce Springsteen, in rhetoric as in music, has always done things his way. In his memoir, Born to Run, he deploys all caps more than 70 times. This enthusiastic writerly tic is, in one sense, a clue that no ghostwriters had a hand in writing the book. But as Born to Run develops, it also becomes an essential part of Bruce's style, the key weapon in his struggle to register the emphatic power of his voice on the flat surface of the page.
So here's every example from the book of when Springsteen tried hardest to convey a life or death urgency — save two: his memory of watching Elvis Presley perform on Ed Sullivan, in which the caps continue across four pages, and an extended story about getting kicked out of Disneyland because Little Steven wouldn't take off his bandanna.
1. On rejecting the status quo: To these schmucks, I'm just another spoiled kid who will not conform to what we all ultimately must conform to, the only-circumstantially-theistic kingdom of … THE WAY THINGS ARE!"
2. On what he prefers: THINGS THE WAY I LIKE 'EM!
3. On his mother and her two sisters: They are 'THE GREATEST.'
4. On his grandfather Anthony's typical greeting:  'BAAAARRRRUUUUUUUUUUUCE … Come here! … And then the release [from his grandfather's cheek-pinching], a quick flourishing pull, away, out and back, finishing with a snapping of his fingers, accompanied by a hearty laughing, 'BAAAARRRRUUUUUUUUUUUCE … WHAT'S THE MATTER?'"
5. On thinking about his grandfather backstage: While I no longer fear Big Daddy's 'pinch of death,' still, on many nights, right around eight-thirty, Anthony lives … as the house lights go dark, the backstage curtain opens and I hear that long, drawn-out… BAAAARRRRUUUUUUUCE.
6. On being exiled from his father's love and hot-rod heaven: I stood exiled from my father's love AND hot rod heaven!
7. On the Meet the Beatles album cover: Those four half-shadowed faces, rock 'n' roll's Mount Rushmore, and … THE HAIR … THE HAIR. What does it mean? It was a surprise, a shock. You couldn't see them on the radio. It is almost impossible to explain today the effect of … THE HAIR.
8. On losing his first fight: Who knows karate in 1966 New Jersey? … NO-FUCKING-BODY!
9. On living in a duplex next to a Jewish family: My mom and dad, no racists or anti-Semites, still felt the need to caution my sister and me that these were folks who … DID NOT BELIEVE IN JESUS!
10. On getting attention before he learned an instrument: To grab the spotlight before I could play, I DANCED! … somewhat.
11. On an underutilized social observation: The poor souls who compromised most of my Catholic male colleagues didn't yet realize that GIRLS LOVE TO DANCE!
12. On an early bandmate: George, who bore a resemblance to both Elvis and Paul McCartney (the king AND a Beatle, the true double whammy!), was our resident lothario.
13. On his early in-concert game plan: Play until they liked it, until they could hear it and, most important, until they DANCED!
14. On greasers: "Their grooming was precise and not to be fucked wit h… YOU DO NOT TOUCH MY HAIR … YOU TOUCH MY HAIR AND WE FIGHT."
15. On his father forcing a haircut on him: It was the only time I told my dad I hated — HATED — him.
16. On getting an electric guitar: When I plugged it into my Danelectro amp, MAGIC!
17. On lacking a certain skill as a young man:  When I say I didn't drive, I mean I DID NOT KNOW HOW.
18. On a triumphant musical return from a trip out West: We trucked back into Jersey as the conquering heroes and for proof we had … our … REVIEW! We had been recognized by a big-time newspaper music critic as Jersey badasses gone to teach those West Coast sissy boys something about THE ROCK!
19. On a key line in "Rosalita (Come Out Tonight)": Not that it would all BE funny, but that it would all SEEM funny. Probably one of the most useful lines I've ever written.
20. On the songs of Roy Orbison and Phil Spector: They were filled with real studio genius, breathless passion … AND … they were hits!
21. On channeling his influences into his breakthrough album, Born to Run: I wanted to craft a record that sounded like the last record on Earth, like the last record you might hear … the last one you'd ever NEED to hear. One glorious noise … then the apocalypse. From Elvis came the record's physical thrust; Dylan, of course, threaded through the imagery and the idea of not just writing about SOMETHING but writing about EVERYTHING.
22. On the results: On August 25, 1975, all the aces came up, the sevens rolled round and an endless river of noise and silver poured forth from the mouth of the one-armed bandit of rock 'n' roll — JACKPOT! Bingo! Bull's-eye! We had a HIT!
23. On seizing his shot at success: THIS WAS NO TIME TO BUCKLE! […] This was the course I had striven toward relentlessly … STARDOM … not a Wednesday, Friday and Saturday night gig at the local gin joint, not a musical weekend warrior, not a college kid's down-low secret hero… STARDOM! THE IMPACT, THE HITS, THE FAME, THE MONEY, THE WOMEN, THE RECOGNITION, AND THE FREEDOM to live as I pleased.
24. On playing London for the first time: Once inside [the venue] I am greeted by a sea of posters proclaiming me THE NEXT FUCKING BIG THING! The kiss of death! It's usually better to let the audience decide that one. I'm frightened and I'm pissed, really pissed. I am embarrassed for myself and offended for my fans. This is not the way it works. I know how it works. I've done it. Play and shut up. My business is SHOW business and that is the business of SHOWING … not TELLING. You don't TELL people anything, you SHOW them, and let them decide. That's how I got here, by SHOWING people.
25. On some friendly performing advice: My good friend Peter Wolf, the great front man from the J. Geils Band, once said, 'The strangest thing you can do onstage is think about you're doing.' He was right, and I am doing the strangest thing you can do onstage RIGHT NOW! … That's why people pay the money and that's why they call it LIVE.
26. On counting off: One … two … three … four… Motherfucker! That's the time for action, for living, for manifesting life, for BRINGING IT! … NOT for dipping to the black recesses to pick the lint out of your belly button.
27. On the music business: Way at the top of the music business food chain in that big conference room in the sky (or in my case, somewhere in Japan), at the end of the day, they don't ask the man on top, 'How many good records have we made this year?' They ask him, 'HOW MANY RECORDS HAVE WE SOLD?'
28. On Bo Diddley's right-hand man: Bo [Diddley] had decided that Jerome [Green], shaking the maracas, was more essential to his world, his sound, than a bass playe r— of which he had NONE. Understand, on 99.9 percent of all the records you've heard for the for the past fifty years, there's a BASS! But Bo said, 'Fuck that, I got all the bass I want here in my right, thunder-makin', guitar-strummin' hand. But what I really need is my man JEROME to shake his maracas!'
29. On the importance of "and" to band names: It was James Brown and His Famous Flames, Buddy Holly and the Crickets — that 'and' was really important. It said there was a party going on, a meeting taking place, a congregation being called forth, YOU WERE BRINGING YOUR GANG!
30. On why he was told he should take out life insurance: 'Look, your poor mother and father will stand to make all this cash and they won't have to pay me a dime. I'M FOOTING THE BILL!' … Toward the end of a very drunken evening, I stopped Mike in the middle of his po-faced soliloquy. 'ENOUGH, GIVE ME THE PEN!' … I was sick of the complicated, confusing adult world of these FUCKING PAPERS! Let's get this shit out of the way and JUST LET ME PLAY!
31. On contract disputes: I found out that agreements mean you agreed to something! Whether you read it, ate it for breakfast or papered the walls of your rumpus room with it … you'd AGREED! Then came the depositions.
32. On why you shouldn't sign a bad contracts with a shady character: HE'S GOT YOUR NAME ON THE PAPER!
33. On giving a bad legal deposition: It was all ambivalence, gray area, indecision, fairness and NO FIGHT!
34. On casual sex: You play; the evening culminates in merry psychosexual carnage, laughs, ecstasy and sweaty bliss; then it's on to new faces and new towns. That, my friends, is why they call 'em … ONE-NIGHT STANDS!
35. On mixing The River: WE DID NOT KNOW HOW TO MIX WHAT WE'D RECORDED!
36. On working with Bob Clearmountain, who mixed "Hungry Heart": HE WAS TOO FUCKING FAST! We needed to ruminate, contemplate, intellectualize and mentally masturbate ourselves into a paralytic frenzy. We had to punish ourselves until we'd done it … OUR WAY! And in those days, on E Street, our way was only one way … THE HARD WAY!
37. On forgoing rock-and-roll debauchery: For me, it wasn't the sex, it wasn't the drugs … it was the ROCK 'N' ROLL!
38. On his work ethic: I'll be digging my hole under a bloody moon. But come the morning, that fucking hole is DUG!
39. On house shopping: It took a while and some mental probing, but I came to see that NO HOME BUILT BY MAN! was going to hold/satisfy the Jersey Devil.
40. On the pleasure of road trips in the '80s: But I like to be on wheels, and in the ancient days about which I will soon regale you children, THERE WERE NO CELL PHONES!
41. On the occasion of two band members missing the start of a concert because they were playing table tennis: You're ass is in a sling and I'm going to burn that fucking Ping-Pong table DOWN!
42. On an endless, awful fishing trip: After a second hour had passed I commanded Tom to go on top and find out EXACTLY how much farther we had to go. Our skipper raised one finger, then turned back to his wheel. Good, one more mile  … no… no … turns out, ONE MORE HOUR!
43. On having to bone up on the issues before Amnesty International's Human Rights Now Tour: I got mugged by SCHOOLWORK! Nobody told me I was going to have to STUDY!
44. On playing a concert in Côte d'Ivoire: We went for the nuclear option, kicking straight into 'Born in the USA.' Time … crept to a standstill … then … BOOM!
45. On the problems with New York City: I couldn't get sky, couldn't see sun and couldn't run. Yeah, the museums, the restaurants, the shops, but I was still SMALL-TOWN!
46. On the birth of his son: CITIZENS OF LOS ANGELES: EVAN JAMES SPRINGSTEEN IS BORN. A SON OF NEW JERSEY, BORN IN EXILE, HERE IN BABYLON!
47. On his daughter: She would sit there, her complexion turning Bazooka-bubblegum pink as her stubby little digits, pulling and tugging, struggled with the buckle and she exerted her tiny, mighty little will to DO IT HERSELF!
48. On his father suffering a mental breakdown: He would NOT stop. He would NOT take his medicine.
49. On his father's love for the ocean: I understood that hunger. For me there'd been no captain's hat! Just 'THE BOSS!'
50. On reuniting the E Street Band and getting the group back together: I started realizing there was a sea of young people out there who never saw the greatest thing I did: PLAY LIVE … with the E Street Band.
51. On playing with his idols at the Rock and Roll Hall of Fame: In 1964, millions of kids saw the Stones and the Beatles and decided, 'That looks like fun.' Some of them went out and bought instruments […] Tonight, one of those ended up standing between Mick Jagger and George Harrison, a Stone and a Beatle. I did not fool myself about what the odds were back in 1964 that that one would've been the acne-faced fifteen-year-old kid with the cheap Kent guitar from Freehold, New Jersey. My parents were RIGHT! My chances were ONE, ONE in a MILLION, in MANY MILLIONS. But still … here I was. I knew my talents and I knew I worked hard, but THESE, THESE WERE THE GODS, and I was, well … one hardworking guitar man.
52. On the response to his controversial song "American Skin": I received letters, one from the police commissioner asking me NOT to play the song! … Huh? It's a song!
53. On early sessions for The Rising: All great rock 'n' roll records convince you of one essential thing: that SOMETHING is HAPPENING! Something you NEED to hear! … We didn't have that. When I listened back to what we'd recorded, my final judgment was: WE WERE DULL!
54. On what he wanted from the Super Bowl halftime show audience: I want you to step back from the guacamole dip. I want you to put the chicken fingers down! And turn the television ALL THE WAY UP! Because, of course, there is just ONE thing I've got to know: 'IS THERE ANYBODY ALIVE OUT THERE?!'
55. On his errant knee-slide during that same show: Too much adrenaline, a late drop, too much speed, here I come, Mike … BOOM! And I'm onto his camera, the lens implanted into my crotch with one leg off the stage. I use his camera to push myself back up and … say it, say it, say it, say it … BLAM! 'BORN TO RUN'… my story.
56. On fans asking whether the band would continue without Clarence Clemons: "Whaddyagonnado?' That's how it always came out. One thought, one word, one critical, life-defining, all-important, existential 'I gotta know NOW 'cause it's driving me CRAZY that this thing I loved might no longer be there!!!' question.
57. On Jake Clemons filing in for Clarence: When he arrived, he 'sort of' knew [our songs]. Lesson number one: in the E Street Band we don't 'sort of' do …. ANYTHING. James Brown was my father, god and hero as bandleader. Sam Moore was also a great inspiration … On the bandstand, with their bands, they gave NO QUARTER!
58. On the E Street Band's longevity: People always asked me how the band played like it did night after night, almost murderously consistent, NEVER stagnant and always full balls to the wall. There are two answers. One is they loved and respected their jobs, one another, their leader and the audience. The other is … because I MADE them! I needed Jake to deeply understand them both, so I said, ' … Where … do … you … think … you … are? If you don't know, let me tell you. You are in a CITADEL OF ROCK 'N' ROLL. You don't DARE come in here and play this music for Bruce Springsteen without having your SHIT DOWN COLD!'
59. On Jake Clemons again: Because even if he could play in the E Street Band, who you ARE, what you've got inside, your degree of emotional understanding of the stakes we're playing for, FUCKING MATTERS!
60. On playing with the Rolling Stones: The phone rings. Mick Jagger is on the line. I had a teenage daydream about receiving a call like this many years ago, but no, the Stones do not need an ex-pimply faced front man for the next evening's show. But it's THE NEXT BEST THING! They're playing in Newark, New Jersey, and have decided one extra New Jersey guitar man and voice for 'Tumbling Dice' might get some of the local fannies wagging … These are the guys who INVENTED my job!
61. On thinking about playing with the Rolling Stones: On my way home I kept thinking, 'I GOTTA CALL STEVE!' […] The next night we did it again for twenty thousand thunderstruck New Jerseyans in Newark. It was a thrill but it didn't have the mystic kick of the night before when I got to sit in, in that little room with just those four guys, the GREATEST GARAGE BAND IN THE WORLD, in my small piece of rock 'n' roll heaven.
62. On performing: Part of getting there is knowing what to do with what you have and knowing what to do with what you DON'T have.
63. On post-tour depression: I had an attack of what was called an 'agitated depression.' During this period, I was so profoundly uncomfortable in my own skin that I just wanted OUT.