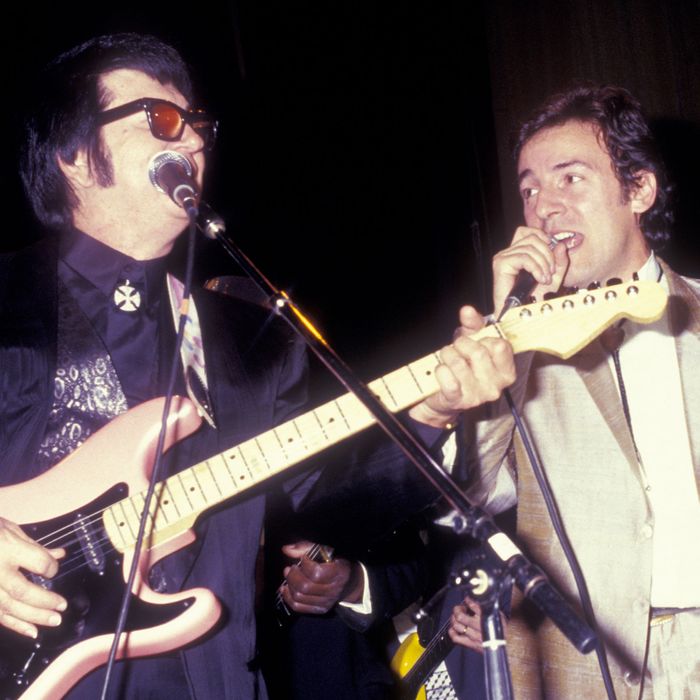 Bruce Springsteen with one of his idols, Roy Orbison
Photo: Ron Galella/Getty Images
As expected, Bruce Springsteen's new autobiography, Born to Run, contains chapters that explore the creative process behind nearly every one of the author's 18 studio albums. And though each reader will have his or her own feelings about the fact that Human Touch and Lucky Town get nary a mention in the book's 500-plus pages, even the most fanatic Bruce completist would likely admit that those paragraphs were better spent elsewhere. Like, for instance, in the long sections in which Springsteen breaks down the music that influenced him.
You can guess a lot of it — the Beatles, Elvis, Bob Dylan, and Roy Orbison all receive candles at the base of their altars — but elsewhere, Born to Run sketches a musical world that extends far beyond the rock canon. We learn in the second chapter, for instance, that "When the Moon Comes Over the Mountain" by Kate Smith (the "Songbird of the South!") was one of the first songs that young Bruce learned to sing.
Later, in a particularly fascinating aside, he breaks down the typical set of an Asbury Park beach band circa 1964, shouting out records by mostly forgotten rock crews like the Pyramids ("Penetration"), the Marketts ("Out of Limits"), and the Shadows (who recorded the original version of "Apache"). When Springsteen himself enters the scene, he turns it upside down by singing during a performance of "Twist and Shout" — no one else on his scene at the time dared attempt anything more than instrumentals. (His own band would even play Glenn Miller's 1940 big band hit "In the Mood" in order to add diversity to its repertoire.)
A couple of the songs mentioned in Born to Run are too obscure even for Spotify. (The Kingsmen's "Haunted Castle" falls into this category.) Every other tune explicitly referenced in the book is included the playlist above, a long list of songs that spans blues, country, doo-wop and Major Lance's "The Monkey Time," the song cited as the inspiration for "The E Street Shuffle." Pretty obvious, too, once you listen to it.