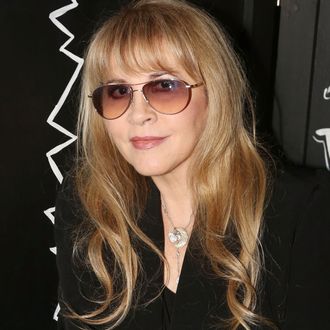 Stevie Nicks.
Photo: Bruce Glikas/Getty Images
Stevie Nicks has some very good justification for starting her new solo tour: "I have two years off before Fleetwood Mac comes knocking on my door [for another tour]," she told the New York Times. "Why would I want to sit around and do nothing?" So instead of sitting around her L.A. estate and writing poetry (which, apparently, is how Nicks likes to relax), she's going to 28 cities in support of her 2014 album 24 Karat Gold: Songs From the Vault.
Ever the master of exquisite put-downs, Nicks also shared her thoughts on working with Fleetwood Mac — "We argue all the time, but we always have. In my band, there is no arguing. I am the boss." — and imagined the perfect arrangement of "Landslide" in honor of Donald Trump's (imagined) defeat in the presidential election. "When [Hillary Clinton] wins by a landslide, I could gather together the Dixie Chicks, Billy Corgan, and everybody who's ever sung a version of 'Landslide,'" she said. "It's not up-tempo, but it certainly would get the message across." Of course, that's no Kidney Now!, but it'd sure be fun to see.