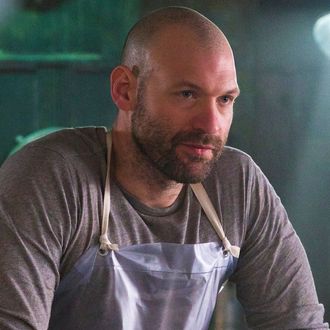 Wait, Corey Stoll is in this?
Photo: Michael Gibson/FX
The Strain, a show whose sole purpose, as far as anyone knows, is to generate posters too gruesome to describe in print, will get one more chance to make you queasy during your commute before it goes off the air. FX has renewed the series from Carlton Cuse, Guillermo del Toro, and Chuck Hogan for a fourth and final season, which is set to air in summer 2017. Currently in its third season, The Strain follows a group of New Yorkers valiantly fighting against the vampire-like strigoi army, in much the same way that actual New Yorkers valiantly fight against the presence of bedbugs, rats, cockroaches, and other vermin invaders. Hard to say which group has it harder.