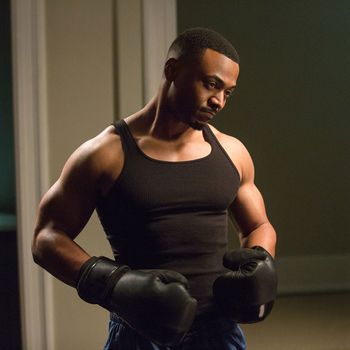 RonReaco Lee as Reggie.
Photo: Quantrell D. Colbert/Starz Entertainment, LLC
By Jimmy's criteria or anyone else's, Cassie is a pretty amazing person. Chen's father, Heng (Ben Wang), seems to intuit that almost immediately. After all, she's got a certain "whippersnapper" way about her, reminiscent of his wife, Fang (Peggy Lu). Granted, the comparisons stop there, as Heng can't stop remarking on Cassie's distinctively Western dimensions. But by the end of "Father's Day," Fang herself senses the depth in Cassie, requesting a group photo that may even make its way to "The Great Wall of Chen." With that, a story line that often felt removed from the intertwined journeys of Survivor's Remorse strikes a sweet, hopeful note. And not a moment too soon, either, as it eases the tension of watching Reggie, Cam, and M-Chuck reach their bitter brink.
Jimmy's somewhere in the middle stages of self-realization, with one foot in the quicksand of his sorrows and another facing the elusive future in which both he and Cassie place their faith. (Of course, she's bounding more assuredly toward it.) While guzzling vodka "like a pirate," he lays bare his horrific life story to M-Chuck, a gesture meant to show she's not alone in this world, even if it feels that way in her head. In turn, M-Chuck's courage to seek out closure and be, as Dr. Roycroft encourages, a "well-adjusted human being," motivates him to take the simple step of asking Isa out on a date. She says no, he persists, they banter, she ultimately gets assurance of a kind of pre-prenuptial, and Jimmy takes one giant leap forward for all little children formerly lost.
He only wishes he could offer Cam solace when his star player retreats to the locker room, sobbing, after a first-round loss to the lowly Boston Celtics. (A little wish fulfillment from creator Mike O'Malley, no doubt.) But before Cam could really "mature" in the moment — as one ruthless sports reporter might put it — he required reassurance from his mother. And before he could really feel like a man, the time had come to confront his father, Rodney Barker.
How that plays out is to be determined (ditto whomever they cast as Cam's dad), as is the outcome of M-Chuck's visit to Pookie's house. It's equally unclear whether Pookie himself was among those who violated Cassie on Long Island or merely a witness too scared to speak out. But the reality is this: Cassie has likely been living in the same relative square-mile radius from her attackers ever since. That she had the strength to endure, survive, and finally get out is remarkable. Her determination to live for tomorrow has steeled M-Chuck's resolve.
But it's Reggie — typically even-keeled, kind, and wise Reggie — who appears closest to coming apart. Missy (whose own development has deferred somewhat to her husband's crisis) is rightly concerned that they're approaching something irreconcilable. It's a tricky position in which to place the audience, asking us to stick with the show's most admirable supporting male character as he does very unsympathetic things, unyielding in his raw emotion. Missy is far from mistreated, but she has been shut out and shut down. The situation asks just as much of its actors, particularly RonReaco Lee, in order to deepen our understanding of Reggie's circumstances rather than judge what he's bringing to the surface.
And in that diner booth across from Reggie's father (do TV diners have a particularly laissez-faire attitude about customers who come to hash out their issues without actually ordering hash?), Lee is fantastic. The slow boil of his rage is unsettling and utterly natural. He's not wrong to be angry, and he's not the first son of an addict to be less than impressed at a parent's efforts to heal the world once they're sober. Marlon Young is powerful, too, sensitive and stoic in ways that belie Trent Vaughn's bullying track record while revealing debilitating weakness. Reggie seizes on the latter for strength, without showing dad just how powerful he really is. Reggie, like Cassie and Jimmy, is a survivor, but he's far from settled. The hope is that he won't uproot what he and Missy have.
"I would pay the moon just to be able to draw in a deep breath," M-Chuck tells Jimmy at one point, breaking his heart. Though less is at stake, O'Malley and his impressive crew are sure to be exhaling now that season three has wrapped. The high-wire act of navigating the cast's myriad commitments, adding more drama without conceding the show's comedic gravitas, and eventually coming out the other side with plenty to say has been admirable and entertaining. But before anyone moves any further, where the hell is Allison?
Apart From All That:
Three cheers for Mike O'Malley's aunt, Regina O'Malley, who plays Dr. Roycroft.
As you may have guessed, Mike's Pastry is a thing.
Gavagan's Diner, best I can tell, is not.
C'mon, sportswriters aren't that bad.
I, too, would feel disadvantaged by having a "sports penis" on my résumé.
I'll take Cassie over Beyoncé any day.
Have I said too much?
Thanks for playing ball with me all season. (See, that's tongue-in-cheek 'cause we never actually see Cam on the court.)