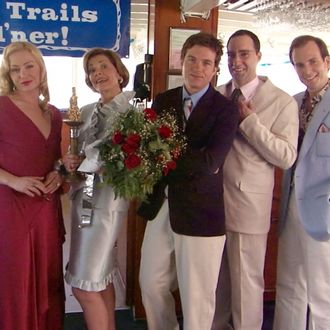 Update, September 22: We've made a huge mistake. Tambor has clarified on Twitter that his "marching orders" referred to season four of Transparent as opposed to a next season of Arrested Development. Sorry, folks.
Our original post appears below.
Netflix Love Michael! Netflix Love Arrested Development! Since season four of the dysfunctional family sitcom aired on Netflix back in 2013, the question for Bluthheads across the world has been simple: Will a fifth season ever happen, and if so, when? Well, settle down now, because it appears we finally have our official answer, thanks to the Bluth patriarch himself. While making a stop on Today to discuss his Emmy award–winning role as Maura Pfefferman on Transparent, Jeffrey Tambor was asked by Al Roker about the future of the show. "There's always chatter," Tambor replied. "My marching orders are to go to work [in] January." An odd behind-the-scenes interruption impeded Tambor from continuing his response — uh, rude, the  producers could really use some Caged Wisdom right now — but still, this is quite exciting! Don't blue yourself too hard.