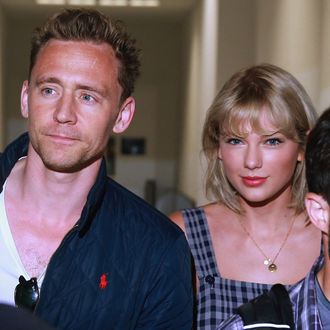 We were keeping it low key / Then you went all Loki.
Photo: Newspix/Getty Images
A fact: It is the day after Labor Day. A rumor: According to reports from Us Weekly and People, Taylor Swift and Tom Hiddleston have broken up. Another fact: It's time to put those white clothes (and that one white tank) in the closet. Another rumor: According to Us, Taylor "was the one to put the brakes on the relationship," as "Tom wanted the relationship to be more public than she was comfortable with. Taylor knew the backlash that comes with public displays of affection but Tom didn't listen to her concerns when she brought them up." Fact: The 2016 Emmy Awards will take place on September 18, and Tom Hiddleston is nominated. Rumor: "It was an intense start," per a so-called "Hiddleston insider." "No one can keep that kind of momentum going." Fact: Photos of Tom Hiddleston and Taylor Swift first kissing leaked in June. One last fact: We're right on the cusp of fall — a great season for releasing music, even if you say it's not coming.