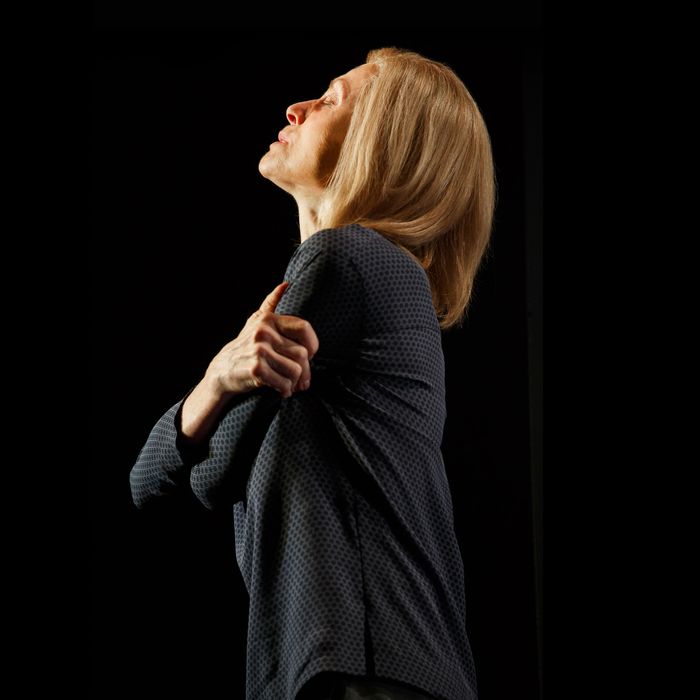 Judith Light in All the Ways to Say I Love You, at the Lortel.
Photo: Joan Marcus
Judith Light can do no wrong onstage, which isn't to say she can save a play that gets so little right. Without her, All the Ways to Say I Love You, the hour-long monologue that opened MCC Theater's new season tonight, would be very minor Neil LaBute. Not quite as minor as the similarly stunty and stunted Wrecks, performed by Ed Harris at the Public in 2006, but still too lightweight to fend for itself. Like that earlier work, which LaBute cites as a companion piece, All the Ways to Say I Love You borrows a problem — not even a theme — from Greek drama, in this case from Phaedra, of whom we've seen a bit too much lately. But whereas Wrecks (as the pun in its title suggests) was concerned rather narrowly with incest, All the Ways to Say I Love You is about a slightly larger and yet more ambiguous crime. That's an improvement, if still a doodle; Light makes it a monument.
Both plays take the form of an exculpatory speech delivered by the perpetrator in a theatrical limbo that in some ways resembles an investigative interview (there are implied but unheard questions) and in some ways a psychological star chamber. Light plays Mrs. Johnson, a high-school English teacher and guidance counselor reflecting on a sexual relationship she had with a student some 15 years before the "action." (It seems fair to reveal this plot point because LaBute, uncharacteristically, does not withhold it for long.) Though she repeatedly points out that the student, Tommy, was a "second-year senior" — that is, likely 18 — she does not minimize the factors that made the relationship inappropriate even if it was not strictly illegal. Tommy was a struggling student from a dysfunctional family. He depended on Mrs. Johnson for college recommendations. And, like Mrs. Johnson's husband, he was black.
Here I'll stop relating the plot, because even if LaBute dispenses with the big news early, he does show his usual skill in delaying and shaping the secondary revelations. But however apt the architecture, what fills it up, its interior design, is a little tacky and heavily padded. Mrs. Johnson actually says things like "I remember it like it was yesterday." But even when LaBute's sentences do not indulge in such clichés they have a curiously self-underlining quality, as if to promote an urgency that the story otherwise lacks; since we don't know where we are, other than in a cinder-block school office with venetian blinds, there is no sense of consequence for Mrs. Johnson's "admissions." She did the crime, she got away with it, she regrets it but not too much. And though she refers in the final underwhelming beats to "the cost of my lust and my treachery and my duplicity," that cost seems to be, at worst, an ordinary human's cup of karmic rebound.
The gap between content and tone is so extreme that the play would get dangerously close to giggle-worthy were it not for Light's commitment to it. Even more than in her Tony-winning second-banana performances in Other Desert Cities and The Assembled Parties she is a marvel of heightened naturalism, all her abilities in top form and wielded together toward the same ends. That she is funny and febrile is no news; the nervous jokes pop out of her as reflexively as the tears pool in her eyes. Her gestural armamentarium is perfectly calibrated to the character's training and circumstance. Even her slimness — she passes easily at 67 for the 50-ish Mrs. Johnson — seems like a kind of instrument: In her skinny gray slacks and maroon cardigan she resembles a harp string, ready to be plucked. (That perfect costume is by Emily Rebholz.) Nor will it be surprising to followers of Transparent (less so, perhaps, than to followers of Who's the Boss?) that she is exceptionally fluent and zestful with sexually outré material. "Every second of every day when that boy was fucking me … I loved it," she all but grunts.
That said, it's clear that Light is working too hard to make up for what's missing in the script. It's fluidly done — she can't do anything awkwardly — but her frequent brake-jamming self-interruptions and semaphoric indications of emotional potholes eventually come to seem less like character tics than like Cliffs Notes. Leigh Silverman's production seconds the idea with its portentous effects: dramatic changes of light and sound that sometimes had me thinking a spaceship might land in the office. (Is it significant that the clock on the wall of Rachel Hauck's set has only a second hand?) I'm not sure what else the director and actress could have done to make an entirely retrospective script feel theatrical in the moment, and it's admirable how much they succeed. But it may not be what LaBute really calls for. As he has Mrs. Johnson say about her doomed romance, "I teach it but I don't believe in it: drama."
All the Ways to Say I Love You is at the Lucille Lortel Theatre, through October 23.