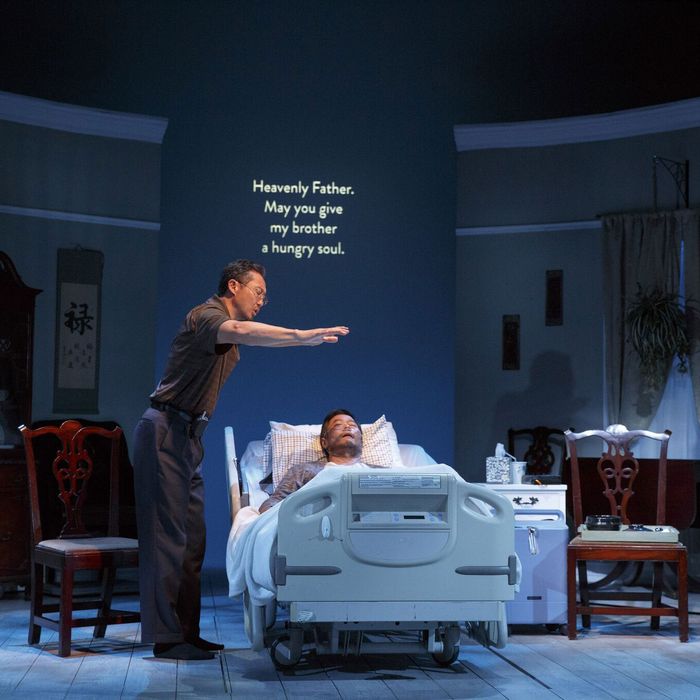 From Aubergine, at Playwrights Horizons.
Photo: Joan Marcus
With its concentric circular walls sliding this way and that, Derek McLane's scenic design for Aubergine looked to me like a set of nesting steamer baskets. But perhaps I was being too suggestible; the play, which opens tonight, at Playwrights Horizons, is almost entirely about food. I suppose that its author, Julia Cho, means for it to be about something larger; she writes in a program note about the way food attaches to memory, and vice versa. Unfortunately, the play itself does not so much demonstrate this connection as state it over and over: a recipe for dramatic starvation.
It's a curious botch, full of intelligence and watchfulness but almost entirely lacking in propulsion. Nor is this accidental; Cho announces her intentions at once, when, in the opening scene, a woman who barely appears elsewhere in the story steps out to eulogize, in a long, purplish monologue, the best thing she ever ate. (It was a pastrami sandwich.) Later, almost all of the major characters will do the same thing, naming as their foodie high points everything from okra to mulberries to Korean muguk soup. Perhaps this would be tolerable as comment on the action in between if there were any. But even as Cho tells her wisp of a story — about a 38-year-old Korean-American chef (Tim Kang) whose father (Stephen Park) is dying — she refuses to dramatize it. Instead, the characters, who also include a Korean uncle, a touchy girlfriend, and a wise African hospice worker, mostly tell each other more stories about food, each with its own quiet moral. Aubergine is all points and no play.
You can write that way, but then you're an essayist. A play that comes across the footlights as thumb-sucking, however thoughtful, is failing to engage the powerful machinery available to it. It's not just a matter of quiescence, which can be dramatic — though here, under Kate Whoriskey's indulgent direction, the pace is so slow that the audience remains a few steps ahead of the playwright at all times, until the desperate surprise of a Hail Mary ending. It's also a matter of characters who, having little to do but maunder and reminisce and fit themselves into an inhospitable format, fail to emulsify. (The culinary metaphors seem unavoidable.) Were it not for some very fine actors doing careful detail work, as if in an audition class, you would really have nothing to watch except those circular walls, opening and closing. Luckily, there's Michael Potts as the hospice worker and Sue Jean Kim as the girlfriend — and Chez Josephine next door and Ollie's across the street.
Aubergine is at Playwrights Horizons through October 2.