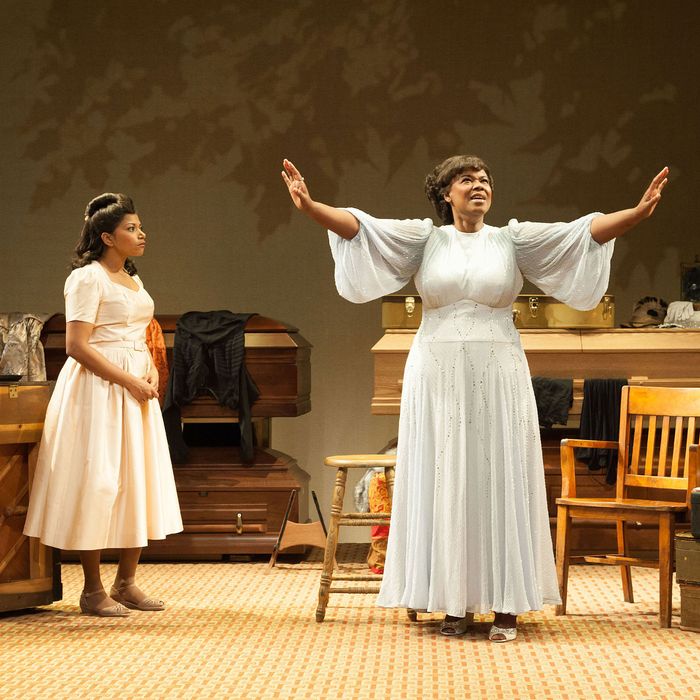 Rebecca Naomi Jones as Marie Knight and Kecia Lewis as Sister Rosetta Tharpe.
Photo: Ahron R. Foster
Sister Rosetta Tharpe (1915–1973) was a gospel singer, pianist, and guitarist whose combination of holy rolling and louche swing made her one of the forgotten godparents of rock. ("Sister" was a nickname, not a title; she was no sort of nun.) Her protégée Marie Knight (1925–2009) had a churchier alto that blended beautifully with the older woman's cosmic baritone and, in many senses, provided cover for her when they toured together in the late '40s. George Brant's Marie and Rosetta, which opens the Atlantic's new season tonight at the Linda Gross Theater, is thus a welcome mini-double-bio of the underappreciated pair; unfortunately, it's also a classic (and literal) example of write-by-numbers dramaturgy. The scenes are basically just a delivery system for the music, which is only sufficient because the songs — including the Tharpe hits "This Train," "Up Above My Head," and "Strange Things" — are so ecstatically exciting. On the other hand, songs this good set a high bar, and the play leaves you wishing to have understood more, and believed more, about these women and their times than its jukebox structure permits.
Brant, author of the drone-warfare monologue Grounded, seems to write from index cards. The first one for Marie and Rosetta naturally finds Tharpe at an inflection point in her career. Unlike her competitor Mahalia Jackson, who stuck with "God's music," Tharpe was drawn both by the nature of her gift and by commercial considerations to experiment with the secular market, and paid for it. As the play opens, in 1946, she is basically stealing Knight from Jackson's backup quartet for her own purposes, which include having the girl do her makeup, play the piano, and help re-ingratiate her with fans who disapprove of her pop inclinations. (The play barely touches on her supposed lesbian inclinations; that she and Knight may have been lovers is something you'd only discern here if you knew about it going in.) The setup is historically iffy, but then Brant isn't interested in facts so much as themes, which his scenario pitches as a series of dichotomies: church versus world, spirit versus body, praise versus celebration. Tharpe's gift for binding these opposites is a lesson not only for the prim protégée but for us. "Your joy … has hips," Knight says amazedly, in what might as well be rock's credo.
The problem with this is that the characters are no more believable as drawn than is the situation, which Brant has obviously contrived from mosaic bits of biography. Yes, Tharpe was sometimes billeted in funeral parlors when playing the Jim Crow South, but the play is set in one for its own convenience. (The singers actually met in New York.) Knight especially is reduced to a formula; in her barely blush calf-length dress she is modest and stiff for the requisite 15 minutes before revelations emerge like clockwork to redeem and redefine her. But because the action of the play is continuous in one scene, and the women's conflicts of style and philosophy must be resolved in an already overlong 100 minutes, the patches between the songs quickly devolve into a series of mechanical transitions. You can feel the gears of Neil Pepe's production grinding as Brant figures out how to get from uptempo blues No. 6 to weeper No. 7 by way of Theme 2b and Factoid 4a. And since this sort of crabbed naturalism won't produce a climax, Brant leaps at the end into a magic-realism coda that would feel like less of a cheat if it weren't so maudlin.
But the songs are the real thing. I don't mean that they're minutely impersonated. Rebecca Naomi Jones (American Idiot, Murder Ballad) has a heavier voice than Knight did and is stuck for much of the evening half-hidden behind a spinet, miming the piano parts. (Behind a scrim, Felicia Collins on guitar and Deah Harriott on piano are making the show's real sounds, in Jason Michael Webb's terrific arrangements.) Still, when Jones gets a chance to step forward — especially singing the gentle "I Heard My Mother Call My Name in Prayer" or dueting on the call-and-response "Up Above My Head" — she's sublime. And Kecia Lewis, a Broadway Effie in Dreamgirls among many other big-shout roles, takes the role of Tharpe by the neck and shakes it for all it's worth. If the script makes her a bit self-consciously iconic (she never lacks for the perfectly wise and/or salty riposte), Lewis makes her solidly human, except when she makes her monumentally so, in song. Her "Rock Me," with its lion-growl diction, is one of several numbers that blows down not only the house but the admittedly featherweight play.
Marie and Rosetta is at the Atlantic Theater through October 2.