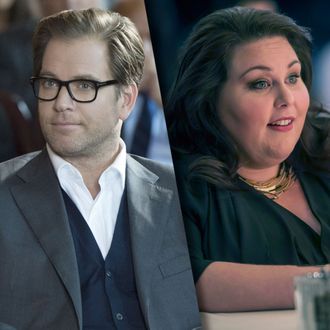 We interrupt our usual string of bad news about the Future of Network Television with this glimmer of hope: Several of this fall's most-hyped newcomers are at least getting checked out by viewers during the first week of the 2016–17 season. NBC's This Is Us is off to a particularly encouraging start, drawing the network's best numbers in the 10 p.m. Tuesday time slot since, appropriately enough, the similarly warm-and-fuzzy Parenthood launched there in 2010. CBS was also successful last night getting the Michael Weatherly drama Bull sampled by his NCIS fan base, while NBC's new Michael Schur–produced comedy The Good Place and second-year Fox drama Lucifer also got some good Nielsen news on Monday. None of this changes the overall trendline for traditional linear TV — the arrows are (mostly) still pointing down — but it does point to the networks' continued ability to grab the audience's attention, at least temporarily.
Diving into the specific Nielsen numbers, This Is Us brought in 10 million viewers and averaged a 2.8 rating among adults under 50, the demo group most coveted by advertisers. Following a two-hour episode of The Voice (12.2 million/3.4 rating) obviously gave the show a boost, but Us also dramatically outperformed last fall's Neil Patrick Harris dud Best Time Ever, which drew barely 6 million viewers in the same post-Voice hour a year ago. The twisty melodrama will hang out at 10 p.m. for a few more weeks before shifting to 9 p.m., but the series will continue to benefit from a Voice lead-in as NBC tries to establish an audience for one of its few non-procedural hours. Us also figures to be the kind of show that benefits from delayed (and, eventually, binge) viewing, so while its early numbers hardly qualify it as a breakout hit, they at least indicate viewer receptiveness to a family drama. The same applies to the Peacock's Good Place, which averaged 8 million viewers and a 2.3 demo rating for its special Monday-night preview. Its numbers were artificially inflated by its temporary location behind The Voice — it moves to much tougher territory tomorrow night when it settles into its regular 8:30 p.m. Thursday slot — but they were still good enough to suggest the show's cast and concept could find a decent-size viewer base.
Over at CBS, meanwhile, critics have been cackling over Weatherly's Bull since the moment the network announced it was developing a drama inspired by Dr. Phil McGraw's life story. Audiences opted to flock rather than mock, however: 15.5 million checked out the premiere, which also averaged a solid 2.2 among adults under 50. Bull actually managed to better its NCIS lead-in among younger viewers and held on to nearly all of its overall audience, an amazing feat given the former show's status as one of TV's most-watched. Plus, Bull surged nearly 30 percent above the numbers posted by NCIS: New Orleans in the 9 p.m. Tuesday slot at the start of the fall. If this holds up, CBS will be very happy (particularly since Monday saw the network's all-important The Big Bang Theory open down around 20 percent versus last fall.)
Not all the news has been good for the networks this week, of course. Fox execs probably didn't have high expectations for its rejiggered Tuesday lineup, but the early Nielsen returns were pretty dismal for the combination of season two of Scream Queens and returning comedies Brooklyn Nine-Nine and New Girl. All three shows averaged a little more than 2 million same-day viewers each, with New Girl's 1.2 demo rating looking good only in comparison to the dreadful (if unsurprising) 1.0 rating for both Brooklyn and Scream Queens. These numbers are all in line with where these shows were performing at the end of their respective seasons, and all three do particularly well in delayed viewing, meaning their actual audience will be significantly bigger than what the overnight data demonstrates. Still, if history is a guide, there's a good chance Tuesday's ratings will be something of a high-water mark, signaling significant year-to-year declines could be in the offing. Fox can at least take solace in the nice numbers for Monday's season-two Lucifer opener, which had the show's biggest same-day audience (4.4 million) since late February, when it lost the advantage of an X-Files lead-in. Lucifer even built on its Gotham lead-in (3.9 million) and matched its hipper Monday-night companion among adults under 50. With Bones wrapping next spring, Lucifer is the unsexy but consistent procedural drama Fox desperately needed, and appears to have found.