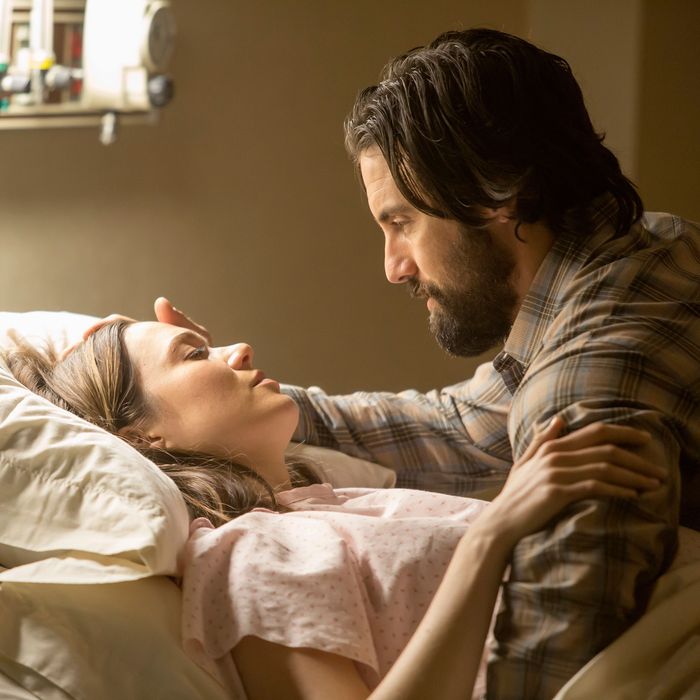 L-R: Mandy Moore as Rebecca, Milo Ventimiglia as Jack.
Photo: Ron Batzdorff/NBC
If you watched NBC's coverage of the Summer Olympics for even ten minutes last month, then you are probably aware that one of the network's new fall dramas is called This Is Us, and that it stars, among others, Mandy Moore and Milo Ventimiglia, and that it appears to have been scientifically engineered to make viewers cry.
Well, guess what? While watching the first episode of This Is Us, which debuts Tuesday night at ten on NBC, there's a very good chance that tears will indeed temporarily cloud one's vision, particularly during the portions of the pilot that focus on Moore's Rebecca and Ventimiglia's Jack, a couple expecting triplets. But This Is Us also does the unexpected, pulling off a whopper of a twist in its final five minutes that changes one's entire understanding of what's just unfolded. Without more episodes to preview in advance, it's hard to say whether This Is Us — created by Dan Fogelman, who's also responsible for the Fox series Pitch that launches later this week — will be a great show for the full-season haul. But its sentimentally charged, well-acted first episode pulls off a lovely and extremely moving "ta-da!" that strongly implies it has promise, even if some of its story lines occasionally feel too manufactured.
The premiere opens with a title card explaining that 18 million people share the same birthday, then proceeds to introduce us to a few individuals who have that milestone date in common: Jack, who's in the process of celebrating the beginning of his 36th year on earth when Rebecca goes into premature labor; Kate (Chrissy Metz), who's struggling to lose the weight that she feels is preventing her from being her best self; Kevin (Justin Hartley), Kate's brother and the unhappy star of a successful but braindead sitcom called The Manny; and Randall (Emmy winner Sterling K. Brown of The People v. O.J. Simpson), who has finally located his birth father after years of searching.
The thread that ties each of these characters together, aside from their birthdays, is the sense that they're either on the cusp of change or desperately want to be. Fogelman, who wrote the pilot, and its directors John Requa and Glenn Ficarra, who directed the movie Crazy, Stupid, Love from a Fogelman screenplay, aim to strike a balance here between high drama and subtle authenticity. Though they mostly maintain their footing, occasionally they slip and lean too much on the overly contrived.
There's a scene between Randall and his father (Ron Cephas Jones, a.k.a. Romero from Mr. Robot) that begins from a place of deep bitterness, then does a 180 toward reconciliation in a way that, despite the committed work of the actors, feels like a narrative convenience rather than a believable reflection of how two people might behave in this situation. But Fogelman and co. seem to be aware of these issues and even call themselves out on it. A couple of scenes later, Randall cracks up while telling his wife (Susan Kelechi Watson, best known for playing Louis C.K.'s ex on Louie) that the situation with his dad smacks of something straight out of a bad sitcom, like The Manny.
That meta element seems to be core to the DNA of this show, which invites us to see not only the lives on This Is Us as interconnected but to reflect on the relationship between television and the idealized, unrealistic expectations it perpetuates. When Kevin has a meltdown on the set of The Manny after being asked to dumb things down (and remove his shirt) one too many times, he doesn't just lash out at the showrunner. He lobs blame at the studio audience guffawing through all those bad jokes. "It's your fault for demanding so little of us that we settle," he says, which is a bold line to put in the pilot of a brand-new TV show. (It also makes me think Fogelman must have caught a sneak preview of Kevin Can Wait.)
I'm intrigued to see where This Is Us takes the dynamics involving Kate and Kevin, both of whom struggle, in totally different contexts, with overcoming their appearance. As a character, Kate has more worrisome potential to turn into a stereotype, i.e., the one-dimensional Lonely Overweight Lady. But so far, Fogelman and Metz have given her enough complex shading to suggest she'll be a more complex figure than that.
Ultimately, though, the heart of this pilot rests with the Moore/Ventimiglia story line, the most blatant heartstring-tugger in the show and the one that, thanks to a scene between Ventimiglia and Gerald McRaney as the sensitive obstetrician helping Rebecca through a high-risk delivery, will finally wring the tears out of you if nothing else has.
With This Is Us, NBC is clearly targeting the same audience that made Parenthood, if not a ratings juggernaut, then certainly a reliably watched drama within a coveted demographic. Like that Jason Katims drama, This Is Us is a show about family and good-hearted people that's invested in depicting those people with only moderate traces of the cynicism and cold-water realities that permeate a lot of other current series. It's unclear right now whether Fogelman's effort will fully match Parenthood in terms of quality. But for viewers looking to TV for comforting fare that doesn't sacrifice intelligence — in other words, for a show whose cast and creators don't appear to be settling — This is Us might be just what the kindhearted baby doctor ordered.