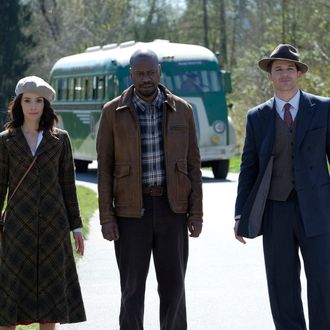 Photo: NBC/Joe Lederer/NBC
Just a week before the October 3 debut of Timeless, Spanish company Onza Entertainment has hit Sony, NBCUniversal, and the series creators, Shawn Ryan and Eric Kripke, with a lawsuit. Deadline reports that Onza claims the premise and format of Timeless was a "rip-off" of their series El Ministerio del Tiempo (The Department of Time). While the plot of the series, which involves a criminal going back in time with an evil scheme to change America's history and the special task force that follows him to the past, isn't actually all that original (see 1993's Time Trax), Onza might have a case here.
According to the papers filed with U.S. District Court for the Central District of California, Onza had previously sent a DVD of the Spanish series to the Gersh Agency with hopes of developing an American version of the series, and they even spoke about tapping Kripke (Supernatural, Revolution) as a showrunner. The suit claims that Onza was in negotiations with Sony Pictures Entertainment, the studio producing Timeless, to adapt an American version of El Ministerio del Tiempo when Kripke and Ryan's series was announced last summer. If only we had a time machine that we could use to solve this mystery, but since we don't, we'll have to rely on litigation and email evidence instead.