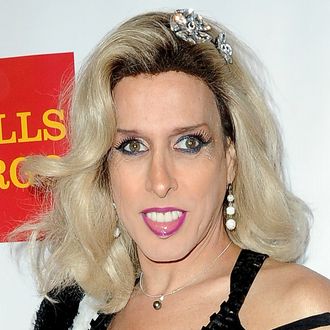 Photo: Joshua Blanchard/Getty Images
Actress and transgender-rights activist Alexis Arquette, sister of Patricia, Rosanna, David, and Richmond Arquette, died on Sunday morning at the age of 47. In a Facebook post, Richmond revealed that the actress died at home with friends and family while listening to David Bowie's "Starman." Arquette appeared in a number of indie movies, in addition to films such as Pulp Fiction, Bride of Chucky, and, in perhaps her most famous role, The Wedding Singer. A statement from the Arquette family remembered the performer's legacy, stating, "Alexis was a brilliant artist and painter, a singer, an entertainer and an actor … Her career was cut short, not by her passing, but by her decision to live her truth and her life as a transgender woman. Despite the fact that there are few parts for trans actors, she refused to play roles that were demeaning or stereotypical. She was a vanguard in the fight for understanding and acceptance for all trans people." The family went on to express their pride and admiration for Alexis's transition:
She fiercely lived her reality in a world where it is dangerous to be a trans person — a world largely unready to accept differences among human beings, and where there is still the ugliness of violence and hostility towards people that we may not understand.

Alexis was born as Robert, our brother. We loved him the moment he arrived. But he came in as more than a sibling — he came as our great teacher. As Alexis transitioned into being a woman, she taught us tolerance and acceptance. As she moved through her process, she became our sister, teaching us what real love is.
The family chose not to immediately reveal Alexis's cause of death, though a source told People that Arquette died of complications related to AIDS.
This post has been updated throughout.