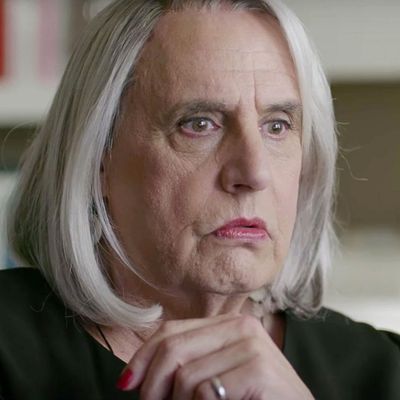 Jeffrey Tambor as Maura.
Photo: Amazon
"It's time."
Those two words are spoken by Rabbi Raquel, the great Kathryn Hahn, within the first few minutes of Transparent season three and perfectly set the stage for this third act in the Pfefferman family saga. As this new, once again marvelously acted and directed season begins (it starts streaming today on Amazon), nearly everyone — the still-transitioning Maura, her ex-wife, Shelly, all three of their children, Raquel — seems eager to shake off the past and move more fully forward. Given that Raquel's is the first voice we hear as she's working on remarks for a Passover service, and that one of the season's story lines involves Sarah's (Amy Landecker) attempt to join the temple's board of directors, it's fair to say that these flawed Californians are, in different ways, hungry for spiritual renewal.
"I've got everything I need," Maura says early in the first episode, which establishes that she and Vicki (Anjelica Huston) are in a happily committed relationship. "So why am I so unhappy?"
Maura's melancholy enables her to immediately empathize with a trans woman named Elizah who, in the first episode, calls the LGBT Center's hotline and says she's not sure she can go on living. When the call gets disconnected, Maura leaves the center and attempts to track down Elizah in person, a plot device that's admittedly a little contrived but can be forgiven for its contrivances because it leads to some important moments for Maura, most notably a health scare that puts her in the hospital. In what may be the most openly Jewish show on television, it doesn't seem like an accident that Elizah rhymes with Elijah, the prophet whose presence plays a key role during Passover seders. ("What if you had to be your own messiah?" Rabbi Raquel asks via voice-over near the end of episode one. )
Maura's health issues make her start thinking harder about even more drastic changes that need to be made in her life, including the possibility of gender-confirmation surgery. But it's a credit to creator Jill Soloway, who directed two of the three episodes Amazon made available in advance, as well as the show's writers, that both Maura and the rest of the Pfeffermans remain oblivious to so many other aspects of themselves that could use a tune-up. While searching for Elizah in a less affluent section of L.A., Maura approaches a group of Latina trans women to ask if they know Elizah. "Maybe you've seen her on the streets?" she asks, as if that's where these women must hang out. Maura's sense of white privilege is highlighted further when she has to be taken to the county hospital and repeatedly insists that she belongs at Cedars-Sinai instead.
Perhaps Soloway is responding to criticism that Transparent has explored the trans experience too exclusively from a white and wealthy (not to mention cisgender) perspective. (The opening titles for this season have been notably updated to feature more faces of color.) Whether she is or isn't, these narrative choices feel fully right for the characters and hint that there will be deeper texture in the issues Transparent continues to explore.
As promised, there is a cameo appearance this season from Caitlyn Jenner, who, as Soloway has already revealed, appears in a dream sequence. (The appearance is brief and involves a game of Wheel of Fortune.) But the performances that really matter here, as always, come from this uniformly superb cast. Tambor just won his second Emmy for playing Maura, and within the first two episodes, he makes a strong case that he'll be collecting his third a year from now. He's both heartbreaking and maddening and just sublime in this role. As the Pfefferman siblings, Amy Landecker, Gaby Hoffmann, and Jay Duplass continue to relate to each other with the kind of familiarity that comes from sharing a childhood together; Hoffmann and Duplass, whose characters are now living together, capture that dynamic especially well.
The third episode is the stand-out of the initial trio, and it also happens to be a stand-out for the Emmy-nominated Judith Light. As Shelly, she wants to be supportive of Maura and often is. But simmering beneath that is a sense of hurt and resentment, as well as a burgeoning desire to prove she has a unique story of her own to tell. That desire convinces her to start speaking more publicly about her own emotional journey related to Maura's womanhood by writing a play and creating her own presence on social media.
"I, too, have transitioned," she announces at Maura's birthday dinner. "I'm a brand!" This declaration is met with a look from Maura and her trans friends Davina (Alexandra Billings) and Shea (Trace Lysette) that just screams: "Oh, honey, no."
Transparent is about a woman, Maura, finally settling into her true identity. But it's also about the members of a family adjusting to that transformation, and the ways in which it rattles their relationships and senses of identity. Season three, so far, feels like it's returning closer to that core mission after a second season that felt slightly less focused. Transitioning, for Maura and those who love her, is a process. Transparent season three shows us that the work is nowhere near done.