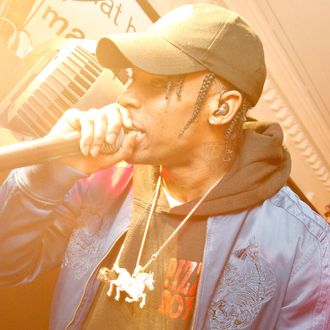 Well played.
Photo: Paul Morigi/Getty Images
In every war, momentum shifts. And right now, in the futile music-streaming war, Apple Music has the edge. Travis Scott's sophomore album Birds in the Trap Sing McNight is your new No. 1 album, his first to hit that high. It's also the second-lowest selling No. 1 debut of the year so far, doing 88,000 album equivalents to Gwen Stefani's 84,000 at No. 1 back in March. The difference? Scott's album is only available on Apple Music and iTunes, and was reportedly streamed 50.2 million times last week, making up the bulk of Scott's 53,000 units moved in pure sales. (Only one song, "Pick Up the Phone," can be individually downloaded.)
Scott's album was originally intended for an August 5 release, the same day Frank Ocean was reportedly set to drop Blonde. Chalk it up to either knowing when to hold off or unhurried studio work, but the album's rescheduling to a slow week made for yet another Apple Music win. Scott's is now the fifth Apple Music exclusive to go No. 1, after Ocean's Blonde, DJ Khaled's Major Key, Future's Evol, and, of course, Drake's chart-dominating Views.
For Tidal, No. 1 exclusives have been trickier: So far, Beyoncé's Lemonade and Rihanna's Anti are the only true Tidal exclusives (streaming-wise) to debut at No. 1, though technically both were available on iTunes within 24 hours of their respective releases. Kanye's The Life of Pablo only went No. 1 after a wider release on streaming (as Tidal did not report the album's initial numbers), becoming the first album to do so off majority streaming. (Whether TLOP was ever really an exclusive at all is the subject of a lawsuit.) Still, 2016's three biggest debuts (Views, Lemonade, and Blonde) all belong to Apple Music and Tidal; so while Apple might have the lead, it still very much feels like a draw.