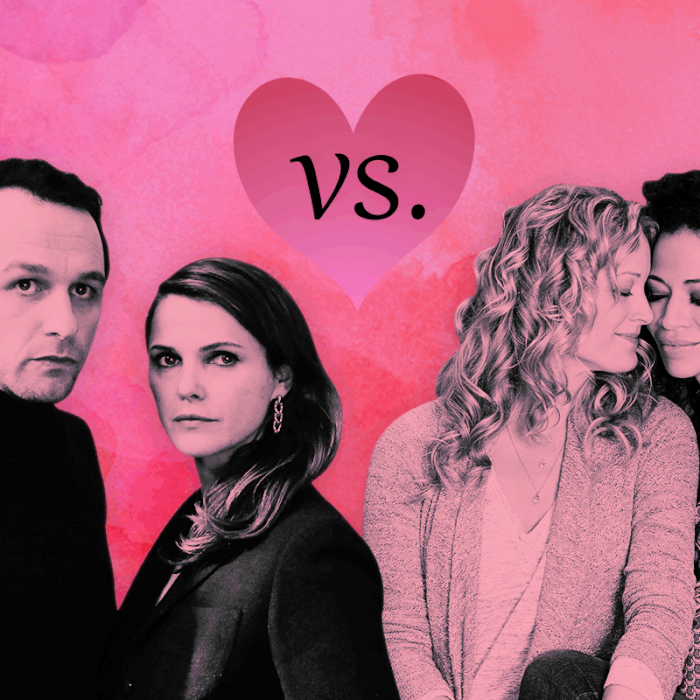 Photo: Vulture and Photos by FX, Freeform
For the next three weeks, Vulture is holding its annual pop-culture bracket. In 2015, we battled it out for the best high-school TV show; this year, we're determining the greatest couple on television in the past 30 years. Each day, a different writer will be charged with picking the winner of a round of the bracket, until New York Magazine TV critic Matt Zoller Seitz judges the finals, on October 14. Today's round will decide whether The Americans' Philip and Elizabeth or The Fosters' Lena and Stef move on to the next round. After you read, be sure to visit Vulture's Facebook page to vote on which couple you think should advance.
The stakes of FX's The Americans are so inherently higher than Freeform's The Fosters, you have to wonder if Lena and Stef Adams Foster are at a deficit before we even begin. The former is made up of two sexy spies-slash-parents, Philip and Elizabeth Jennings, doing the best they can in the face of pressure from their Soviet motherland and the tightening noose of the FBI. The latter, a pair of sexy mamas — a vice principal and a cop — who spend their days quashing teen drama and doling out tearful heart-to-hearts to their kids in the 'burbs of San Diego. (Honestly though, what's more frightening: steely government forces or five angsty teens? A debate for another time.) But because "dysfunctional" doesn't necessarily mean "more interesting" nor "functional" automatically "better," this is a closer race than one might assume.
Thanks to the stellar performances by Matthew Rhys and Keri Russell as the Jenningses and Sherri Saum and Teri Polo as Lena and Stef Adams Foster, both couples feel completely lived-in. I believe their histories. I believe both of these couples are attracted to one another. Both pairs have chemistry for days. I mean, can you listen to Phil Collins's "In the Air Tonight" and not feel things? Can you watch Lena and Stef go skinny-dipping after Stef decides to get a double mastectomy and not weep with gratitude at being able to bask in their love? If you answered yes to either of those questions, I have a quick follow-up: Are you a robot?
What these couples truly have in common is that you can feel how much they care for one another through your TV screen. They just happen to show their love in very, very different ways: One will throw elaborately themed birthday parties for each other; the other commits murder.
Stef and Lena Adams Foster fit the Eric and Tami Taylor mold of TV couples: We know they're going to weather any storm. We feel comforted by them. We'd like to be adopted by them, if a fictional couple could adopt a human adult. Compared to Philip and Elizabeth, Lena and Stef depict a more nurturing and certainly a more relatable version of a marriage. That alone proves that the Adams-Fosters are the more culturally important couple in this match up.
Lena and Stef are an interracial lesbian couple running a household with a mix of biological and adopted children. But The Fosters isn't a show just about their race or just about their sexual orientation. Yes, of course they discuss those issues, but in personal, surprising ways — Stef deals with her own buried homophobia, Lena must process her mother (played by the magnificent Lorraine Toussaint) forgiving Lena's white half-brother for using racial slurs. By simply having an aspirational married lesbian couple be the matriarchs on a family drama is bold new territory for television, yet the show never shines a big spotlight on itself as if to say, "Hey! Look at us! We're doing something groundbreaking!"
The Fosters knows that it's the normalcy of Lena and Stef that makes them true trailblazers. Lena and Stef get exasperated with their kids (mainly Brandon), they have sex slumps, they tackle money problems and work problems and Annie Potts-is-my-mother problems. They deal with the big stuff, too: Lena's late-term abortion, Stef getting shot on the job, taking care of children with severe emotional issues. As the audience, we always trust they'll figure the next crisis out, because, well, they're Lena and Stef.
Sure, they have their disagreements; no marriage is perfect. They butt heads when it comes to parenting techniques: Lena is typically in favor of letting the Adams-Foster brood express their feelings, while Stef is more of a punish-now-talk-later kind of gal. They also run into trouble when, for no apparent reason, they decide to keep certain pertinent information from one another, like Stef's abnormal mammogram, or that time Lena's boss made a pass at her. More often than not though, Lena and Stef Adams Foster are a united front. Teamwork makes the dream work, apparently, and Lena and Stef are a prime example of that.
But, as the old saying goes, never count out a Soviet spy with a killer boot collection. While Lena and Stef are a formidable team in their day-to-day lives, the spouse teamwork award easily goes to Philip and Elizabeth. Cooperation and trust is what keeps them alive, sometimes figuratively, usually literally. The greatest trick The Americans pulls off is that it uses the flashiness of Cold War espionage and hidden identities to disguise the fact that it is actually a show about a marriage. And marriage, just like spywork (I imagine?) calls for immense trust in your partner.
The trust that exists between Philip and Elizabeth is never better illustrated than when Philip has to take a set of pliers to his wife's tooth in season three's "Open House." (Seriously, if you don't understand the desire to name these two as one of TV's greatest couples, watch that scene.) That degree of faith in each other is a true feat for two people who disagree on fundamental issues, like whether or not to bring their kids into the family business and if the motherland is really all that great, Philip's ever-growing affinity for America, and Elizabeth's unwillingness to question orders. These are arguments Philip and Elizabeth have been having since season one, episode one. They are arguments that continue to plague their marriage.
It's no secret that there's a lot of dysfunction in their relationship, but there's a lot of love, too. These people would, and frequently do, murder people for each other. In the pilot, when their marriage is much more a business partnership than anything else, Philip doesn't hesitate when he learns that the man they have bound in the trunk of his car is the same man who tormented and abused Elizabeth when she was a cadet. He promptly snaps the guy's neck, throwing his bargaining chip for defection in the river with the guy's body. Ah, spy love.
It's Elizabeth who's initially hot and cold on the idea of her Soviet-issued arranged marriage becoming something more than it was supposed to be. But we'll never have to question Elizabeth's true feelings again after Martha's exfiltration. Oh, the Martha of it all! Elizabeth's face as she realizes Philip's connection to his agent is deeper than she thought is a sucker punch to the heart. She uses sex as an attempt to both mark her territory and be a supportive wife, giving Philip, overcome with grief and guilt, a short respite. She's never been more vulnerable than when she straight up asks Philip if he wants to leave with Martha. She asks this with no anger, only sadness and understanding. If that's not emotionally complex, I don't what is.
And that's a very good thing. As their handler Gabriel (Frank Langella) tells Elizabeth, "When we do what we do, it is easy to lose your bearings." In their high-stress, dangerous line of work, Philip and Elizabeth are each other's bearings. They keep one another tethered to the world. He needs her passion for the cause, and she needs his empathy. "The Center made a good match," Philip says at one point. Sure, it's full of disdain and disgust for his overlords when he says it, but that doesn't make it any less true.
Stef and Lena Adams Foster, a layered, nuanced same-sex couple, are doing important work, paving the way for a TV landscape that is a more accurate reflection of society. Also, I'm pretty sure a group hug from Lena and Stef could solve most of the world's problems. But the depth of Philip and Elizabeth's relationship is astounding, and the most exciting part of the spy-drama is watching this dark, complicated relationship reveal more of itself each week. Their relationship status plays into every other aspect of The Americans; a tiny crack in their home life can have surprising consequences elsewhere. Philip and Elizabeth have a relationship that surprises and shocks and will stay with you long after the final credits on The Americans roll. Now that's a real power couple.
WINNER: PHILIP AND ELIZABETH JENNINGS