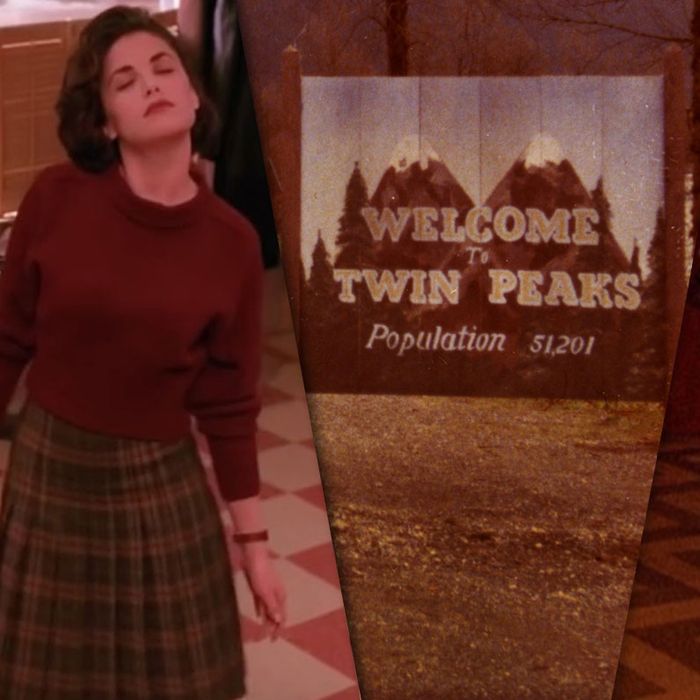 This post originally ran on September 15, 2016. We're re-running it ahead of the Twin Peaks premiere.

"David was right here, sitting in your chair, almost five years ago," Angelo Badalamenti reminisced in the sun room of his suburban New Jersey home last month. "He said, 'Angelo, how do you feel about Twin Peaks 25 years later?' I said, 'What are you talking about? 25 years later? What's not to like. It's Twin Peaks.'" Badalamenti, of course, was bound to be one of the first people to be looped in on David Lynch's upcoming Twin Peaks revival — as the Grammy-winning composer of Twin Peaks' entire series, as well as the prequel film Twin Peaks: Fire Walk With Me, Badalamenti's hauntingly beautiful original score is widely considered to be the greatest in television history, effortlessly combining smokey jazz and synth-pop to accompany the goings-on in the quirky northwestern town. A longtime collaborator of Lynch's, the two met in the mid-1980s when Badalamenti was brought in to assist Isabella Rossellini with her vocals for Blue Velvet's title song; after Twin Peaks' cancellation, he went on to score the Lynch films Lost Highway, Mulholland Drive, and The Straight Story. But while Badalamenti held a steady career outside of the Lynchian universe — his other work includes The Wicker Man, A Very Long Engagement, and Stalingrad — there was something "beautiful" about Lynch that just couldn't be replicated with any other director.
"I have a very special way of working with David," he continued. "I always feel so guilty because composing all of his projects throughout all of these years has been so easy. It's effortless. I never had to sweat, I never had to work hard. You can go to bed that night and say, I wrote it, it's done, that's it. It's not like working with other directors. When David says something, that is it, he doesn't change his mind. He knows. Easy as pie."
In honor of the show's revival, premiering May 21 on Showtime, we asked Badalamenti to tell the stories and inspirations behind five popular songs from Twin Peaks.
"Laura Palmer's Theme"
"I have an old Fender Rhodes keyboard, the keys are nearly broken by now. But just about all of those early tracks with David were composed on it. He came to my office and the first thing we wrote was 'Laura Palmer's Theme.' Whenever we started something, I would always tell David, just write me lyrics. You never have to write me a complete lyric, but give me a title, maybe one or two lines, and that's enough for me to compose a piece of music. So David would sit next to me at the keyboard. If he had an idea or a project in mind, like in the case of Twin Peaks, he would talk about the possibility of music in very simple terms. For 'Laura Palmer's Theme,' he described a lonely girl coming from out in the woods, and the sycamore trees calmly blowing in the wind, and then make me start on a melody. He would always speak very softly in my ear, and I would play something the whole time while he was speaking. Oh, Angelo, we're in the dark woods, that's good, that's good. Play it slower. De-da-de-da-de-da. Play it slower, okay. Angelo, yeah, that's good, you slowed up, but play it slower. I would say, 'David, how much slower can I play it?' 'Play it slower!'
As a side-note, the drummer, Grady Tate, who was in our sessions for most of the Twin Peaks stuff, would joke they I played on two tempos: slow and reverse, which is so true. Anyway, David kept talking in my ear to create the music for Laura. Keep it going, keep it going, keep it going. A beautiful teenage girl is coming, she's very lonely, she's got tears in her eyes, and she's in trouble. So I changed it from that woods theme and segued it into another major key, and it flowed out and I started on a unifying theme. As David heard the music and the theme, he kept talking to me, that theme's beautiful, let the theme build slowly, keep it going, she's coming closer and closer to the camera. I kept playing the same notes. She's getting close, you can see her face, Angelo, she's in pain, reach a climax. Now come back slowly, take it back and come on down slowly. That's the ticket! I went down slowly and came back into the dark woods. That was it.
David has the cassettes in his vault of what exactly happened. I remember after that, he was in tears, he thought it was so beautiful. He said to me, 'Angelo, you caught the whole mood of Twin Peaks.' Before he even shot anything! I said, 'Well, David, I'm going to go home and work on it.' He said, Angelo, don't touch a note, you better not touch a single note. And I didn't. I improvised every note of the song just by him talking to me. 'Laura Palmer's Theme' is probably the most famous theme of the whole show. When you hear it, everybody knows it. It perfectly covers the darkness of the show."
"Audrey's Dance"
"It's so dreamy. It's melodically and harmonically a little off-centered, like you can't place what exactly is off with it. For this song, I got involved in the use of suspensions. I had been working with them in music for a bit beforehand. Suspensions are dissonant notes that work in chords that rub against the melody. They rub against it and create a nice tension, and sometimes you take that dissonance, resolve it, and go to another melody. For 'Audrey's Dance,' David sent me something for her specifically. He wanted the song to be slightly dreamy, but slightly upbeat. Something creepy-beautiful. So I got involved with the vibraphone and some keyboards to create that disbalance. I conjured up a strange melody that still sounded beautiful. It sounds like notes that don't belong in a regular triad, but it just flowed for me and it seemed right to build on it. Then, when we actually recorded it, there are a lot of abstract things going on behind it that I added. There are clarinets doing weird notes, and snapping, for instance, but it still maintains such a great feel. It worked perfectly. And who's more beautiful and sexy than Sherilyn Fenn?"
"Dance of the Dream Man"
"David said I should compose something that's more rhythmic than anything we had done before, so we started with [finger] snaps. Those snaps were generated on a very early computer, believe it or not. Then we found a tempo and bass line. The beautiful part about it was when I called the session to record it, a good friend of mine, Al Regni, a saxophone player, was able to record with me. We were in the same college class together. Al was in town doing other recording sessions and I said to him, 'I gotta do a song that has a really jazzy and bluesy feel to it.' I laid down a basic track with rhythm, piano, bass, drum, vibes, guitar, and I really needed the saxophone. I had written for Al six or seven bars of the opening motif lines. That's all Al needed. Right from there, he started improvising, he just went with it. Before you knew it, David said, 'My god, this is good for The Man From Another Place.' I owe that all to Al, he played that sax so beautifully.
Here's a secret I used in Twin Peaks, which came up while recording 'Dance of the Dream Man': I used a special technique because I recorded many, many hours of music for the show. If you came to my studio, you would see hundreds of original tapes and master mixes. Let's say I would call an ensemble recording session with piano, bass, drums, guitar, synth, saxophone, you name it. Whenever I wrote a piece, like 'Dance of the Dream Man,' the instrumentals were all played at once. However, I made sure I recorded every instrument separately, and that they were all on their own tracks and not bleeding onto any other track. So I had my definitive mix of the whole track, but then I would take certain things out, like the drums alone — you could do a cue for a particular scene with just the drums! Then I would do a mix of drums and bass, and that's another sound, like background music when people walk through the Great Northern. And then I would do a mix of drum, bass, and vibes for another sound for another scene. Essentially, I had every single instrument individually recorded and I could mix them with other instruments. I had a great music editor for Twin Peaks named Lori Eschler, who loved this technique. Especially when we went on from the first season to the second season, different directors would come in and Lori would have all of those tracks, hours and hours and hours of music, that I composed and mixed since the pilot. So if she had a scene with a new director and needed new music, I would say, 'Try this, try that, it's the same but different.' It still had all of the key themes and chords, but just different sounds. It's a great idea. David loved it, too."
"The Bookhouse Boys"
"What I did for 'The Bookhouse Boys' was put together a musical montage for the album. Together I weaved radically contrasting motifs, sounds, and themes, and I think this track covers a lot about the show and the marriage of its music. When I listen to that track, it encompasses so much. One theme goes into another; there are different sounds, different harmonies, different melodies, but it's so Twin Peaks. It has its own identity. It starts with 'Dance of the Dream Man' — the saxophone is way in the background and has a lot of reverb, and it starts doing this echo thing. And then as the saxophone is going, I superimposed quick, fast-tempo drums against and under it. You have just two instrumentals going, snare and bass drum, and then as that's going I layered in other identifying things with the finger snaps and the low bass. Now all of those are going together and they're all being layered. Finally, I introduced 'Laura Palmer's Theme' near the end, and I used a little abstract, off-center motifs after that, just like I did for 'Audrey's Dance.' I chose to close that track with an angelic sound. It's a weird ride."
"Falling" / "Twin Peaks Theme"
"David and I were composing and producing a debut album for Julee Cruise, who's an absolutely wonderful singer, called Floating Into the Night. We all worked together earlier on the song 'Mysteries of Love' from Blue Velvet, and we both realized she had such a special voice. So, David gave me a few lyrics and boom, we got Julee to record that song for her album. One of the lyrics was 'falling.' He legitimately just wrote 'falling' to begin with. Nothing else — very helpful, David. I don't think there was any thought about Twin Peaks because 'Falling' was recorded about a year prior. We were just working with Julee and writing songs. When we recorded, in some cases I actually put an instrumental melody on top of the track. With the vocal, you don't ever play the melody with the singer. So we just happened to have that particular melody. About a year later, much to my surprise, David started to edit Twin Peaks and he showed me one of the very first cuts of the show. It was the titles, and what do you know, there's the instrumental of 'Falling.' Oh my god! He used my instrumentals as the main title theme! I had no earthly idea. He thought that the song should be there. I had nothing to do with it. He heard it and said, 'Angelo, this is the title. This is the identity of Twin Peaks.' It was a dream come true.
Three opening notes, that's all it took. That little motif just had that magic and we lucked on that sound. I was getting letters from all kinds of musicians and top guys in the business, asking, 'What is that?' We never really disclosed it. There's no synth that has that sound, and it's much too low to be an electric guitar, and it's not a bass. So, what is it? The greatest musicians in the world couldn't figure it out. Later on we exposed that it was a Duane Eddy special sample combination of a sound and a synthesizer, played an octave lower than what it really was. Then we doubled it with another kind of very low guitar sound. We kept that quiet because we didn't want anyone else to use it."