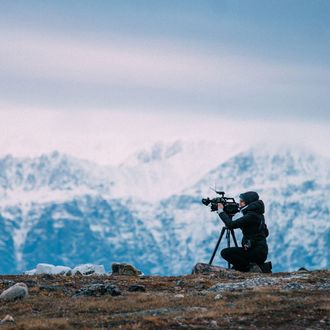 Vice News Tonight.
Photo: Jerry Ricciotti for VICE News
This fall, Vice will premiere a new nightly news show on HBO aimed at "viewers who have grown increasingly skeptical of daily broadcast news." On Tuesday morning, we got an early look at how the media empire plans to reach these viewers. The episode of Vice News Tonight screened for reporters at the company's Williamsburg headquarters wasn't a pilot, per se, but it was intended to be a preview of what the show aims to do, mixing field reports about the battle against ISIS and a campaign to resettle Syrian refugees with smaller bits about the rise of fentanyl and the reopening of Sandy Hook Elementary School. Knitting these segments together was not an anchor — the show doesn't have one — but a visual style: an open white menu space, almost like a blank desktop, and lots of Helvetica. "We wanted graphics that really dance," explained executive producer Josh Tyrangiel between bites of a doughnut. Accordingly, a segment on emoji featured streams of the tiny emoticons exploding across the screen and pulsing to the sound of an interviewee's voice.
In place of an anchor, the show uses an un-credited voice-over to introduce segments, a role that will rotate between different Vice staffers. "The tenor of the show changes based on who voices it," Tyrangiel said. "Michael Moynihan, he's a lot drier."
Will this be enough to convince millennials to watch the news again? Tyrangiel is disdainful of market research — "You can't ask people whether they like something that doesn't exist yet" — but he says Vice's younger and more diverse staff will be able to reach these viewers where they live. Episodes will go online seven days after they air on TV, and the HBO app versions will have a special innovation: touch-screen functionality, where a tap could bring up a PDF of government documents, extra footage, or larger infographics. Vice News Tonight, bringing us closer to the world of Starship Troopers, one swipe at a time.