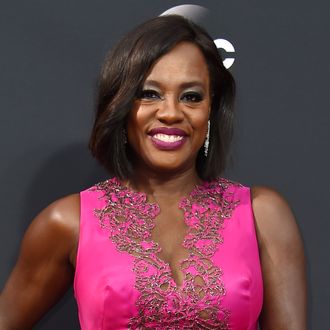 How to Get Away With Armed Robbery.
Photo: ROBYN BECK/AFP/Getty Images
Sure, you've seen Viola Davis do a lot onscreen (mostly break your heart into a million pieces, make you cower in her presence, and, well, a combination of those first two), but now, finally, she's getting to do armed robbery. Davis has joined the cast of 12 Years a Slave director Steve McQueen's Widows, an update on the 1983 British TV mini-series about a group of women who decide to finish their husbands' plans for a heist after they die on the job. Think Ocean's Eight, but more British, and with Viola Davis. Also, Gillian Flynn (Gone Girl) is writing the script for Widows with McQueen, so imagine Viola Davis reciting her own version of the cool girl monologue. Actually, now that we've thought about it, just take all our money, Viola. You don't even need to rob us.