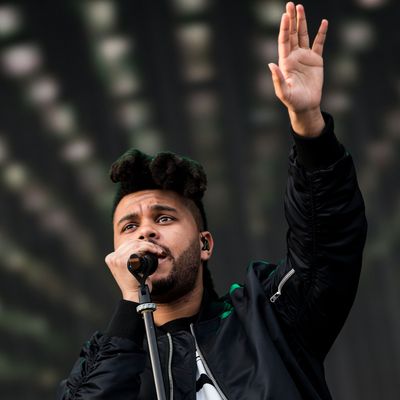 EXETER, ENGLAND - MAY 29: The Weeknd performs on stage at Powderham Castle on May 29, 2016 in Exeter, England. (Photo by Mike Lewis Photography/Redferns)
Photo: Mike Lewis Photography/Redferns/Getty Images
The Weeknd hasn't been wasting any time. Since the summer 2015 launch of Beauty Behind the Madness, a multiplatinum album that completed the Ethiopian-Canadian singer Abel Tesfaye's transformation from underground R&B prodigy to pop superstar, the artist has been busy touring and recording at a rapid clip — recent reports had him in the studio with Daft Punk. In the meantime, a healthy output of featured verses on the albums of other artists (Kanye West, Beyoncé, Travis Scott, Future) has kept his listeners reasonably satisfied, but fans longtime and new have still been hungrily anticipating the next album-length chapter in Tesfaye's own saga.
That wait isn't over, but its end is in sight. Two minutes after noon today, Tesfaye released, via his Twitter, the name of his upcoming album (Starboy) and an image of its cover art, created by Nabil. Given that the Weeknd has always been meticulous with cover art, it's worth taking a closer look at it. As with all the artist's major-label releases (his mixtape covers starred women in various states of disarray), the Starboy cover is centered around Tesfaye's face. Lit in dim blue light and dressed in what looks to be dark leather, the singer is seated, looking forward and upward with his hands on his head. He's wearing rings and a cross around his neck, all of which look expensive. The iconic mass of Medusa dreads gathered at the top of his head has, shockingly, been shaved off. The background is red and the letters of the title are yellow.
In terms of lighting, the Starboy cover most closely resembles that of Tesfaye's mixtape Echoes of Silence; in terms of palette (red-yellow-blue) it's highly reminiscent of Thursday, the mixtape in which the artist most thoroughly explored fame as a general theme and personal prospect. Given this resonance, and its title, it seems extremely likely that Starboy will mark yet another such exploration, albeit one conducted from a far more elevated perspective. And given the Weeknd's stellar track record — he hasn't taken a false step since 2013 — it seems likely, too, that the quality of Starboy will prove a match for the intensity of its anticipation.