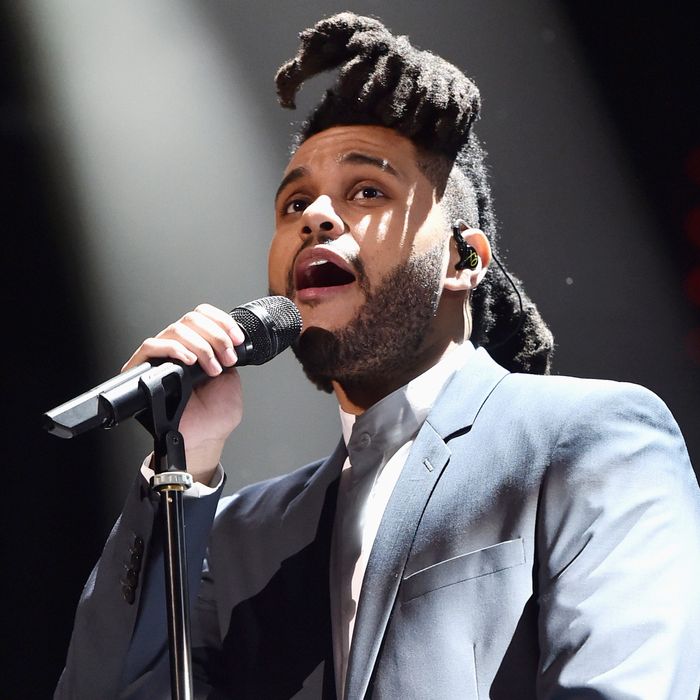 The Weeknd.
Photo: Alberto E. Rodriguez/Getty Images
Last night Toronto singer the Weeknd announced his new album Starboy by releasing its cover art, on which he trades his gravity-defying dreads for a flattop. Shortly after, he released the album's title track. The Daft Punk powwow "Starboy" is saddled with repeating the success of last year's "The Hills" and "I Can't Feel My Face," multiplatinum smashes that carried the performer from popularity to ubiquity. But does "Starboy" deliver? Kind of.
First off, the Daft Punk collab is a power play. The robots don't work with just anyone: They'll come through for half a Kanye album; Pharrell can get a feature. They'll nerf a whole Jay Z verse if it isn't up to snuff. Placing the Weeknd in that lineage paints him as a pop titan worthy of the skill and reach afforded by dance-music royalty. It also suggests that the EDM-pop breakthrough of "Can't Feel My Face" wasn't a fluke.
Like "Can't Feel My Face," "Starboy" is passable electronic chart catnip that reeks a little of formula. Bits of singer Abel Tesfaye's vocal nick from his own back catalog and others carry a whiff of Drake's dedicated Weeknd understudy PartyNextDoor. The drums are killer, but the downcast piano melody centering this production sits Tesfaye too neatly in his comfort zone to get him thinking differently. Together, the Weeknd and the robots serve up catchy hooks, but no one seems challenged. "Starboy" is too on the nose.
It's possible that since springing his Weeknd project on the world with 2011's House of Balloons, Tesfaye has crafted a musical aesthetic so specific that it's stifling. The seedy, druggy vision of the mixtape cast a lengthy shadow over pop music, seeing manifestations in Drake's Take Care and a legion of sound-alikes in its wake. But the Weeknd has rarely broken new creative ground since the original trilogy of Balloons, Thursday, and Echoes of Silence. He presides well, but he doesn't expand. "Starboy" is solid and very likely a hit, but the singer is coasting on autopilot. Here's hoping the album takes more chances.