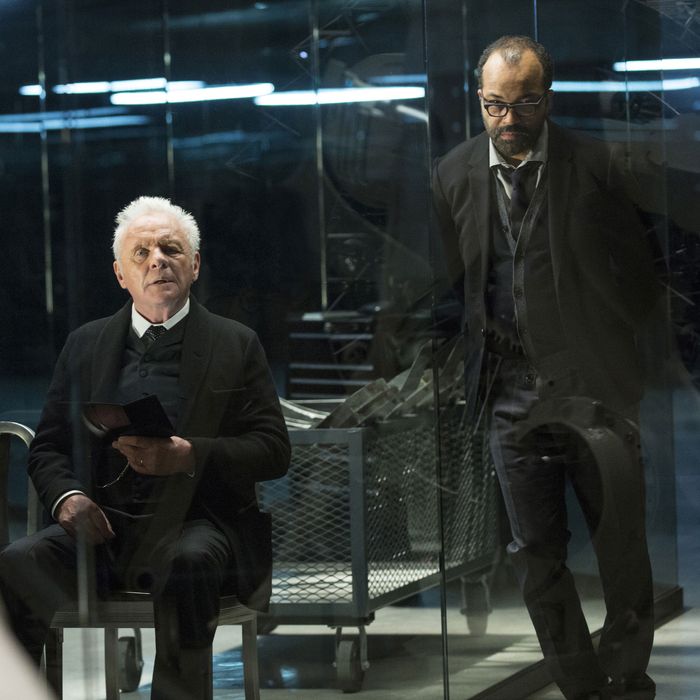 Sunday's Westworld premiere is more than the launch of HBO's latest big-budget drama series. The J.J. Abrams–produced sci-fi thriller arrives after what's been a decidedly messy couple of years for the network. Even as profits have remained high and its subscriber base growing, a handful of high-profile creative failures (Vinyl, The Brink, season two of True Detective) and commercial disappointments (The Leftovers, Looking, Togetherness) —  coupled with the departure of veteran programming chief Michael Lombardo — have resulted in much media hand-wringing over "a network at the crossroads" that's struggling with a "creative recession" and ferocious competition from rivals new (Netflix, Amazon) and old (Showtime, Starz). Overblown or not, the recent narrative surrounding HBO has not been kind. And that's why Westworld is so important: If early positive reviews translate into decent ratings and online chatter, the network may get a much-needed opportunity to hit the reset button.
One drama success will not, of course, make up for a string of misfires. But Westworld is premiering as part of what's shaping up to be a particularly promising few months for HBO. While critical acclaim was hardly universal, this summer's eight-part limited series The Night Of had many passionate critical defenders and, just as important, tons of positive buzz surrounding it. (Series star Riz Ahmed is already considered a serious contender for an Emmy nomination.) September, meanwhile, brought serious critical praise for HBO's adaptation of the web series High Maintenance, which is getting the chance to build an audience for itself in a low-pressure, late-night Friday slot. And October will bring the highly anticipated Issa Rae comedy Insecure, the return of HBO icon Sarah Jessica Parker in Divorce, and the slightly delayed launch of a new nightly newscast from Vice. A decent showing by Westworld, amplified by good reviews and/or ratings for a couple of the other new projects, would go a long way toward putting HBO's recent whiffs in the rearview mirror.
So how will we know if Westworld is working? Huge overnight ratings — or even numbers sharply up from where Vinyl ended up — would obviously be a clear-cut indicator. But as with any big new HBO programming effort, it's worth remembering same-day ratings rarely determine success at the network. It's not that Nielsen numbers are completely irrelevant. But long before Netflix execs were talking about how they measure a show's value over the course of months or even years, HBO was looking at long-term data to assess how its subscribers were reacting to series. The network has long run each episode of a show multiple times per week, and on several different HBO channels, to give customers many opportunities to watch. That cumulative rating is much more important to the network than the numbers which get reported on sites such as Vulture, and these days, HBO also factors in how a series performs on nonlinear platforms over the course of a season. All told, it's not uncommon for HBO series to see their audiences quadruple or quintuple from the next-day Nielsen data.
But even that combined number is just one part of a formula the network uses to decide what it considers a hit or miss. HBO, like any premium network, is most concerned with holding on to existing subscribers and attracting new ones. A broad-based smash such as Game of Thrones is a great way to keep customers happy, but the network is just fine with modestly rated shows which bring in certain demos. Girls, for example, has never been a blockbuster in terms of ratings. It does, however, do very well with younger viewers, and people watch HBO via HBO Go or Now. It fills an important niche. Similarly, though HBO already has what might be called its Spectacular Spectacular! Show with GOT,  the network knows its run is almost over. It very much wants to develop a successor to GOT, and Westworld is currently its best bet to help fill the Hodor-sized hole that will be left once GOT ends. So even if Westworld's season-one ratings aren't all that amazing, there's good reason for HBO to be patient.
Finally, it's worth noting there's no such thing as a make-or-break series for HBO. Sure, if Sunday's Westworld premiere ends up drawing minuscule ratings and is scrapped after one season, HBO will face another round of critical press stories. It will have also flushed away tens of millions of dollars, as it did with Vinyl earlier this year or David Milch's John From Cincinnati in 2007. But the network is such a profit engine and has such amazing brand loyalty, one more drama dud — while highly embarrassing — won't be fatal to its position in the world. What's more, HBO has already undergone the creative shake-up a Westworld disaster might otherwise prompt: The exec team that developed the series — Michael Lombardo and former drama chief Michael Ellenberg— are no longer with the network. New programming chief Casey Bloys will get to enjoy the success if Westworld works, but he won't take the hit if it doesn't. Of course, Bloys is wisely doing his best to lower the Nielsen bar for the show. Interviewed by the New York Times, he attempted to make the show seem like just another series launch for his network. "Is it the next big HBO thing? I don't think it benefits any show to work under those expectations," Bloys told the paper. "Hopefully it catches on."