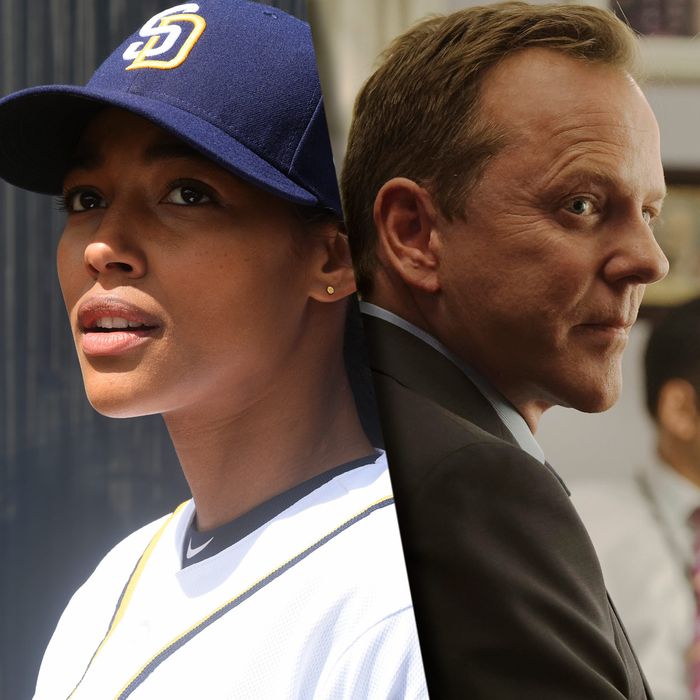 The newbies.
Photo: FOX, ABC
After some encouraging news early in the week, network TV execs this morning have once again been reminded of the cold, hard reality that is their existence these days. The Nielsen numbers for Thursday's two big drama premieres (ABC's Notorious and Fox's Pitch) were depressingly low, while the absence of Scandal had a predictable effect on the season three opener of the Alphabet network's once-sizzling How to Get Away With Murder. Likewise, the once-promising Rosewood, without an adjacency to Empire, saw its season two audience collapse. On the bright side: NBC's Thursday comedy comeback didn't tank, with Superstore and The Good Place doing decent business, particularly relative to everything else on the night. Still, despite last night's bummer numbers, the first four days of the 2016–17 season have, on balance, turned out to be not all that awful for broadcasters. It's still very early to draw any definitive conclusions, but here's what we know so far:
ABC is lucky to have Shonda Rhimes on its team.
That's why it should stop trying to have other producers copy her themes and style. Notorious, unapologetic (and, based on reviews, incompetent) in its efforts to fit into the TGIT template, was rejected on sight by the network's Thursday audience. Airing behind Grey's Anatomy in the slot normally occupied by Scandal, the series brought in 5.4 million same-day viewers and averaged a 1.2 rating among adults under 50. It lost fully half of its Grey's demo lead-in (2.4) and managed barely a third of the young adult tune-in as last September's Scandal premiere (3.3). Notorious was obviously not going to come close to what Scandal did, but these numbers — coming after a summer of intense marketing by ABC — are just disastrous. One caveat: ABC's soaps often surge once delayed viewing is counted. Another Rhimes clone, Quantico, broke network records with its DVR lift. So as with all the numbers mentioned in this story, we don't know the full story about how audiences are reacting to new shows. But so far, there's nothing ABC can be happy about with Notorious, including how its numbers helped depress same-day tune-in for the season three premiere of How to Get Away With Murder (5.2 million/1.4 rating). The Viola Davis legal thriller lost nearly half its year-ago premiere audience among adults under 50, though it did manage to bring back the viewers who caught last winter's season finale.
Fox seriously limited the audience for its best-reviewed new show.
Fox's baseball-themed show, Pitch, settled for a modest 4.3 million viewers and a 1.1 demo rating in its first at bat Thursday at 9 p.m., low numbers given all the hype surrounding the show. Though there's not much to celebrate from that sort of performance, it might be a mistake to assume viewers have simply rejected the show the way audiences seem to have done with Notorious. First, while ABC's newbie followed the still-mighty Grey's, Pitch had to bat cleanup behind the aforementioned Rosewood, which brought in a mere 3.6 million viewers and earned a pathetic 0.7 rating among adults under 50. Despite the completely incompatible lead-in, Pitch rallied, surging 40 percent in the demo to finish within a tenth of a rating point of Notorious and within spitting distance of established dramas such as The Blacklist (1.3) and Chicago Med (1.4). If DVR replays are anywhere near as big as those for season one of Fox's Scream, and if the show doesn't drop off dramatically in the next few weeks, the network may yet be able to build an asset.
NBC comedies might be on the upswing.
The network has a winner with Superstore (5.4 million/1.4 rating), and reason to be cautiously optimistic about The Good Place (5.2 million/1.3 rating). Pairing two single-camera comedies and putting them on Thursday night with no lead-in was a very bold (and, some might have argued, suicidal) move. But NBC has also smartly, and patiently, built an audience for Superstore, with strategic airings after the Olympics and The Voice over the past year and an aggressive on-air marketing campaign. (If only The Carmichael Show was so beloved by NBC's most senior management). There's not a huge audience for Superstore, but there's a solid core and it seems willing to follow it wherever it lands. And while it's far too soon to say the same about Good Place, the Michael Schur–created series held nearly all of its Superstore lead-in (though it fell rather sharply from its inflated post-Voice preview Monday). It's also worth noting both comedies matched or outperformed most of the dramas that aired Thursday, at least in same-day ratings. NBC still has a long way to go before it can claim either show is a "hit" (though that might not stop its marketing department), but for a network whose comedy brand has been nonexistent in recent years, there's evidence it might finally be on the comeback trail.
Empire's season three premiere ratings should offer Fox some relief.
Sure, the 4.2 rating among adults under 50 is way down from last September's massive opener, and yes, there's a good chance that number will fade somewhat in the weeks ahead. But Empire returned up (slightly) from its May finale, possibly signaling the show's audience has stabilized after a rocky season two — even if the anticipation of the premiere didn't bring the sort of surge in same-day viewing networks like to see. What's more, Empire once again seems on track to remain broadcast TV's top-rated show with adults under 50, and far and away its biggest drama.
Designated Survivor and Lethal Weapon are off to solid starts.
Fox's Lethal Weapon adaptation (8 million viewers/2.2 rating) benefited from the Empire halo, but the fact that it did as well as last fall's Rosewood debut despite Empire's significant year-to-year slippage indicates it recruited its own audience to the 8 p.m. hour. Lethal also managed to match the demo performance of ABC's more heavily hyped Kiefer Sutherland comeback vehicle Designated Survivor (10 million/2.2 rating), which says as much about the ABC newcomer as Lethal. Sutherland's new show did not have a bad premiere — at all. It beat all of its 10 p.m. competition in the demo (including FX's American Horror Story) and doubled what Nashville was doing in the hour. If it holds at or near this level in coming weeks, ABC will be overjoyed. The only problem is that this was the network's biggest drama launch and its best chance for a breakout hit this fall, and only did a tad bit better than last fall's premiere of Quantico, which boasted no well-known American stars and aired on Sunday night opposite brutal competition with a very weak lead-in. ABC has no reason to panic over these numbers — there's an audience for the concept — but they have to be a bit disappointed, and they have to be hoping audiences who came to check out Sutherland remain invested in the show a month from now.
Kevin Can Wait isn't quite a ratings juggernaut.
In the same way Sutherland's TV return didn't pack quite as potent a punch as might be expected, Kevin James's first TV show since The King of Queens wasn't greeted with the sort of overwhelming audience enthusiasm CBS brass may have dreamed about. On their own, the numbers for Kevin Can Wait were good by 2016 standards: 11 million viewers and a healthy 2.6 demo rating. Airing behind The Big Bang Theory Monday at 8:30 p.m. obviously helped (yes, a lot of people still watch TV live), but it's worth noting TBBT was down something like 20 percent versus last fall's opener, and yet Kevin still managed to earn the same ratings as last fall's post-Bang show, Life in Pieces. Retaining 70 percent of the TBBT lead-in when so many recent CBS comedies have struggled to hold on to even half of the TBBT audience is no small feat. And yet, Kevin is as standard issue CBS comedy as the come, and it stars one of the network's biggest comedy stars of the past 20 years. CBS boss Leslie Moonves backed up the Brinks truck for James, no doubt fantasizing about a silent majority of Paul Blart partisans showing up in big numbers to see their king reclaim his Monday throne. That didn't really happen. That said, there's also nothing about the premiere night tune-in for Kevin that precludes the very real possibility the show will run for 200 episodes and make CBS (and James) a ton of money.