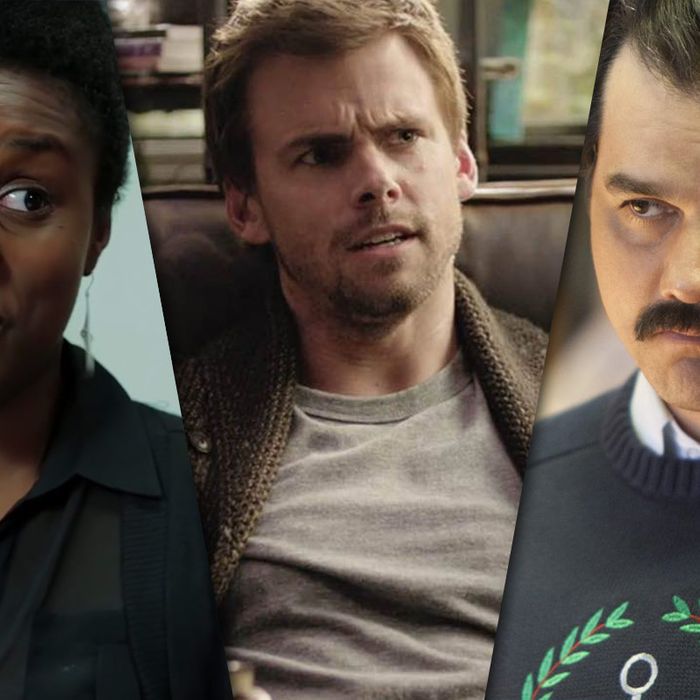 L-R: The Misadventures of Awkward Black Girl, Casual, Narcos
A three-day weekend is upon us, which obviously means one thing: There's even more time to watch TV!
Whether you're forced indoors by the bad weather brought on by Hurricane Hermine — which I will continue to refer to as Hurricane Hermione, since that's clearly what it should be called — or simply allergic to backyard barbecues and swimming pool doggy dips, this Labor Day is the perfect time to work on your TV to-do list. To help, here are a dozen streamable options that will allow you to play catch-up with summer shows you missed and/or help you prepare for some of the big TV moments ahead in the 2016–2017 season.
Stranger Things  (Available on Netflix)
You could wait until the fall to watch the most-talked about show of the summer of 2016. But with so many new shows that will be clamoring for attention, it seems appropriate, if you haven't already, to experience Stranger Things before that final gasp of summer. Added bonus of watching this sci-fi throwback now: You'll no longer have to pretend to understand the internet's non-stop references to Barb and the Upside Down.
Casual (Available on Hulu)
The TV comedy game is so strong right now that some really wonderful shows are bound to get overlooked. Casual has undeservedly been one of them. Its second season, which recently wrapped, was especially astute and funny; it's also one you can dive into even if you haven't watched season one.
Halt and Catch Fire (Season three episodes available On Demand and AMC.com; first two seasons streaming on Netflix)
Speaking of shows that have gotten overlooked … this drum has been beaten on many occasions, but what the heck, let's hit that snare one more time and remind everyone that Halt and Catch Fire is a fine show that more people should be watching. Season three, which moves its '80s-era tech start-up action from Texas to Silicon Valley, is three episodes in, which means you can still get up to speed and start watching in real time. If you're eager to view this series but are pressed for time, skip season one and go right to seasons two and three, when the personal computing pace really starts to pick up.
The Wine Show (Available on Hulu)
Are you telling me there are better things to do on Labor Day weekend than watch Matthew Goode and Matthew Rhys drink wine while making cheeky comments? Then you're a liar.
Narcos (Streaming on Netflix)
In the mood for a gritty drama about drugs? If you already watched the first season of Narcos, the story of cocaine kingpin Pablo Escobar, then you probably know that season two just dropped on Netflix today. (Our recaps are already flying onto the internet as we speak.) If you've been meaning to watch but haven't, this is a good time to, er, blow through both seasons in a single weekend.
High Maintenance (Streaming on HBO Go)
So maybe you're in the mood for a show about drugs, but one that has more of an indie sensibility and focuses more on pot than cocaine. Dude, that's pretty specific, but guess what? HBO is here for you. Ahead of the September 16 premiere of its new series (and once beloved web series) High Maintenance — which follows a marijuana deliverer as he makes his rounds through New York City — the network has made the webisodes available this month via HBO Go and HBO Now. The HBO series features many of the same characters as the web series, so it's a good way to refresh on where we left them.
The People v. O.J. Simpson: American Crime Story (Available for purchase on iTunes, Amazon, and Google Play)
In an ideal world, you would have watched every single series that's nominated for an Emmy this year, enabling you to be the most knowledgeable person in the room when the ceremony airs on ABC September 18. But if your schedule is so crazy that you can only watch one show pre-Emmys, go with FX's impeccably acted reexamination of the O.J. murder trial. Why? Because there's no way it's going home on Emmy night without multiple trophies.
Younger (Available on TV Land.com and On Demand)
This half-hour comedy about a 40-year-old woman (the delightful, and ageless, Sutton Foster) pretending to be 26 returns for its third season on September 28. Leading up to that moment, TV Land has made the first two seasons available for viewing on the network's website, which means it's extra-easy for New Yorkers who work in publishing to truly get away from it all this weekend by … watching a bunch of New Yorkers who work in publishing.
The Misadventures of Awkward Black Girl (Available on Awkwardblackgirl.com and YouTube)
HBO is big on picking up web series this fall: It's taken another one, Issa Rae's The Misadventures of Awkward Black Girl, and given it a home in the form of Insecure, a half-hour comedy and showcase for Rae that premieres on the premium cable network October 9. The two seasons of ABG will fly by, and give you a sense of Rae's aesthetic and the themes you'll see revisited in Insecure.
Jessica Jones (Streaming on Netflix)
A person could probably dig into the forthcoming Marvel series Luke Cage, debuting on Netflix September 30, without having seen Jessica Jones, which follows the detective with superpowers (Krysten Ritter) and introduces audiences to Cage (Mike Colter). But why do that when Jones is so worthy of a binge-watch?
Gilmore Girls (Streaming on Netflix)
Alert! Alert! If you don't get Columbus Day off, then this is the last three-day weekend to take a big bite out of your Gilmore Girls watch — or rewatch — before The Gilmore Girls: A Year in the Life arrives on Netflix this Thanksgiving. No one needs an excuse to watch Gilmore Girls, but just in case someone does, this seems like a good one.
Twin Peaks (Streaming on Netflix and Hulu)
Perhaps you're trying to think more long-term in your pre-reboot planning. In that case, with new episodes of Twin Peaks set to air on Showtime at some still-undisclosed point in 2017, this is a great time to fix a damn fine cup of coffee and settle in for one of the darkest, weirdest, greatest shows ever made. Sure, everyone in 2016 thinks Barb from Stranger Things is the coolest TV weirdo ever. But as awesome as Barb is, she's got nothing on the Log Lady.