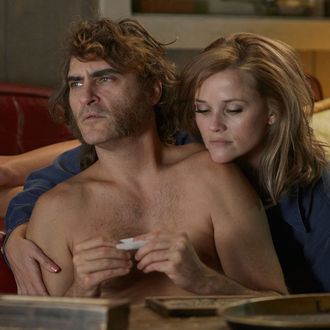 Each month, several films and TV shows leave HBO's catalogue. We provide a list of departing titles so you can watch them before they're gone forever (or are just available on a different site). For more comprehensive coverage of the best titles available on HBO and elsewhere, check out Vulture's What to Stream Now hub, which is updated throughout the month.
Clear eyes, full hearts: Friday Night Lights (2004)
No, it's not the TV show. Adapted from Buzz Bissinger's 1990 book, the Friday Night Lights movie laid the groundwork for the Dillon Panthers and everything to come from the beloved series. The broad strokes between the two are similar: A Texas high-school football team faces tremendous pressure to win amid tension created by race, poverty, and football itself. And Connie Britton plays the coach's wife in this one, too! Leaving October 31.
Moto panacaku! Inherent Vice (2014)
A California mystery through and through, Inherent Vice tells the story of Doc Sportello (Joaquin Phoenix), a pothead PI who stumbles onto an international drug-smuggling operation while trying to stay one step ahead of the uptight Detective Bigfoot Bjornsen (Josh Brolin). As a Paul Thomas Anderson movie, it is impeccably shot. As an adaptation of a Thomas Pynchon novel, it is fittingly hilarious. Leaving October 31.
Secret agent woman: Spy (2015)
If Melissa McCarthy made a movie with director Paul Feig every year, we certainly wouldn't complain. Sandwiched between 2013's The Heat and 2016's Ghostbusters, Spy is the duo's terrific riff on spy capers, which finds a CIA desk jockey (McCarthy) thrown into field work after an agent (Jude Law) goes missing. Stick around for Rose Byrne's delightfully condescending turn as a wealthy arms dealer. Leaving October 31.
October 30
Lucy (2014)
October 31
27 Dresses (2008)
28 Weeks Later (2007)
The Best Little Whorehouse in Texas (1982)
Cheech & Chong's Next Movie (1980)
Dressed to Kill (1980)
Dumb and Dumber To (2014)
Fantastic Four: Rise of the Silver Surfer (2007)
Friday Night Lights (2004)
Happy Feet (2006)
Inherent Vice (2014)
Juno (2007)
Me and Earl and the Dying Girl (2015)
Mean Streets (1973)
Pitch Perfect 2 (2015)
Soapdish (1991)
Spy (2015)
Sudden Death (1995)
The Theory of Everything (2015)
Vacation (2015)
We Are Your Friends (2015)
Wild Wild West (1999)
Windtalkers (2002)