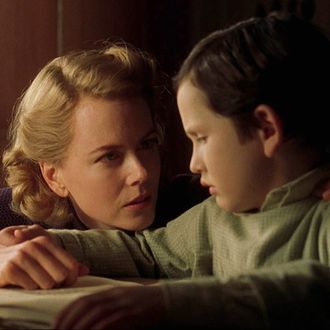 Each month, several films and TV shows leave Hulu's catalogue. We provide a list of departing titles so you can watch them before they're gone forever (or are just available on a different site). For more comprehensive coverage of the best titles available on Hulu and elsewhere, check out Vulture's What to Stream Now hub, which is updated throughout the month.
European horror story: The Others (2001)
If you're looking for a creepy ghost story this October, don't sleep on The Others. Set on the fog-choked isle of Jersey shortly after World War II, a mother (Nicole Kidman) struggles to explain the bizarre, seemingly paranormal activity inside her secluded country house. Director Alejandro Amenábar makes every moment feel like a dream you can't escape. Leaving October 31.
Is it safe? Marathon Man (1976)
Dustin Hoffman and Laurence Olivier face off in this mid-'70s thriller about a young man who gets caught up in a Nazi fugitive's plot to sell stolen diamonds on the black market. Olivier got one of his final Oscar nods for his performance as Dr. Christian Szell, but be warned: It may forever change the way you think about dentists. Leaving October 31.
October 31
The Accused (1988)
An Inconvenient Truth (2006)
A Good Woman (2006)
Beavis and Butt-Head Do America (1996)
Enough (2002)
Frank and Jesse (1994)
Happily N'Ever After (2006)
Happily N'Ever After 2 (2009)
Joe the King (1999)
Kalifornia (1993)
Marathon Man (1976)
The Others (2001)
The Rainmaker (1997)
Rush (1991)
Shattered (2007)