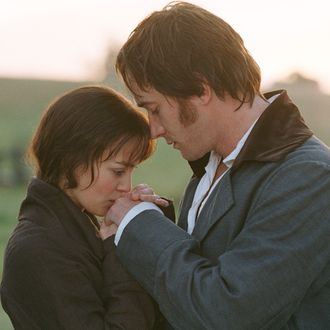 At the beginning of (and throughout) every month, Amazon Prime and Amazon Instant Video add new movies and TV shows to their libraries. Some of these may also have previously been on Amazon, only to have been removed and then added back. For more comprehensive coverage of the best titles available on Amazon and elsewhere, check out Vulture's What to Stream Now hub, which is updated throughout the month.
The spirit of Peggy Olson lives on: Good Girls Revolt (2016)
Let's transport ourselves back to New York City in 1969, shall we? Good Girls Revolt tells the story about what happens when a group of women demand equal treatment at the newspaper where they work, spawning the perfect crossover between Mad Men and The Newsroom. Never mess with driven, determined female researchers, y'all.
The end of a teen dystopian dynasty: The Hunger Games: Mockingjay Part 2 (2015)
Try not to get too emotional while watching the final outing of The Hunger Games franchise, because Jennifer Lawrence shooting fiery arrows and running around the Capitol will live on in teen dystopialandia for all of eternity. (You may get emotional watching Philip Seymour Hoffman, though.)
Darcy vs. Bennet: Pride and Prejudice (2005)
It's a scientific fact that you can never watch too many Jane Austen adaptations. This is certainly no exception, with Keira Knightley and Matthew Macfadyen portraying the admirable Elizabeth Bennet and the aloof Fitzwilliam Darcy, a.k.a. the greatest slow-burning romance of the Georgian era. Swoooon!
Trial and error: Goliath (2016)
Billy Bob Thornton headlines this prestige legal drama, which finds him portraying a disgraced lawyer turned ambulance chaser who's tasked with a difficult wrongful-death lawsuit. His one last shot at redemption contains a deadly conspiracy — of course! — but he'll stop at nothing to discover the truth, even if that means sparring away with his old firm, who may or not not be involved.

Never too old for this shit: Lethal Weapon (1987)
Three sequels and one television show later, Martin Riggs and Roger Murtaugh continue to prosper in pop culture. Revisit the film where the buddy-cop extravaganza began, with the lethal duo (Mel Gibson! Danny Glover!) finding themselves deep in the seedy underbelly of Los Angeles drug and prostitution rings. Naturally, they coin many a catchphrase in the process.
TELEVISION
Available to stream
American Horror Story season five (October 4)
Goliath season one (October 14)
Good Girls Revolt season one (October 28)
Bookaboo (October 28)
Available for purchase
A Merry Murdoch Christmas (October 1)
*Madam Secretary season three (October 3)
*Elementary season five (October 3)
Winter season one (October 3)
*Timeless season one (October 4)
*Conviction season one (October 4)
*The Flash season three (October 5)
*Arrow season five (October 6)
*Supergirl season two (October 11)
*American Housewife season one (October 12)
*The Real O'Neals season two (October 12)
Survivor's Remorse season two (October 17)
Power season three (October 17)
Agatha Raisin season one (October 24)
Janet King: Invisible Hand season two (October 24)
The Walking Dead season seven (October 24)
*Life in Pieces season two (October 28)
Outlander season two (October 31)
*Episodes available the day after they air on broadcast television.
MOVIES
Available to stream October 1
A Feast at Midnight
A Midsummer Night's Sex Comedy
A Shot in the Dark
Alice
Bachelorette
Bananas
Before Sunrise
Before Sunset
The Blood Oranges
Blue Steel
Bowling for Columbine
Candyman 3: Day of the Dead
Chinatown
Class
Congo
Cool It
Curse of the Pink Panther
Dead Men Can't Dance
Deep Impact
The Devil's Advocate
The Dog of War
Down Terrace
Dreamcatcher
Everything You Always Wanted to Know About Sex
The Falcon and the Snowman
Final Destination
The Gift
Happy Gilmore
The Host
The Hunger Games: Mockingjay Part 2
I Am David
I Saw the Devil
Island in the Sky
Joyride
Last Night
The Last Waltz
Let the Right One In
Lethal Weapon
Lethal Weapon 2
Lethal Weapon 3
Lethal Weapon 4
Lost and Delirious
Love and Death
Malibu Beach
Malibu High
Married to the Mob
Misery
Mission Park
Monsters
Mutant Chronicles
National Lampoon Presents Cattle Call
National Lampoon's Dirty Movie
National Lampoon's Dorm Daze 2: College
Nick of Time
North Dallas Forty
The Patriot
The Pink Panther
The Pink Panther Strikes Again
Peter and the Wolf
Pride and Prejudice
Quigley Down Under
Redacted
Revenge of the Pink Panther
Roger Dodger
Secretary
SFW
Slap Shot
Sleepaway Camp II: Unhappy Campers
Sleepaway Camp III: Teenage Wasteland
Son of the Pink Panther
Spanish Judges
Splinter
Stage Beauty
Stigmata
The Stone Age
Stuart Saves His Family
Throw Momma From the Train
Timecrimes
Trail of the Pink Panther
Training Day
Troll
Troll 2
Trollhunter
Tucker & Dale vs. Evil
Ture Colors
V/H/S
The Warriors
The Witches
Zombie Nation
Available to stream later in October
Stonewall (2015) (October 3)
LEGO Jurassic World (October 4)
The Dark Horse (2014) (October 10)
Louder Than Bombs (2015) (October 17)
Spectre (October 21)
Shine a Light (October 23)
A Brilliant Young Mind (October 25)
Complete Unknown (October 27)
Under the Gun (October 27)
Eye in the Sky (October 28)
LEGO Scooby Doo (October 30)
Available for purchase
The Fourth Phase (October 3)
A Christmas Melody (October 4)
Charming Christmas (October 4)
The Last King (2016) (October 4)
Satanic (2016) (October 4)
Sharknado: The 4th Awakens (October 4)
The Unbidden (October 4)
First Degree (October 10)
Shovel Buddies (October 11)
Alice Through the Looking Glass (October 18)
Finding Dory (October 25)