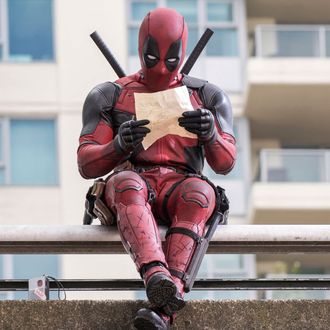 Photo: David Dolsen/Twentieth Century Fox
At the beginning of (and during) each month, HBO adds new movies and TV shows to HBO Go and HBO Now. Below, you'll find our October recommendations. For more comprehensive coverage of the best titles available on HBO and elsewhere, check out Vulture's What to Stream Now hub, which is updated throughout the month.
Marvel gone lewd: Deadpool (2015)
If you want to see Ryan Reynolds strut around the big city as Wade Wilson, making quips such as "Now I'm about to do to you what Limp Bizkit did to music in the late '90s" and "A fourth-wall break inside a fourth-wall break," Marvel's craziest outing is the film you want. For the full Deadpool experience, wear a leather mask. Available October 1.
Well, this is awkward: By the Sea (2015)
If you're still recovering from the unexpected demise of Brangelina, watch them co-star in By the Sea, a Jolie-directed romantic drama that, yup, chronicles a troubled couple on vacation in France. Things get very emotionally charged. Available October 13.
Miracle Mops for everyone: Joy (2015)
Jennifer Lawrence and David O. Russell reunited to tell the darkly comedic story of Joy Mangano, a divorced Long Island mother who invented the Miracle Mop and built a successful business empire. Lawrence scored an Oscar nod for this performance, and her Southampton accent is superb. Available October 15.
The show HBO really wants you to watch: Westworld (2016)
Get ready for violence, sex, and the Wild West. HBO promises all of that — and more — with its new sci-fi thriller series, which follows the very adult, very futuristic theme park of Westworld and its various voyeuristic pleasures. What could possibly go wrong? Premieres October 2.
Issa is back, and on cable: Insecure (2016)
Issa Rae already achieved great success with her popular YouTube series Awkward Black Girl, and will now continue with her delightfully funny awkwardness on Insecure. This time around, Rae will explore the complexities of blackness in Los Angeles, intertwining narratives between work, friends, and romance. Premieres October 9.
MOVIES
October 1:
28 Days Later (2002)
An American Haunting (Extended Cut) (2005)
Balls of Fury (2007)
Bride Wars (2009)
Cast Away (2000)
Cocktail (1988)
Cop Car (2015)
The Cowboy Way (1994)
Crocodile Dundee in Los Angeles (2001)
Deadpool (2016)
Demolition Man (1993)
Drumline (2002)
Eastern Promises (2007)
I Am Legend (Extended Cut) (2007)
Jeepers Creepers (2001)
The Jewel of the Nile (1985)
John Carpenter's Ghost of Mars (2001)
A Kid in King Arthur's Court (1995)
The Kingdom (2007)
The Place Beyond the Pines (2012)
Poltergeist (1982)
Repo Man (1984)
Romancing the Stone (1984)
Spider-Man (2002)
Spider-Man 2 (2004)
We Were Soldiers (2002)
The Wedding Singer (1998)
October 8
Ride Along 2 (2016)
October 13
By the Sea (2015)
October 15
Joy (2015)
October 18
Mr. Right (2015)
October 22
Gods of Egypt (2016)
October 29
Poltergeist (Extended Edition) (2015)
TELEVISION
Westworld, Series Premiere (October 2)
Class Divide (October 3)
Divorce, Series Premiere (October 9)
Insecure, Series Premiere (October 9)
VICE News Tonight (October 10)
Magnifica '70, Season 2 Premiere (October 17)
Tracey Ullman's Show, Series Premiere (October 28)
Sesame Street — Halloween Episode (October 29)