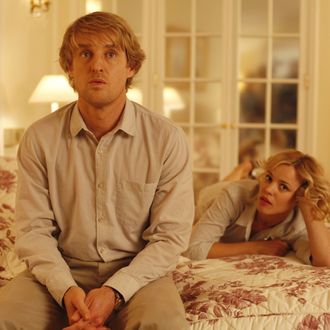 Photo: Sony Picture Classics
At the beginning of (and during) every month, Hulu adds new movies and TV shows to its library. Below, you'll find our recommendations for October. For more comprehensive coverage of the best titles available on Hulu and elsewhere, check out Vulture's What to Stream Now hub, which is updated throughout the month.
She wore… Blue Velvet (1986)
Before Kyle MacLachlan captured the nation's heart in David Lynch's Twin Peaks, he did so in Lynch's neo-noir mystery Blue Velvet, which chronicles the dark, twisted adventures of a college student who discovers a severed ear in a field. The North Carolina tourism industry still hasn't fully recovered.
Phil? Ned? Groundhog Day (1993)
You don't have to wait until February 2 to watch the delightful Bill Murray relive his day, again and again and again, as a meteorologist trapped in Punxsutawney, Pennsylvania. But that would certainly be special, wouldn't it?
Talking rhinoceroses with Dalí: Midnight in Paris (2011)
Woody Allen's nostalgic romp features an ensemble cast lead by Owen Wilson, who plays a Hollywood screenwriter vacationing in Paris with his fiancée when he's suddenly transported back to the 1920s and 1880s. F. Scott Fitzgerald, Ernest Hemingway, Pablo Picasso, and Salvador Dalí show up to whisk him around the City of Lights, just for kicks.
Cue the Mancini: The Pink Panther (1963)
The late, great Peter Sellers gave one of the most iconic comedic performances of all time as Inspector Jacques Clouseau in the Pink Panther series. That's as good a reason as any to watch (or rewatch) the first film that started it all. Tu l'adoreras.
Never go camping in Maryland: The Blair Witch Project (1999)
If you want to remember why camping should be avoided at all times, The Blair Witch Project is here to scare crap out of you with its "found-footage" narrative. (And the budget was only $60,000! Jeez!) There's a reason why the film's frightening legacy has persisted through all of these years — less is more, especially in the woods after dark.
Available October 1
Smallville: Complete Seasons 1–10
Air Force One (1997)
Alice (1990)
The Amityville Horror (1979)
The Amityville Horror (2005)
And God Created Woman (1988)
Bad Ass (2012) (*Showtime)
Bad Ass 2: Bad Asses (2014) (*Showtime)
Bananas (1971)
The Blood Oranges (1997)
Blue Steel (1934)
Blue Velvet (1986) (*Showtime)
Bolero (1984)
The Boston Strangler (1968) (*Showtime)
Bowling for Columbine (2002)
Brief Interviews With Hideous Men (2009)
Candyman 3: Day of the Dead (1999)
Carrie (1976)
Chinatown (1974)
Class (1983)
Congo (1995)
Cool It (2010)
Curse of the Pink Panther (1983)
Dead Men Can't Dance (1997)
The Descent (2005) (*Showtime)
Deep Impact (1998)
Detention (2004) (*Showtime)
Diminished Capacity (2009)
The Dogs of War (1981)
Everything You Always Wanted to Know About Sex (1972)
The Falcon and the Snowman (1985)
A Feast at Midnight (1997)
Felicia's Journey (1999) (*Showtime)
Flyboys (2006) (*Showtime)
F/X (1986) (*Showtime)
F/X 2 (1991) (*Showtime)
The Gambler (1974)
The Gift (2000)
The Godson (1998)
Groundhog Day (1993)
Hide (2011)
Hollywood Homicide (2003) (*Showtime)
Home of the Brave (2006) (*Showtime)
Hoop Dreams (1994) (*Showtime)
How to Survive a Plague (2012)
The Hunger Games: Mockingjay Part 2 (2015)
I Am David (2004)
The Illusionist (2006) (*Showtime)
Island in the Sky (1953)
Joyride (1997)
Kill Bill: Volume 1 (2003)
Kill Bill: Volume 2 (2004)
Kill List (2011)
Last Night (1999)
The Last Waltz (1978)
Legend of Kung Fu Rabbit (2011)
Little Ninjas (1990)
Lost and Delirious (2001)
Love and Death (1975)
Malibu Beach (1978)
Malibu High (1979)
Mammoth (2009)
Married to the Mob (1988)
Midnight in Paris (2011)
A Midsummer Night's Sex Comedy (1982)
Mission Park (2013)
Murder of Crows (1999)
National Lampoon Presents Cattle Call (2008)
National Lampoon's Dirty Movie (2011)
National Lampoon's Dorm Daze 2: College (2006)
National Lampoon's Van Wilder – The Rise of Taj (2006) (*Showtime)
Nick of Time (1995)
North Dallas Forty (1979)
Nukie (1988)
The Original Kings of Comedy (2000) (*Showtime)
The Patriot (1986)
The Pink Panther Strikes Again (1976)
The Pink Panther (1963)
The Pink Panther (2006)
Platoon (1986)
Poltergeist II: The Other Side (1986)
Poltergeist III (1988)
Pontypool (2008)
Psychic (1992)
The Presidio (1988) (*Showtime)
The Prowler (1981) (*Showtime)
Quigley Down Under (1990)
Rambo (2008) (*Showtime)
Revenge of the Pink Panther (1978)
Rodger Dodger (2002)
Room 237 (2012)
S.W.A.T. (2003)
School for Scoundrels (2006) (*Showtime)
Secretary (2002)
SFW (1995)
A Shot in the Dark (1964)
Sleepaway Camp 2: Unhappy Campers (1988)
Sleepaway Camp 3: Teenage Wasteland (1989)
Sleepy Hollow (1999)
Snatch (2000)
The Snowtown Murders (2011)
Son of the Pink Panther (1993)
Spanish Judges (2001)
Spoonful of Sex (2003) (*Showtime)
Stage Beauty (2004)
Stand Off (AKA Prairie Fire) (1998)
State Property 2 (2005) (*Showtime)
Stigmata (1999)
Strip Club Slayer (2014) (*Showtime)
The Stoned Age (1994)
Stranger in the House (1997)
Stuart Saves His Family (1995)
Swingers (1996)
The Blair Witch Project (1999)
The US vs. John Lennon (2006)
Thirteen Days (2000)
Throw Momma from the Train (1987)
Trail of the Pink Panther (1982)
Troll (1986)
Troll 2 (1991)
True Colors (1991)
Under Fire (1983)
Underclassman (2005) (*Showtime)
Walter (2015) (*Showtime)
The Warriors (1979)
Whore 2 (1994)
Zombie Nation (2006)
Zoolander (2001) (*Showtime)
Available October 2
Saturday Night Live: Season 42 Premiere (NBC)
Available October 3      
America's Funniest Home Videos: Season 27 Premiere (ABC)
Stonewall (2015)
Available October 4
The Mindy Project: Season 5 Premiere (Hulu Original)
American Horror Story: Complete Season 5 (FX)
Conviction: Series Premiere (ABC)
Timeless: Series Premiere (NBC)
Available October 5
Velvet: Series Premiere (Univision)
Available October 6
Clash of the Corps: Series Premiere (Fuse)
Available October 7
City of Gold (2016)
Paranoia (2013) (*Showtime)
Available October 8
Uproarious: Series Premiere (Fuse)
45 Years (2015) (*Showtime)
Carol (2015) (*Showtime)
Martin Lawrence Doin' Time: Uncut (2016) (*Showtime)
Available October 11
Please Like Me: Complete Season 3 (Pivot)
Knife Fight (2013)
Available October 12
American Housewife: Series Premiere (ABC)
Chicago Fire: Season 5 Premiere (NBC)
Fresh Off the Boat: Season 3 Premiere (ABC)
The Middle: Season 8 Premiere (ABC)
The Real O'Neals: Season 2 Premiere (ABC)
Tyler Perry's Daddy's Little Girls (2007)
Available October 14
Venus in Fur (2014)
Witching & Bitching (2014)
Available October 15
Safari Brother: Series Premiere (National Geographic)
The Funhouse Massacre (2015) (*Showtime)
Varsity Blues (1999)
Available October 16
Alpha Dog (2006) (*Showtime)
Available October 18
How to Build a Better Boy (2014)
The Suite Life (2011)
Twitches, Too (2007)
T'was the Night (2001)
Halloween High (2004)
Return to Halloweentown (2006)
Available October 19
Chance: Series Premiere (Hulu Original)
Adventure Time: Complete Season 7 (Cartoon Network)
StarTalk with Neil DeGrasse Tyson: Season 3 Premiere (National Geographic)
Years of Living Dangerously: Series Premiere (National Geographic)
Available October 20
The Librarians: Complete Season 2 (TNT)
Available October 21
Spectre (2015)
Available October 22
Weiner (2016) (*Showtime)
Available October 23
Gringo: The Dangerous Life of John McAfee (2016) (*Showtime)
Shine a Light (2008)
Available October 25
A Brilliant Young Mind (2014)
Available October 27
Under the Gun (2016)
Available October 28
X-Rated 2: The Greatest Adult Stars of All Time (2015) (*Showtime)