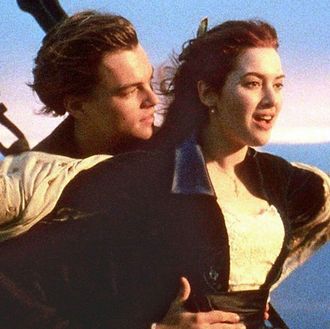 Photo: Twentieth Century Fox
At the beginning of (and during) each month, Netflix adds new movies and TV shows its library. Below, you'll find our October recommendations. For more comprehensive coverage of the best titles available on Netflix and elsewhere, check out Vulture's What to Stream Now hub, which is updated throughout the month.
Near, far, whereeeever you are: Titanic (1997)
James Cameron's epic is one of the highest-grossing movies ever made, so let's keep this simple: Leonardo DiCaprio is a dreamy stowaway, he swoons over Kate Winslet, a big boat hits a big iceberg, and there was totally enough room on that plank for two people. Available October 1.
L-I-V-I-N: Dazed and Confused (1993)
One of the greatest American films about teenage life, Dazed and Confused established Richard Linklater as an auteur to wtach and put a young Matthew McConaughey on Hollywood's radar. Set in an Austin suburb in 1976, it follows a scattershot collection of teens on the last day of school as they party, flee bullies, pursue crushes, and aimlessly cruise around town. As the soundtrack can attest, this is the definition of a chill-out movie. Available October 1.
Bueller? Bueller? Bueller? Ferris Bueller's Day Off (1986)
One of the other greatest American films about teenage life. Ferris Bueller not only inspired a generation of '80s kids (along with a truly lackluster TV show), he also epitomized the warmth and charm that made so many John Hughes movies so satisfying. Available October 1.
Next stop, the Twilight Zone: Black Mirror (season 3)
After a nearly two-year wait, Charlie Brooker's portentous sci-fi series returns to make its big Netflix debut. The third season of Black Mirror is its longest yet, boasting a lineup of actors including Gugu Mbatha-Raw, Mackenzie Davis, Bryce Dallas Howard, Michael Kelly, and Kelly Macdonald. We know little about the satirical techno-horrors that Brooker concocted for this go-around, but make no mistake: They'll be as chilling as they are perceptive. You'll probably want to put your iPhone down before you watch. Available October 21.
A peculiar institution: The 13th (2016)
Ava DuVernay's bracing documentary about mass incarceration is a surefire Oscar contender. The first documentary to ever open the New York Film Festival, it considers the legacy of slavery in modern America, the unfulfilled promises of the 13th Amendment, and racial inequality within the criminal-justice system. Available October 7.
TELEVISION
October 1
Murder Maps (season 2)
Unsealed: Alien Files (season 4)
October 4
American Horror Story: Hotel (season 5)
The Flash (season 2)
The Grinder (season 1)
October 5
Arrow (season 4)
October 6
iZombie (season 2)
October 7
Dinotrux (season 3)
The Ranch (season 1)
Supernatural (season 11)
October 8
The Originals (season 3)
Vampire Diaries (season 7)
October 10
Kuromukuro (season 2)
October 13
DC's Legends of Tomorrow (season 1)
October 14
Haters Back Off (season 1)
Project MC2 (season 3)
October 15
Glitch (season 1)
Power Rangers Dino Super Charge (season 1)
October 16
Dark Matter (season 2)
October 21
Containment (season 1)
Midnight Diner: Tokyo Stories (season 1)
The Mr. Peabody and Sherman Show (season 3)
Word Party (season 2)
October 24
Doctor Foster (season 1)
October 28
Skylanders Academy (season 1)
Trailer Park Boys Out of the Park: Europe
October 29
The Fall (season 3)
October 31
Chewing Gum (season 1)
MOVIES
October 1
A Cinderella Story (2004)
Barbershop 2: Back in Business (2004)
Blue Streak (1999)
Breakfast at Tiffany's (1961)
Dr. Dolittle: Tail to the Chief (2008)
Fairy Tale: A True Story (1997)
Gentleman's Agreement (1947)
Ghost Town (2008)
Grizzly Man (2005)
How to Lose a Guy in 10 Days (2003)
Millennium (1989)
My Little Pony Equestria Girls: Legend of Everfree (2016)
Once Upon a Time in the West (1968)
Oriented (2015)
Patton (1970)
Picture This! (2008)
Pooh's Grand Adventure: The Search for Christopher Robin (1997)
The Queen of the Damned (2002)
Quiz Show (1994)
Robotech (1985)
RV (2006)
Saving Mr. Wu (2015)
Snake Eyes (1998)
Snow Day (2000)
Sphere (1998)
Three Kings (1999)
Unforgiven (1992)
The Uninvited (2009)
Without a Paddle (2004)
October 3
Dheepan (2015)
October 4
Chevalier (2015)
Dartmoor Killing (2015)
October 7
Russell Peters: Almost Famous (2016)
The Siege of Jadotville (2016)
October 10
Love Between the Covers (2015)
October 12
Justin Timberlake + The Tennessee Kids (2016)
October 13
Mascots (2016)
October 14
Sky Ladder: The Art of Cai Guo­Qiang (2016)
October 15
Being George Clooney (2016)
Chapo: El Escape del Siglo (2016)
October 21
Joe Rogan: Triggered (2016)
October 25
Big Eyes (2014)
October 26
Jesus Camp (2006)
Kung Fu Panda 3 (2016)
October 28
7 Años (2016)
I Am the Pretty Thing That Lives in the House (2016)
Into the Inferno (2016)
For more details on the best film and television available online, consult Vulture's What to Stream Now hub.