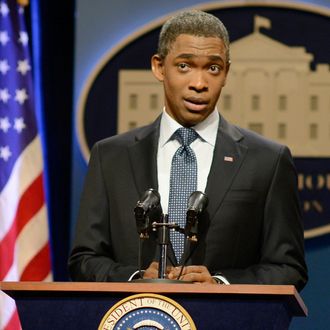 Photo: Dana Edelson/NBC/NBCU Photo Bank via Getty Images
This summer it was revealed that Jay Pharoah, the Saturday Night Live cast member who has been playing Barack Obama on the show since 2012, was not asked to return for another season. And then today, the show officially announced three new cast members, none of whom are black men. So, assuming that SNL won't revert to controversially using skin-darkening makeup (see: Fred Armisen as Obama pre-2012), who will play President Obama when the show returns in October?
Will it be one of the show's two remaining black male cast members: Kenan Thompson or Michael Che? Considering that Thompson doesn't look anything like the president and wasn't offered the impression the first time around, he seems unlikely. Che has barely been in sketches thus far, instead focusing on Weekend Update and writing, so he also seems unlikely. (Though he did kill it as Thurgood Marshall in the #OscarsSoWhite sketch last season.) If I had to pick someone based on preference and not likelihood, I'd probably go with Sasheer Zamata. If Kate McKinnon can do Justin Bieber, why can't Zamata play the president?
Pharoah and his Obama impression's departure from SNL brings up a larger question about the usefulness of spoofing a lame duck president at all. In an upcoming episode of the Vulture TV podcast, the show's new co-head writer Chris Kelly says he thinks the upcoming showdown between presidential nominees Hillary Clinton and Donald Trump in November may very well eliminate the need for any further spoofing of Barack Obama. After all, between a slew of upcoming presidential and vice-presidential debates, undoubtedly more campaign gaffes, and eventually the inauguration, with any luck Obama will be pretty far out of the spotlight.
While Darrell Hammond continued to do his Bill Clinton a handful of times in fall of 2000 and the winter-spring of 2001 after leaving office, the fact that his running mate Al Gore ran to succeed him and that his wife was running for Senate around the same time arguably kept him more in the spotlight. Thus, 2008 might be a better example for what could happen to Obama portrayals on SNL. Jason Sudeikis was playing outgoing President George W. Bush at the time, and did so only once in the fall of 2008 and not at all in 2009. Oddly enough, Will Ferrell actually also did Bush one time in the fall of 2008.
And that's what will probably happen this time around. If the show is in desperate need of someone to do Obama, they might ask one of the current cast members to do their best, but it seems just as likely as they'll just fly Pharoah in. Hell, they flew Larry David in to play Bernie Sanders and he only wrote on the show for a season 30 years ago.