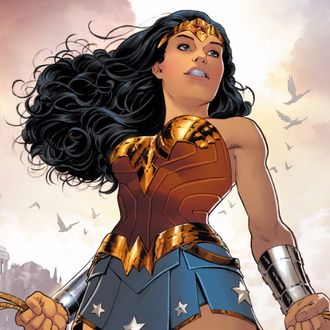 Queer icon.
Photo: DC Entertainment
There's a long history of not-so-straight subtext in tales of superhero fiction's best-known leading lady, Diana of Themyscira, a.k.a. Wonder Woman. As Jill Lepore documented in 2014's The Secret History of Wonder Woman, her earliest stories from the 1940s implied girl-on-girl love in her native Amazon society. But rarely has anyone who works for her publisher, DC Comics, even come close to officially addressing that aspect of her sexuality, either on the page or behind the scenes. Greg Rucka just broke that taboo.
In an interview with comics-news site Comicosity, Rucka, a veteran comics writer who is currently penning WW's adventures in her self-titled solo series, was asked about his protagonist's sexuality. "Now, are we saying Diana has been in love and had relationships with other women? As [series artist] Nicola [Scott] and I approach it, the answer is obviously yes," he said. However, he made it clear that the term "gay" doesn't really apply:
[The Amazon homeland]'s supposed to be paradise. You're supposed to be able to live happily. You're supposed to be able — in a context where one can live happily, and part of what an individual needs for that happiness is to have a partner — to have a fulfilling, romantic and sexual relationship. And the only options are women. But an Amazon doesn't look at another Amazon and say, "You're gay." They don't. The concept doesn't exist.
We reached out to DC and a spokesman said the publisher "doesn't have anything to add to Greg's comments and will not be providing a response." Hey, they didn't say "no."