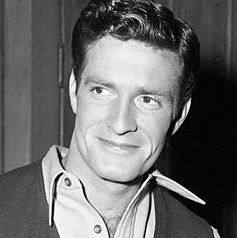 Hugh O'Brian in 1954.
Photo: NBC/NBCU Photo Bank via Getty Images
Hugh O'Brian, the actor who played Wyatt Earp in one of the first TV Westerns, has died at 91, the Associated Press reports. O'Brian played the titular lawman in ABC's anthology series The Life and Legend of Wyatt Earp, which premiered in 1955 just days before Gunsmoke, making it, in the minds of fans, the first adult Western on television. (The adult Western innovated on earlier TV Westerns by offering complex characters and a darker worldview.) After Earp was canceled in 1961, O'Brian made guest appearances on shows like Perry Mason, Charlie's Angels, and The Love Boat, and he also starred in the sci-fi detective show Search. His film credits include There's No Business Like Show Business, Ten Little Indians, and The Shootist, the latter of which gave him the particular distinction of being the last person to be killed onscreen by John Wayne.
Before getting into acting, O'Brian served as a Marine drill instructor during World War II. In 1958, he formed the Hugh O'Brian Youth Leadership Foundation, which sponsors leadership programs for high-school students. A lifelong bachelor who once dated the ex-wife of the Shah of Iran, O'Brian married his girlfriend Virginia Barber in 2006.