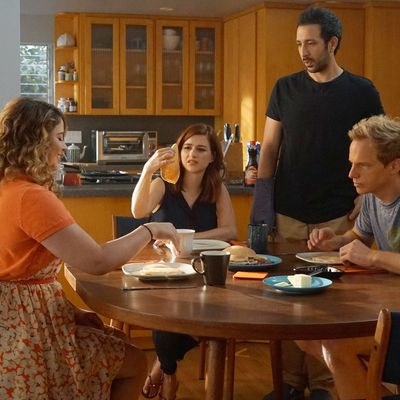 Kether Donohue as Lindsay, Aya Cash as Gretchen, Desmin Borges as Edgar, Chris Geere as Jimmy.
Photo: Byron Cohen/FX
In the blue light of morning, the seemingly clueless smile on Jimmy's face suggests he was too plastered to remember some particularly memorable news: His dad is dead. Gretchen's go-to method of making it better is giving Jimmy a grief blowie, which is mayyyybe not the best go-to method of making things better, especially when your boyfriend is the kind of guy who will literally pretend he was blackout drunk when you told him his dad died just to "steal" oral sex from you.
Jimmy, obviously, does not have to acquire blow jobs through this kind of deceit. (Also, lying to your girlfriend to trick her into giving you head twice in six hours is possibly a new low, even for Jimmy.) But, as he reasons to Gretchen, "You know how amazing free food tastes." Dude, no.
Anyway, Jimmy says he feels nothing about his dad's death. Gretchen is relieved. With that business apparently settled, it's time for Korean gel masks, which, considering the activities of the morning thus far, I assumed were a weird sex thing but turned out to be literal gel masks.
Meanwhile, Edgar is struggling. Like, a lot. He's been off his meds for two episodes, we haven't seen Dorothy at all, and when he says he's going to the VA, he winds up sitting outside somewhere, drinking straight from the bottle. I am very, very worried about Edgar and what kind of implosion we should expect from him down the line. Jimmy, as always, is very sympathetic to his housemate's plight. "It turns out in World War I, the official term for PTSD was 'cowardice,' and you were shot for it." Jimmy also uses Edgar as a personal Uber service and texts him his ratings, which are typically, in all-caps: ZERO STARS.
(Also in the category of "Uhhhh, should we be worried about him?" is Killian, recently abandoned and trapped in some sort of serfdom-style internship wherein he transcribes the aggressive, incestuous sexcapades enjoy by Jimmy's characters.)
Gretchen, as is her way, willfully misinterprets the guidance of her put-upon therapist and decides to force Jimmy to face his feelings. Of course, she's only doing so to ensure she can still have fun on this upcoming Koala Bears Everyone Stalks on Instagram cruise.
This episode makes me feel even more confident in my hunch from last week: These worsts have gotten worst-er. Gretchen's flippancy about death, and the ease with which Jimmy should be able to overcome it — regardless of the relationship he and his father had in life — is so childish it seems out of character. She's an asshole, which is easily one of my favorite things about her. She's selfish and impulsive and manipulative and reckless. But there's something about this strain of her immaturity that feels off to me, not because she's being a terrible person, but because it feels too dopey and absurd to be the way she'd really behave. These kids just said, "I love you!" Jimmy stuck it out when Gretchen was laid low by depression! I guess what I'm getting at is: Of course they're insensitive, selfish monster-people, but I thought they had reached a point where they agreed not to be insensitive, selfish monster-people to each other. Just to everyone else, and sometimes to themselves. Maybe it would be easier to go along with this whole riff if we had ever heard, in a previous season, about Gretchen's apparently ardent love for porcupines with massive social-media followings.
Even though I wasn't sold on the idea that Gretchen would attempt to make Jimmy confront his grief and cry it out in mere hours, I was impressed by Gretchen's creative take on a sadness tour: a "hella sexy" funeral, followed by one of those paint-your-own-pottery places where she thought they'd be moved by "living fathers with their kids," but accidentally stumble upon a "legitimately bad" child who set up a bunch of dummy Facebook accounts to cyberbully his dad.
Jimmy ends the episode by breathing in the scent of his dad's Manchester jumper (British!), then claims, while smirking and laughing, that he is "finally free." He shoves all of his dad's stuff (i.e. his emotions) in a drawer, which is definitely a great way to deal with your feelings and won't be a problem at all.
Meanwhile, after watching Jimmy respond to his father's death with a whole heap of nothing and a side of meh, Lindsay realizes she wants to be a good … dad … to her baby. (Honestly, I relate to Lindsay very much in this moment. Being a mom sounds impossible. Being a dad sounds dope.) Nevertheless, Lindsay continues to say "family" like it's not a real word, or like a word she has to sound out every time she comes across it. She still seems to lack any basic understanding of what a family actually is or does. "Name one family that's two people," she challenges Paul. His perfect reply: "Gilmore Girls?"
And so they tag along with Becca and Vernon to one of those baby class things that must be pretty popular because no TV-show-pregnancy plotline is complete without one. Of course, Becca fails because she really wants to be a mom and Lindsay crushes it because such are the laws of sitcom logic. Sure! Becca concedes that Lindsay is a natural, but as soon as Becca, Paul, and drunk Vernon bounce, Becca hits on a dad who just wanted advice about the wombie-boppie-zippety-zip whatever. No idea where we are headed with this story. Will the show really give Lindsay and Paul a baby? And will Paul be ready for the rigors of parenthood? His wound is taking so long to heal. Get strong, I mean. The wound just needs to get strong.
The Worst: Tricking your girlfriend into giving you a blow job.
Runners-up: Trying to spell anilingus, whatever is happening to Lindsay and Becca's boozed-up babies, not being able to masturbate for half a day because you're mourning your dead guinea pig, Justina's shitty-sounding boyfriend, Vernon's drinking problem, Edgar's drinking problem.
A Few Good Things: Heart-shaped pancakes, perfecting the bum metaphor, not getting pregnant because your boyfriend's dead dad's ghost might be floating around looking for a body to reincarnate (seriously, though, pulling out is barely better than crossing your fingers; wouldn't Gretch have an IUD?), quoting Don Draper to a child.