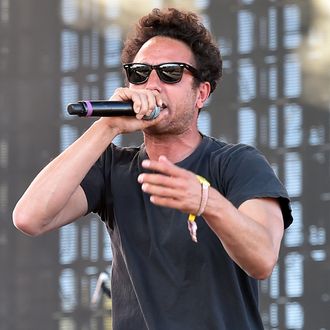 Only took 16 years!
Photo: Kevin Winter/Getty Images for Coachella
We've been down this road before: Rumors of a solo Zack de la Rocha album have been part of his post–Rage Against the Machine mythos for nearly two decades, but very little has been released. Since Rage, de la Rocha has put out one record, in 2008, under his One Day Lion moniker with Jon Theodore. Sure, he's appeared on other people's songs, but nothing to suggest something larger looming. And yet, calm like a bomb, de la Rocha abruptly returns today with his debut solo single, "digging for windows," produced by El-P. (The two also worked together in 2014 for Run the Jewels' "Close Your Eyes.") It's a snarling narrative told from the perspective of an inmate that, of course, gets political: "I stare at a future so toxic / No trust in the dust of a promise / Won't mark the name on a ballot / So they can be free to devour our options."
So while the rest of RATM were forming a supergroup, it appears de la Rocha was just busy making an album he plans to bestow on us. His reps have confirmed that "digging for windows" is, indeed, the lead single from a forthcoming debut solo album. And as an apology for that inevitably longer wait, de la Rocha has made the song a free download on BitTorrent and SoundCloud.