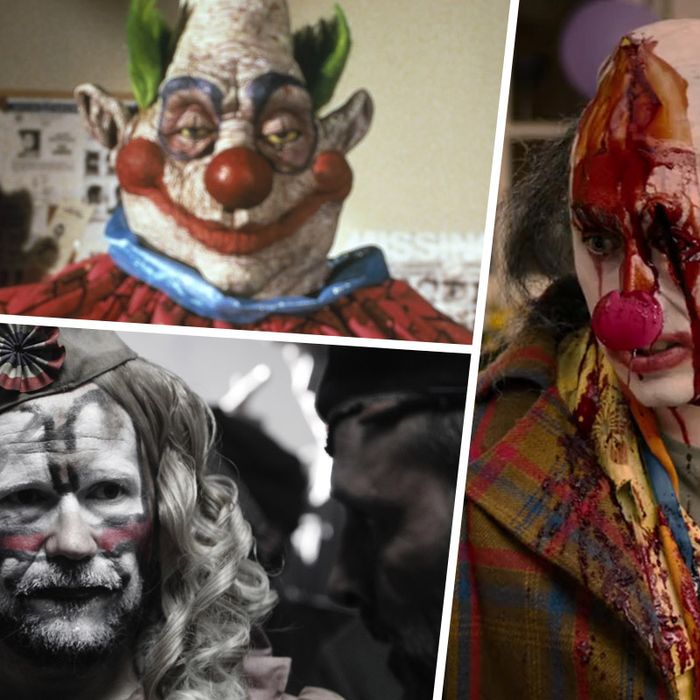 Photo: Metro-Goldwyn-Mayer Studios Inc./Tornasol Films
In a normal year, the imminent arrival of Halloween would be good enough reason to dredge up a bunch of evil-clown horror films and binge them to your heart's delight. But 2016 is no typical year. Now, America is seemingly under siege by clowns: Creepy-clown sightings have been reported all over the country, and earlier this week, a 15-year-old in a clown suit was arrested in Minnesota after terrorizing local teens. People like Stephen King say not to stress about the uptick in free-range clowns, but of course Stephen King isn't worried: Before donning their suit and makeup, every graduate of clown college must make a solemn vow never to harm him.
For the rest of us, things are getting tense. But just because you've locked your doors and committed to staying inside until this epidemic of murderous jesters blows over, doesn't mean you need to go cold turkey from clown-based threats. Here are 11 movies to trigger your clown-based PTSD, each one with its own distinct take on the classic horror trope. Put on your red nose and turn off the lights.
Stitches (2012)
While clown horror movies tend to feature a lot of spastic clown humor in between bouts of savagery, this British import leans into the "comedy" part of  "horror comedy." A scuzzy birthday-party clown named Stitches returns from the dead to take vengeance on the teenagers who were accidentally responsible for his death six years earlier. Yes, that's the same plot as Friday the 13th, but with a clown!
Available on: Google Play, Amazon, iTunes, Vudu, Netflix

Killer Klowns From Outer Space (1988)
In movies, killer clowns are often the corporeal form of malevolent demon creatures, but this may be the only film in which they are aliens. Killer Klowns sits at the nexus of creepy and campy: Its extremely grotesque alien clowns carry sugar-spinning ray guns and keep their victims encased in cotton-candy cocoons. And the fact that the clowns are from outer space helps create an emotional distance between viewers and the clown terrorists.  
Available to rent on: Google Play, Amazon, iTunes, Vudu
Killjoy (2000)
Here's another twist on the greasepaint genre — the rarely seen clown of vengeance. After a group of gangsters guns down a young man, they're visited by a demonic clown named Killjoy, who exists to enact divine retribution. If one round with this killer clown isn't enough, you can see him again in Killjoy 2: Deliverance From Evil, Killjoy 3, Killjoy Goes to Hell, and Killjoy's Psycho Circus.
Available to rent on: Amazon

The Last Circus (2010)
This Spanish film centers on a bloody love triangle in a small traveling circus: A sensitive sad clown and a vicious happy clown square off for the heart of the troupe's trapeze artist — who also happens to be the happy clown's abused wife. Just when you think this movie runs out of crazy, it doubles down. Get ready for machine guns, death-defying aerial stunts, and a sad clown worn down to his very last nerve.
Available to rent on: Google Play, Amazon, iTunes, Vudu

Clownhouse (1989)
This one has some sad history behind it, as its director, Victor Salva, was convicted of sexually abusing his lead actor during filming. Onscreen, the story focuses on three young brothers left home alone on Halloween, when a trio of escaped mental patients dressed as clowns show up to terrorize them. (Sam Rockwell makes his film debut as one of the brothers.)
Available on: YouTube

Gacy (2003)
The story of serial killer John Wayne Gacy is terrifying enough without the sick detail that he ingratiated himself to his neighbors by dressing up as a clown. Gacy was convicted of 33 murders — mostly young gay men he had lured into his home — and was executed by lethal injection in 1994. Besides this straight-to-video biopic, which leans heavily on the clown angle, Gacy was also the subject of a Sufjan Stevens song, which got slightly better reviews.
Available to rent on: Amazon

31 (2016)
Rob Zombie is the grand master of clown horror. He brought us Captain Spaulding in House of 1000 Corpses and The Devil's Rejects, and his Halloween remake puts a much heavier emphasis on the fact that Michael Meyers made his first kills in a clown mask. For the upcoming 31, Zombie has assembled a veritable buffet of murderous clowns, with names like Doom-Head, Schizo-Head, and Psycho-Head. As usual, he checks subtlety at the door.
Available to rent on: Amazon, Vudu

Clown (2014)
This one's a slightly distinct take on the villainous-clown trope. When a well-meaning dad needs to rustle up some entertainment for his son's birthday party, he rummages through the attic and finds a dusty old clown suit. But dad's plan takes a dark turn when his suit, nose, and wig fuse to his body and slowly turn him into a monstrous evil clown. As a bonus, this one features a cameo from producer Eli Roth, who plays a character named Frowny the Clown.
Available to rent on: Google Play, Amazon, iTunes, Vudu

The Clown at Midnight (1999)
The Clown at Midnight isn't exactly iconic, but it is your rare star-studded killer-clown picture: Christopher Plummer, Margot Kidder, and Tatyana Ali all appear in this movie, which follows a group of teenagers refurbishing an opera house that was shuttered after a man in a clown suit murdered an actress in her dressing room years before. Beware the clown hiding in the wings!
Available for purchase on VHS on: Amazon
100 Tears (2007)
This one is only for the true blood-lusters, as the titles of its Amazon reviews will attest. "Big Clown, Big Meat-Axe, Big Problems!" says Bindy Sue Frønkünschtein. It's "A Work Of Bloody Brilliance!" according to Ben Wasden. Jennifer M. Hensley instructs you to "Turn off your brain because this one is all about GORY FUN!!!" and S. hacker goes big with the praise and calls it the "Best indie horror for 2007." This movie is pretty rough-hewn, so getting through it requires a strong constitution for low-budget blood baths. Still, they somehow managed four more tears than Question Mark and the Mysterians.
Available to rent on: Amazon

Stephen King's IT (1990)
The movie that launched innumerable phobias. Nothing will ever top IT, and it's worth remembering that this wasn't even a feature film — it was a mini-series that aired on ABC in 1990. Yes, that's right, they put this on TV. Whoever snuck this one through the programming back door is responsible for wrecking a lot of childhoods. Pennywise has a balloon for you, kiddies!
Available to rent on: Google Play, Amazon, iTunes, Vudu