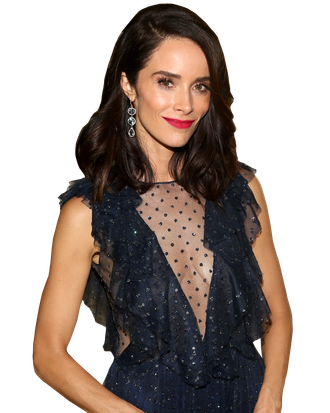 Photo: Jesse Grant/Getty Images
Days off are rare for Abigail Spencer since she took on the role of Lucy Preston in Timeless, a big-budget NBC drama that finds her character traveling across history to the Hindenburg disaster, the Lincoln assassination, Nazi Germany, and soon, the Alamo. (She compares it to Doctor Who, with a buddy comedy like Three Amigos on the side.) The experience is akin to putting out a new film every week, though Spencer doesn't mind the chance to try out new costumes and personas in each new adventure. "Every time we do an era, we're like, 'This is the one. We found the era I was supposed to live in,'" she says. "Then we start the next episode and we're like, 'No, actually, this was the one.'"
Spencer's search for a favorite era is reminiscent of her trip through Hollywood, as the actress has slipped into a number of roles and genres. She's been on everything from Mad Men and True Detective to Cowboys & Aliens and Burning Love. Before she leaped into Timeless, Spencer wrapped her performance as the brittle Amantha on the final season of SundanceTV's heartrending drama Rectify, which returns this Wednesday. Vulture caught up with Spencer to talk about why she jumped to network TV, why everyone keeps telling her to play a teacher, and why Amantha holds her cigarettes in a very specific way.
How did you get involved with Timeless?
It was really [series creators] Shawn Ryan and Eric Kripke. We were about to start our final season of Rectify and I had a month where, if I was going to do a pilot, I could. Shawn Ryan saw me do a pilot called Grace that Lesli Linka Glatter directed and Krista Vernoff created — and obviously Lesli Linka Glatter and Shawn Ryan had worked together many times before [on The Chicago Code and other projects]. I guess he had kind of kept me in mind for stuff, because that pilot was from five years ago. So in this month where I was like, "Oh, am I going to do a pilot?" my manager got the script from them. It was the only pilot that she sent me. I read that day, and then four other actresses who were auditioning for the role of Lucy texted me, "I just went in for this show. You have to play this part!" I was like, "What? You could play the part." They were like, "No. When I read it, it's you. That's you."
What was it about Lucy that felt specific to you?
I always seem like I'm from the past? [Laughs.] I think it's a mix of a few things. I saw Lucy differently than other people did. I didn't want to play a hero; I wanted to play someone at the beginning of their journey. I wanted to play someone that leads with her intelligence, but also has a goofiness. If I could boil it down to one trait, I would just say she's just a person of very deep convictions. I'm drawn to those characters. And I was drawn to the historical elements and Eric and Shawn. When I came in to meet with them, I was like, "Are you sure you want me?" And they were like, "Yes and you'll never be bored. You're going to look like you're from a different era." That was definitely the clincher for me because I love the costume drama of it all. I'm like, "Yes! Give me all the period costumes!"
It must be exciting to come in each week and say, "I'm going to go to the 1940s" or "I'm going to go to the 19th century."
Well, it's incredibly challenging for the crew. I would challenge any crew to be working harder than our crew right now because it's never the same set. It's never the same costumes. It's never the same actors. We are making a new movie every week. I don't think there is anything else on television like it. Then, from the Lucy perspective, I'm playing a character who has to put on whatever the era is and still hold her contemporary qualities and learn something new through the episode.
The show doesn't ignore the idea that going back in time, especially in American history, means that things get worse if you're black or if you're a woman.
I think it's worse for the world. In last week's episode, we were in Nazi territory and we hitched up with Ian Fleming, who wrote the Bond novels and was an undercover spy for the Allied resistance. Lucy doesn't know German, and she can only go undercover as a Nazi secretary. When we were shooting, I was just so divided. We had all authentic costumes — I believe it was Hugo Boss who did the Nazi uniforms. To understand more about that era and that time period and the people behind it … I feel honored to even dip my toe in and have a greater understanding.
I've read that there are Bill and Ted's Excellent Adventure references in Timeless. Are there other clues hidden in the show?
All the three main characters' names are all Bill and Ted references. That's Eric's wheelhouse, I've discovered. Every name that comes up, every place that we go, he uses them as opportunities to create fun scavenger hunts for the audiences. I didn't get it at all. Malcolm [Barrett], who plays Rufus, he nailed it right away. After our first table read, he was like, "So these are all Back to the Future and Bill and Ted references, right?" And Eric was like, "What! Nobody else has gotten that but you!"
You've done all sorts of projects, from network to cable to movies. Coming out of Rectify, why did you decide to do a pilot?
I had never been a lead of a network show before. I felt like, well, that would be a really interesting challenge because that's a whole other world and audience. I felt that, too, in comparison to a lot of the film roles. There were some scripts that I read that were wonderful and I would have loved to have been a part of, but the character that was available to me would not have been the center, the way into the world. I also thought that it was inspiring to see a historian hero. I mean, The teacher is the hero? The professor is the hero? I'm a big fan of teachers. [Laughs.] My mother was a teacher. You were asking earlier why people thought of me for this part — maybe everyone thinks I should just be giving them lessons all the time.
Both you and Clayne Crawford, who's now on Lethal Weapon, went from Rectify to big network shows. Did you talk about that decision together?
I think we felt a camaraderie in making that decision. We talked about it a lot when we were making the decision to sign on to these shows, then when we shot the pilots, and now the shows are coming out. He's been a great confidant and a great friend. It's a very similar journey that we're on. We're very similar actors, too. We have very similar stories and we're both from the South.
What was it like to return to Rectify and shoot the final season?
Any time I get to act with that troupe of actors is just so wonderful. I think Ray [McKinnon, creator of Rectify] considered us more of a summer stock troupe. Every year we get together and we make this thing and it's untouched by anybody else. We're just making Ray's vision. I feel like I'm about to start grieving the fact that next year I won't be able to do that again, because it was a part of my life. I'm just overwhelmed with gratitude that Ray trusted me enough to play Amantha, because it totally deepened and shaped my work and my artistry. It made me a better human and a better actor.
When Rectify comes back, where do we find Amantha? She spent so much of her life on Daniel. Now that he's accepted this plea deal, what does that mean for her?
This is the first time that we've picked up on Rectify several months later. Every season picked up an hour later from the previous. Now, we're deeper into their journey. Amantha stayed put. Daniel left and she's still there and she's got a job and she's disconnected from her family. She's become a bit of a loner. Amantha's a little depressed. I think that you're seeing someone who isn't sure what the next move is. Now that the calm of that storm has passed and it's not her job to take care of Daniel anymore, who is she without that? I don't know if Amantha is going to stay in Paulie forever, but she has to make peace and forgive that town before she can actually make real change in her life.
Amantha smokes her cigarettes in such a distinctive way. How did you figure out how she would smoke?
I had never smoked before playing Amantha. I thought it was going to be my kryptonite. I was cast as Amantha and then I was also going to another movie where I played someone who smoked. I didn't want to smoke like people I'd seen in the movies. I think it's a deeper need and I think Amantha's been smoking since she was 12.
So I was driving around Los Angeles one day and I saw this girl in Silver Lake walking down the road with a Rite Aid plastic bag and she was smoking a cigarette and I went, "Her! That's the girl." I was like, "I bet she's from the South or the Midwest. I bet she's been smoking since she was 12." I'd never seen anybody smoke like that. It felt just a part of her. I rolled up to her in my silent Prius, which is even creepier because you can't hear me approaching, and I rolled down the window and I called out, "Hi! I'm so sorry. I'm not a creepy person even though I'm doing something really creepy right now. My name is Abigail and I'm an actress — I know, I know, I know — and I am developing a character right now, I'm preparing to play this role and I love the way that you smoke. Do you mind if we just sat down right now and you talked to me about your history with smoking?" We sat on the curb in Silver Lake and she taught me how to smoke. She talked about her life. She had been smoking since she was 12. She was from the Midwest. She'd come out to L.A. to become a makeup artist and she was so generous and so kind. That was my first cigarette. I shared it with her and that started my exploration. I really started interviewing people. I was like, "How do you smoke? How do you smoke? How do you smoke?" Everybody had such specific and passionate reasons. And then I realized, Oh, Amantha's just going to have her own way that she smokes and that's just going to be it. And that's the story.
This interview has been edited and condensed.