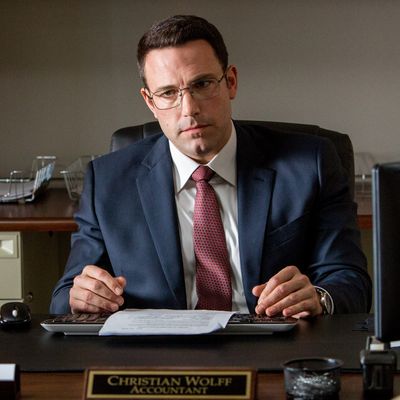 Ben Affleck in The Accountant.
Photo: Chuck Zlotnick/Warner Bros. Entertainment
The Main Story
In many ways, The Accountant should've been an underdog at the box office. It's a thriller with a title that suggests the opposite of thrills; it's not based on or a sequel to any preexisting books or movies or comics; it received middling reviews; and neither its director, Gavin O'Connor, nor screenwriter, Bill Dubuque, are draws on their own. But the story of an accountant with Asperger's who un-cooks the books for international criminals — and is a bit of a dangerous man himself — had one thing going for it: star Ben Affleck. And so, it's to Ben Affleck (with an assist from a weak competing slate) that most of the credit should go for its No. 1 opening this weekend.
The Accountant debuted to an estimated $24.7 million, well above Warner Bros.'s expectations for the film, which were around $17 million. That performance, while modest in the grand scheme of No. 1 openings, blew away the field; the next closest was Kevin Hart's What Now? at $11.98 million, which Box Office Mojo points out is the largest opening ever for a stand-up movie. (The less said about the weekend's other new wide release, the herculean flop Max Steel, the better.)
This represents a significant milestone for Affleck. Although he had a huge hit in 2014 with Gone Girl, that movie was the adaptation of a massively popular novel, making it hard to attribute much of its success to his star power. Before that, the last time he opened a movie at No. 1 that he didn't also direct was — wait for it — Daredevil in 2003. Now, he has two hit thrillers in a row, both of which drew largely adult audiences: Gone Girl's opening-weekend crowd was 75 percent over the age of 25, and The Accountant's was 86 percent over the age of 25. That's in addition to the reliable group that comes out whenever he writes and directs, a streak that should continue with the awards-season release of Live by Night later this year. (For what it's worth, The Accountant also becomes only the third live-action movie of the year based entirely on original material to open at No. 1, the other two being The Boss and Don't Breathe.) Oh, and also? Dude plays the Batman. He's got all the bases covered.
What Else Happened?
Other than the continuing draw of Affleck and Hart, there was one other major takeaway from the weekend: The Birth of a Nation is officially a theatrical disappointment. After a soft opening last week, Nate Parker's Nat Turner biopic fell a dizzying 61 percent in its second frame despite playing in the same number of theaters, adding an estimated $2.7 million to its total, which now stands at just over $12 million. Considering that Fox Searchlight paid $17.5 million outright for The Birth of a Nation at Sundance, those numbers are, if not the worst-case scenario, then pretty close to it.
Following The Accountant and What Now?, The Girl on the Train managed just about $12 million, a 51 percent drop from its debut, and behind it were holdovers Miss Peregrine's Home for Peculiar Children (about $9 million) and Deepwater Horizon ($6 million). And at the art-house, Antonio Campos's Christine won the per-theater crown $14,046 from its one theater in New York, with Kelly Reichardt's excellently reviewed Certain Women close behind, scoring $65,230 from five theaters.