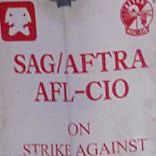 Photo: Carlos Chavez/Getty Images
Though video games continue to break new grounds in the realms of virtual reality, graphics, and other technology, the human voices that bring the characters to life remain an integral part of the medium. Yet, despite the industry's need for voice actors, the companies are reportedly unwilling to compromise on several of the contractual demands set by the SAG-AFTRA union. According to Deadline, the problem stems from a clash of cultures, with SAG-AFTRA representing the standards met by television and film, while video-game companies, as a newer form of entertainment, balk at some of the requests, including limiting strenuous voice-recording sessions that might leave lasting damage to the vocal cords. Furthermore, the gaming industry is putting forward contracts that place large fines on actors who arrive late and a particularly aggressive rule that would revoke an agent's franchise in the SAG-AFTRA union should they not send their clients to auditions.
If an agreement is not reached by October 21, SAG-AFTRA will strike, which would mean delays and even halts in production for such gaming titans as Activision Publishing, Inc.; Blindlight, LLC; Corps of Discovery Films; Disney Character Voices, Inc.; Electronic Arts Productions, Inc.; Formosa Interactive, LLC; Insomniac Games, Inc.; Interactive Associates, Inc.; Take 2 Interactive Software; VoiceWorks Productions, Inc.; and WB Games, Inc.