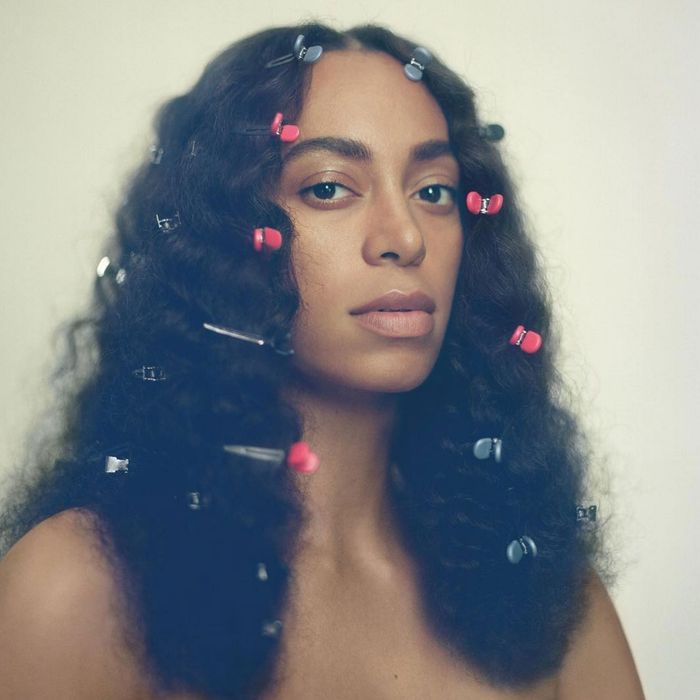 Solange Knowles is an R&B historian as much as she is an artist, the kind of performer who tracks down one of the Holland-Dozier-Holland guys for a collaboration, records a whole EP with Dev Hynes years before Britney Spears and Carly Rae Jepsen come calling, dresses down arts media for lacking depth in R&B coverage, and starts a label, Saint Records, to do something about it. Since bricking on the too-slick R&B pop of 2002's Solo Star, Solange has carefully pieced together a discography of projects that flash a sharp knowledge of the inner workings of her genre and a voice limber enough to keep the whole thing from sounding labored. The 2008 album Sol-Angel and the Hadley St. Dreams wrapped itself in Motown pep and orchestration. The 2012 True EP made great use of Hynes's synth-pop and new-wave affectations. The cover of A Seat at the Table, which was abruptly announced and then released last week, nods to a different era: a close-up of the singer with butterfly pins adorning her hair that bring to mind the crown of glitter worn by Minnie Riperton in memorable performances of her 1975 smash "Loving You."
A Seat at the Table isn't as adroit of a '70s period piece as Sol-Angel and True were for the '60s and '80s, but it does draw from the same well of political exhaustion and rejuvenatory Afrocentricity as classics like Sly and the Family Stone's There's a Riot Goin' On. A Seat speaks to a modern, black, and specifically feminine experience in a year in which black women seek better advocacy amid Black Lives Matter demanding justice for black men and Hillary Clinton is making landmark strides in politics for women. Lead single "F.U.B.U." speaks out against cool-hunters who "get so much from us, then forget us." "Don't Touch My Hair" swats insensitive gawkers out of the singer's personal space while struggling to balance toughness with vulnerability. These songs' questioning spirit is uplifted by a spate of musical interludes where guests from the rapper Master P to the singer's parents, Mathew Knowles and Tina Lawson, outline their lifelong battles with discrimination. Particularly poignant are "Tina Taught Me," in which Lawson carefully details the difference between black pride and anti-whiteness, and "Dad Was Mad," Mathew's account of being bussed into a predominately white school with a detail of state troopers to defend him from Ku Klux Klan protesters as a child.
But A Seat at the Table is as much about healing as it is about injustice. "Mad" flips "Dad Was Mad" on its ear in one sentence: "You got a right to be mad, but when you carry it alone you find it only getting in the way." Lil Wayne appears with a verse that shrugs off label strife, jail time, and a childhood suicide attempt as surmountable lows on the path to greater highs. "Cranes in the Sky" takes a similar approach, likening the struggle to escape personal pain to the leaps and dives of a bird in flight. Throughout the album, notes of weariness and resignation are undercut by choruses that promote perseverance and delicate arrangements that help deliver the message on a slick of honey. This year sucks, but self-care lightens the load.
Solange pulls collaborators to A Seat at the Table that few would expect. She sang, co-wrote, and co-produced everything but also called on indie-rock vets David Andrew Sitek of TV on the Radio, Patrick Wimberly of Chairlift, and David Longstreth of the Dirty Projectors to sit alongside rap/soul pioneers Q-Tip, Questlove, and Raphael Saadiq. Up-and-comers Kwes, Kindness, and Sampha pitch in ideas as well, imbuing A Seat at the Table's pillowy neo-soul with cloudy, left-of-the-dial sonics. It's easy to lose sight of the precariousness of this balance on the sparseness of the arrangements. But consider intriguing flourishes — like the synth bloops that dance over the stately drums of "Weary," or the rubbery bass and watery, failing pianos of "Scales" worming in between trad-soul exercises like "Where Do We Go," "F.U.B.U.," and the Parliament nod "Junie" — for a clearer sense of this album as a summit between socially conscious soul music and the frankly very white world of indie rock. A Seat at the Table isn't just an expression of pride in black American womanhood, it's a third stunning entry in Solange's ongoing case for greater prestige and accolades for soul music.