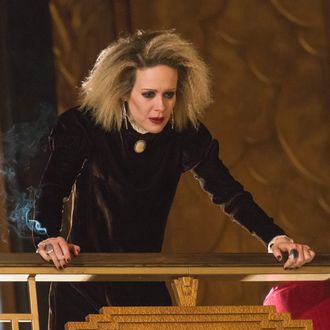 Cower before Sarah Paulson.
Photo: Prashant Gupta/FX
Lady Gaga's music career is doing pretty well, but if it doesn't pan out in the long term, she can always fall back on American Horror Story. Ryan Murphy and Brad Falchuk's horror-anthology empire was just renewed for a seventh season, which means it'll probably continue its reign until Sarah Paulson has worn every wig known to man. FX also announced that the next installment will focus on — oh, we wish we could say. As usual, nobody knows.