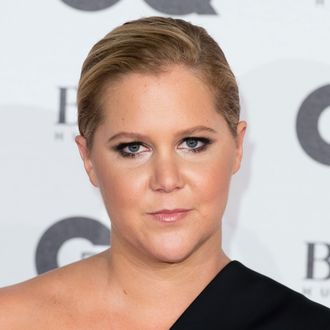 Photo: Jeff Spicer/Getty Images
Amy Schumer apparently has been keeping tabs on the immediate backlash she received on the internet for her video parody of Beyoncé's "Formation." After initially brushing off the critiques with the help of a line from the song ("You know you're that bitch when you cause all this conversation"), she's now taken a moment to pen a piece on Medium further explaining her point of view.
For starters, she clarifies that she loves Lemonade and "[believes] it is one of the greatest pieces of art of our time." Also, she writes that it was most definitely not a parody and was instead "a way to celebrate bringing us all together. To fight for what we all want. And to do it together."
Schumer's video, initially widely referred to as a parody, showed the comedian dancing, twerking, and lip-syncing to "Formation" alongside Goldie Hawn, Wanda Sykes, Joan Cusack, and Raven Goodwin. Critics slammed her portrayal as racist and ignorant of the deeper message in the song, which many interpret as a celebration of black culture and women, specifically. Schumer's video, by contrast, featured mostly white women, in seemingly dirty clothing, with women of color as almost secondary characters.
In her piece on Medium, Schumer describes how the video was filmed while in Hawaii during a time when she and her castmates and co-workers had Lemonade in heavy rotation and were excited about Hillary Clinton. "All of the women on set were bonded together from this music and from the election simultaneously," she writes. "It was such a powerful time." She continued:
"Lemonade" brought us all together. We listened to the album and danced every day, always making everyone feel better no matter what we were going through. We were so into it that we learned the dance to "Formation." It got us through this summer. …

It was NEVER a parody. It was just us women celebrating each other. The video Beyoncé made was so moving and I wouldn't ever make fun of that. There is absolutely no way to. I make fun of myself a few times in the video as I do in everything I am a part of. I loved every second of working with those women to make this thing that lifted us up.
Schumer adds that if people interpreted the video in a different way, it was not her intention. "The movie we made is fun and the women in it are strong and want to help each other," she writes. "That's what it was about for me." Oh, and she had Jay Z and Beyoncé's approval, too. Just to clarify.

Read her full response here and watch the video below.