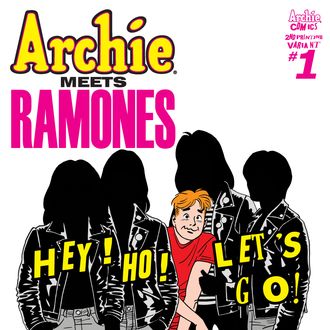 Hey! Ho!
Photo: Archie Comics
Any serious student of the Ramones can tell you that, despite their jagged-edge exterior and punk pioneership, much of their sound was inspired by unassuming bubblegum pop. Similarly, the Hernandez brothers' groundbreaking underground comics series Love and Rockets, despite pushing boundaries miles away from the commercial mainstream, had heavy visual influences from some of the most mild-mannered stories in comic-book history: those contained in the pages of Archie Comics.
So it's only fitting that the art of the Ramones and Love and Rockets should intertwine the way they do on the cover of next month's Archie Meets Ramones reprint, drawn by Jaime Hernandez. The one-shot comic — written by Alex Segura and Matthew Rosenberg, with art from Gisele Lagace — was first released earlier this month and quickly sold out. It features a slightly surreal tale in which the Riverdale gang travels back in time to meet the original Ramones lineup in late-'70s New York. The second printing will be available on November 16, but you can get an exclusive first look at the cover below.